5 Common Virtual Instructor-Led Training Myths Busted!
VILT has gained much popularity in recent times. Along with its popularity, Virtual Instructor-led Training has attracted several myths. The article busts the top 5 of them.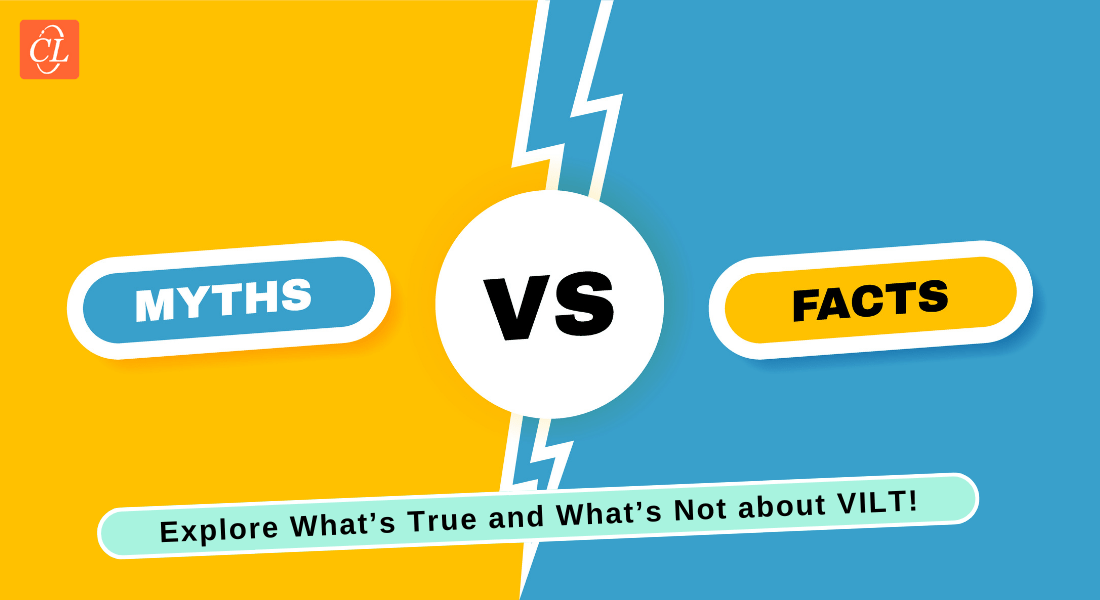 Virtual training or virtual instructor-led training (VILT) is the most common type of synchronous training delivered on virtual mediums. Though VILT is among the most popular formats for corporate training, there are still a lot of myths surrounding the topic. This article debunks the top 5 myths surrounding VILT.
Explore The Most Common Myths Surrounding VILT
Here are the top 5 myths
Myth 1 – It is Just Traditional Training Delivered Online!
Myth 2 – It is not Suitable for Soft Skills Training
Myth 3 – It is not Very Interactive
Myth 4 – It is not as Effective as In-Person Classroom
Myth 5 – It is Technology-Intensive
Let's get started:
Top 5 Virtual Instructor-Led Training Myths!
Myth 1 – It is Just Traditional Training Delivered Online!
There is no denying that virtual instructor-led training and traditional classroom training share a lot of similarities. For instance, the learners are present at the same time for the training and the instructor uses slides and presentations to deliver the content. However, VILT goes beyond "just" classroom training.
VILT, which takes classroom teaching online, involves the use of advanced collaboration tools such as whiteboards which can be used by multiple users, chatbots for dialogue exchange, and application-sharing tools.
Another important point to be noted is that VILT courses are often shorter as compared to traditional training courses.
Considering these differences, instructional designers and eLearning developers need to come together to decide how to design the VILT content to keep the essence of classroom training intact and drive learner engagement.
Myth 2 – It is not Suitable for Soft Skills Training
Unlike hard skills, soft skills are not immediately measurable. However, taking the same notion to say that VILT is not suitable for soft skills training is wrong. On the other hand, soft skills training delivered in a virtual classroom setting can have a greater edge. For instance, a customer service executive can have a more realistic training experience in a virtual classroom as they get to experience real-time training in the virtual setting.
With the many interactivities and engagement activities used in VILT, learners have a greater chance to learn and improve their soft skills at a much faster pace. Further, with VILT, it is also possible for the instructors to provide immediate feedback and learn in real time.
Another very important point to make note of is that VILT has greater scope for experimenting with scenarios required for soft skills training as compared to the traditional methods.
Myth 3 – It is not Very Interactive
Virtual training involves the use of several tools for engagement and interaction. For instance, Instructional Designers can leverage approaches such as concurrent collaboration to make virtual classroom sessions more interactive. Screen actions like clicking, typing, and reacting can make the learners more involved in the training being delivered. This way, all the employees can interact at the same time. This is not possible in a traditional face-to-face classroom i.e., not all the learners can talk to the instructor at the same time.
Tools like multiuser whiteboards, breakout rooms, and public chatrooms can facilitate peer-to-peer interactions and help the instructors reach out to the employees for further interaction. For instance, learners can use the multiuser whiteboards, to interact with each other, access the content when required, and can also have an environment of friendly competition.
Myth 4 – It is not as Effective as In-Person Classroom
VILT can be extremely effective, especially for Gen Z and Millennial learners. Modern-day learners have lower attention spans and it is difficult to have their attention and keep them engaged for hours together. In such a scenario, VILT can serve as an ideal approach to keep the learners interested, attentive and engaged.
VILT courses are not only shorter as compared to the traditional classroom courses, the Instructional Designers can add interactivities to keep the learners engaged. The engagement increases their attention and focuses on the learning delivered. In addition to all this, VILT also includes an instructor leading the training, it is easier for the learners to get immediate feedback. Therefore, VILT courses can be as effective (or more) as in-person training.
Myth 5 – It is Technology-Intensive
Many people believe in this myth – all thanks to the word "Virtual". Well, the fact is, technology is easy to use and needs a little time to get used to it. Putting technology aside, implementing VILT or any other learning technology for that instance, is more about cultural change within the organization.
When implementing VILT, the learning managers need to understand that the technology part can be handled by the technology teams, and their focus should be on making the training more impactful. They should be focusing on the different learning preferences of different employees, and ways to persuade people that online learning is indeed learning. Additionally, delivering online training does not require high-end technology not is it very complicated to learn.
Summing it Up
So, you now know the top 5 myths surrounding Virtual Instructor-Led Training. Hope the article has cleared your inhibitions about VILT implementation. Now, if you are toying with the idea of embracing VILT in your L&D initiatives, you must know what to expect from the move and how to prepare for it. This eBook can help you get started. From telling you the hows and whys to providing a detailed understanding of the ID concepts to make the VILT more impactful, the book is the best guide for beginners.