Using Videos in Online Training? 5 Ways to Do It
Struggling to find quicker solutions to online training hassles? Videos can be quite resourceful in training your employees. Continue reading to know five ways you can use videos in online training.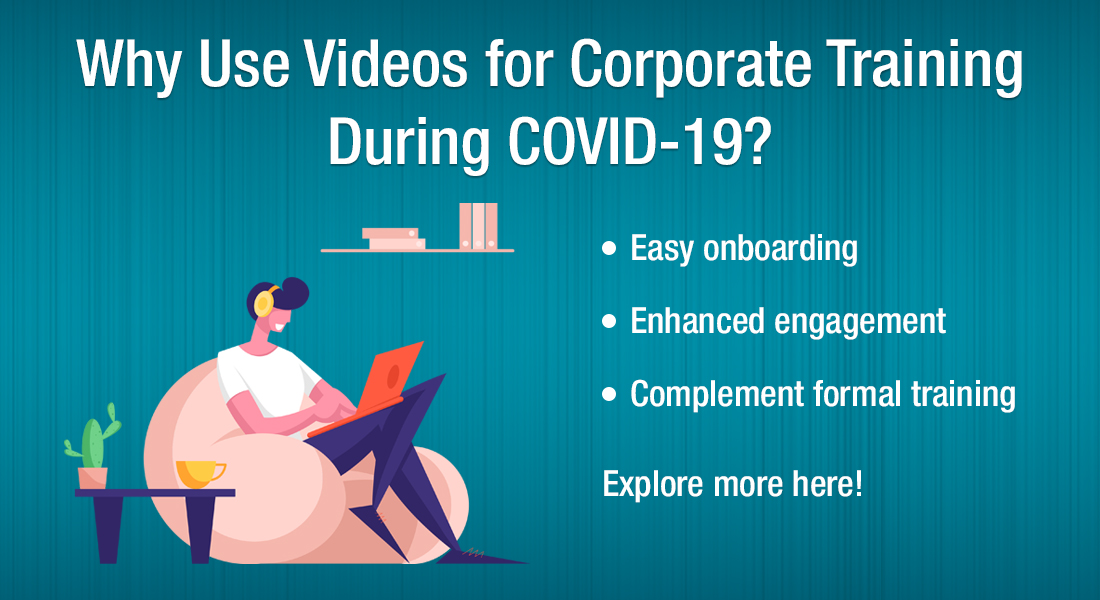 With the COVID-19 crisis going on, training managers like you all over the world are searching for ways to make online training more efficient and seamless. If you are planning to use videos in online training during the COVID-19 crisis, you won't be alone! According to Cisco's annual report (2018 – 2023), approximately 80% of the global Internet traffic will be video-based by the end of 2021.
5 Ways to Use Videos in Online Training During COVID-19
Complement and support online training.
Provide quick tips through bite-sized videos.
Ease compliance training through scenario-based videos.
Uphold engagement and retention through interactive videos.
Foster easy onboarding.
Thanks to home quarantine and social distancing, the entire eLearning industry has received a boost and more and more organizations are shifting from classroom to online training every day. Videos are an excellent online training resource to be used during this crisis. Not only are they easier to create, about 90% of the information better processed by the human brain is visual in nature.
Here are 5 ways you can creatively incorporate videos in your online training.
Why Videos for Online Training During COVID-19
1. Videos to Complement Online Training
Online training is a complicated noodle of an affair. There are layers of materials and resources to go through, text to understand, games to play, and queries to respond to. Here are three ways videos can be used to complement and support the process of formal online training.
As a precursor to formal training: Learning is a process. Unfortunately for us, learners have to constantly learn new information and at the same time struggle with the forgetting curve to retain prior knowledge. To solve this particular problem you can us a small video recap at the beginning of the lesson to brush up your learners' recall.
As a quick refresher: Videos can be an extremely effective and time-saving method to sum up the entire training as a short clip at the end of your training. This video can also be shared later via a cloud or Learning Management System (LMS).
As examples within the lesson: Nothing teaches better than examples, and videos can be leveraged to make that possible. You can use small 10-15 second clips to provide examples and user demonstrations on any aspect of the topic. Check an interesting demo from the application Slack for better insights on how videos can be used in this context.
2. Bite-Sized Videos for Quick Tips and Strategies
As we already saw, the brain's processing capability of visual information is much higher than textual content. It is also true that the human attention span is on a constant decline and is now somewhere between 8 to 12 seconds. Short, 3-5-minute video clips within the course will help retain your learners' attention and improve knowledge retention. But what should you include in these videos and where should you place them?
Key points, tips, and strategies can be included in each section within the course. Motivational clips designed in story form can be used at the beginning of the course to appeal to learners' emotions and establish context. Call to Actions (CTA) can be presented as innovative videos at the end of a course.
3. Videos to Spice Up Bland Compliance Topics
Compliance training is a must for most, if not all organizations. This includes topics such as workplace diversity, sexual harassment, corporate social responsibility (CSR).
An effective way to train employees on compliance is by using narratives and scenarios. Real life scenarios are an excellent resource to train employees on specific compliance strategies and the consequences of not adhering to regulations. This is particularly helpful for addressing sexual harassment, workplace diversity and discrimination, and soft skills training.
Global organizations with an employee base spanning different countries, ethnicities, and languages might find it difficult to address compliance rules and regulations for all their employees. Video-based online compliance training becomes an excellent resource as they can be easily translated and shared over the Internet, which employees can even access on their phones.
4. Interactive Videos to Enhance Learner Engagement and Retention
Interactive videos in online training are always a good option to help retention and engagement. They are not only more impactful, but also appeal to a wider range of learners.
Interactive elements in videos (like a 'Show and ask') or mini surveys after the video, will allow learners to come up with their own ideas. If you are training your employees on a new product or a feature, a simulation video will provide a good practical experience. What's more, you can even use interactive elements like choices (and possible consequences) in your compliance videos to provide a more realistic scenario.
Giving learners the freedom to explore and build their own stories helps in retention of the learning. It works really well for introducing new employees to the nooks and crannies of the organization, a tip I will discuss in the next point.
5. Videos to Introduce the Organization to New Employees
I am sure your new employees are as excited to join work as you are to introduce them to the workplace. Well, look what COVID-19 has done! Thankfully, you can use interactive videos to facilitate their onboarding training.
You can use these videos in online training to introduce learners to their job roles and allow them to familiarize themselves with their responsibilities, at their own pace. Take, for example, a 360-degree video of the center of the office lobby that points to different doors and places within the office through smart links and mini pop ups. When the learner clicks on any of them, they are redirected to another video detailing that specific segment. Even if you chose not to go for a 360-degree video, a normal mini video tour of the workplace can also work wonders.
Summing it Up
Let's hit the brakes for a moment, shall we? At this juncture, we need to consider the fact that over 75% of the video content in the world is viewed on the mobile. It is imperative that the videos are compressed and formatted to be compatible with mobile devices. Even though almost all smartphones and tablets nowadays support most of video formats, not all of them can be accessed by the learner if the size is too big or if the Internet is slow. The option to download the video for later viewing can also be an added bonus.
You see, using videos in online training is neither rocket science nor a cakewalk. However, these 'how's' of incorporating videos in your online training can actually lead to positive outcomes in terms of learning. According to Business Insider, about 2.7 billion people worldwide are digital video viewers in 2020, a trend which is expected to cross 3.1 billion in three years. It is high time you leverage this trend to boost your online training initiatives during the COVID-19 crisis.
Hopefully this blog has been informative enough for you to consider using videos in your online training. Do also check out this handy eBook to learn more about some interesting instructional design ideas and how they affect the right brain aptitudes.