All You Want to Know About Scenario-based Learning in eLearning
Scenario-based eLearning is a very effective way to facilitate problem-solving skills and help learners experience the consequence of their decisions in a risk-free environment. Explore the steps to frame effective scenarios, types of scenarios, and more in this blog.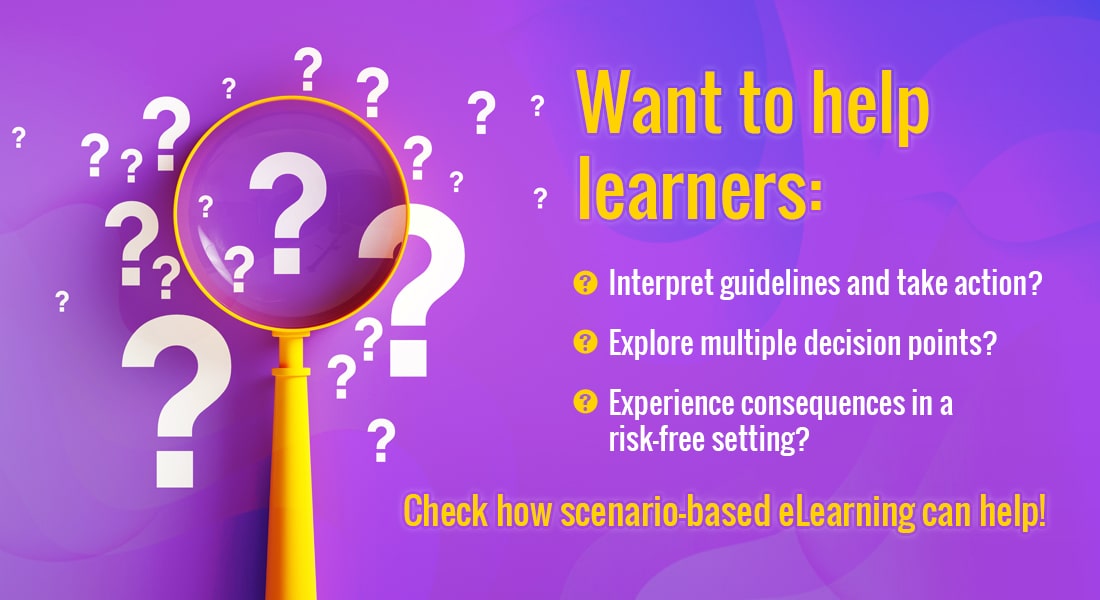 It is common knowledge that adults need to know the purpose and be motivated to undertake any training program. This in turn makes learning meaningful and memorable. In the context of eLearning, an appropriate strategy needs to be adopted to make learners actively participate throughout a course. There are various instructional strategies such as storytelling, guided learning, scenarios, learning through explanation and discovery, and case studies.
In this blog, we will look at 'Scenario-based eLearning' (problem-based learning or whole task learning). This is a highly interactive strategy that puts learners in the shoes of the problem-solver to respond to real-life situations.
Steps to Design Effective eLearning Scenarios
Pick a specific challenge/pain point faced by employees
Decide the media elements to be used
Frame questions to enable interaction

Teach through feedback
Scenario-based eLearning enhances the learning process as it includes minimal text and more of conversational-based learning. Scenarios are the best option when you want learners to 'perform' rather than 'inform' them; it is a way to stimulate the minds of learners. Adopting this strategy motivates learners to involve themselves in the learning, empathize and identify with the characters, act to resolve the challenges, and experience consequences in a risk-free environment.
In the paper titled "Elements of Effective e-Learning Design" published by The International Review of Research in Open and Distance Learning, Andrew Brown and Bradley Voltz identify "SCENARIOS" as one of the six areas that one needs to keep in mind while designing eLearning courses. The others include Activity, Feedback, Delivery, Context, and Impact.

About Scenario-based eLearning
Scenarios are a great way to hook new hires and veterans alike. They make great learning tools to train learners on how to reach a specific outcome or predict likely outcomes. Creating a scenario-based strategy for e-learning courses isn't a time-consuming process anymore, thanks to modern authoring tools that offer a wide variety of characters (in various poses and professions) and backgrounds to design scenarios quickly. iSpring offers iSpring TalkMaster, a handy tool to enable the rapid design of scenario-based eLearning.
The end result is a reliable learning experience which will be both challenging and motivating. But, a scenario-based strategy is not suitable for all types of training. So, before choosing scenarios as a strategy to take the learner through the course, we need to check a few points such as:
Are the learning outcomes based on problem-solving and skills development?
Do learners possess basic knowledge on the subject?
Are you equipped with enough time and resources to adopt this strategy?
Is it easy for you to provide real-world experience on the skills?
Scenarios are best used when learners need to:
Interpret rules/guidelines and make decisions
Choose the most likely outcome from several possibilities
Explore the consequences of every decision point
Steps to Design Effective Scenarios for eLearning
Designing an effective scenario-based eLearning course is a 6-step process – as scenarios need to realistic and help learners overcome their challenges:
Identify the target audience and their learning needs
Frame the learning objectives for the identified performance gap
Decide whether to use scenarios as the main learning tool or as formative assessments
Frame scenarios (with the help of subject matter experts, if needed)
Decide on the presentation strategy
Provide ample feedback for each scenario that reinforces the learning points
Tips to Design Engaging, Relevant, Realistic Scenario-based eLearning
Here are some quick tips on designing learning scenarios to deliver successful online training.
1. Pick a scenario that addresses a problem/specific situation faced by employees.
It would be a good idea to use the jargon and language commonly used in the organization. This naturally engages employees as they completely identify with the learning scenario and actively participate in the learning process. This approach works best for training programs that involve problem-solving or decision-making processes.
2. Once you pick up a scenario, describe it effectively to gain employee interest and attention.
For this purpose, you can use several media elements such as images, audio, video, or simple animations. Depending on the available resources, you can create scenarios describing the intended subject. You can use a simple image with a call-out and embed audio in the background. Or you could have the entire scenario enacted using animations. Restrain from using fancy media elements and complex animations that may distract rather than facilitate learning.
3. Next, have a series of questions that enable interaction and involve employees in the learning process.
Framing scenarios is a complex process as:
Scenarios have to be realistic and address learners' pain points
Learners should be able to identify with the scenario (plot, characters)
Distractors should be convincing enough to make learners think
The right answer shouldn't be too obvious
If the topic is complex or proprietary, instructional designers might need to work with SMEs to frame scenarios and/or get them validated for accuracy. The complexity also increases for branching scenarios as every decision point will have consequences and lead to a new path based on the learner's choice. Framing all possible outcomes needs detailed planning and a thorough understanding of the topic.
4. Finally, provide feedback to the answers provided by employees.
This ensures that learners are exposed to the various perspectives of a given situation. Feedback can be direct in some cases, and in some cases, it may be weaved into the storyline as in "cause and effect scenarios".
Immediate feedback proves to be motivational and educational while reinforcing the cause and consequence you wish to reiterate for the given situation. In the end, the objective should be to provide clear guidance to the employee on the best decision or actions to be taken, keeping in mind the organization's interests.
Some screenshots with scenarios incorporated in an e-learning course are shown below:
It's a Wrap
Scenario-based eLearning is an effective instructional strategy and is proven to enhance skill development and decision-making ability. Do you have any success stories to share on learning scenarios that helped enhance the learning process? Share your experiences and thoughts on the subject through your comments.
A final tip before leaving! Scenarios can also be developed a microlearning assets and 'pushed' to learners at regular intervals to check their recall or reinforce learning. Have you tried this yet?