7 Best Thanksgiving Gift Ideas to Express Gratitude to Your Employees
It's that time of the year again when you get the opportunity to thank every individual you feel grateful toward, so don't fall behind and make the most of this Thanksgiving 2022. Here are 7 gift ideas to please your employees.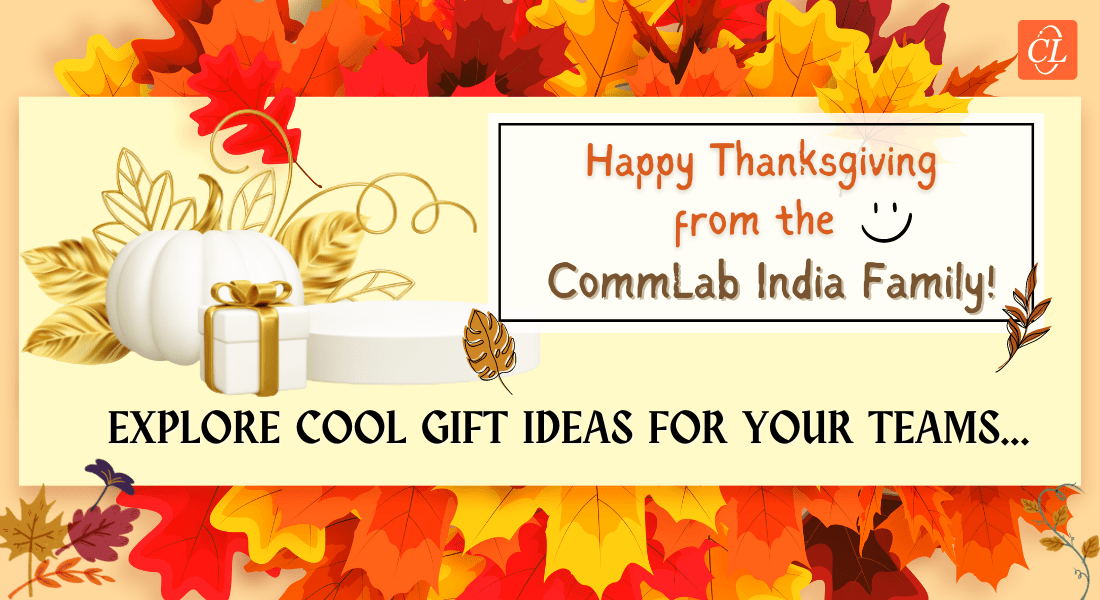 Thanksgiving is an annual holiday celebrated on the 4th Thursday of November. Families spend their time together preparing the special thanksgiving dinner and expressing their gratitude toward everyone who made a difference in their life. This year's Thanksgiving is around the corner so it would be a great idea to thank everyone at your workplace for their constant efforts. Here is a list of 7 gift ideas to express gratitude to your employees. This will motivate them to stay at their best and make them feel valued.
Want to Make This Thanksgiving a Cherishable Memory for Your Employees?
Here are some gift ideas to make them happy:
Drop a personalized "Thank You" E-mail
Offer flexibility while working
Organize charity events
Promote learning and development
Read on to find out our precious gift for all the readers this Thanksgiving.
Top 7 Thanksgiving Gifts Your Employees Would Fall in Love with
1. Drop a personalized "Thank You" E-mail
Everyone likes to feel special, and the same goes for the employees who give their all throughout the year. They will feel special if the first company email, they see in their inbox would be a personalized "thank you" mail. A simple thank you isn't going to work, but if their name is mentioned with a small message filled with gratitude, it will boost their confidence. If the employees are respected and their efforts are valued in an organization, they tend to perform better and stay productive at their job, which helps the company with employee retention as well.
2. Let the employees thank everyone
You can choose any wall visible to most of the employees in that room or hall, and let them stick random sticky notes with a 'Thank You ' message on the wall, thanking each other in their own way. Employees can either thank specific people like their team members, team leaders, work buddies, security guard, office maids, or anyone else they feel grateful to. Employees can even collaborate and organize a "Thank You" meeting for the bosses and other seniors at the company. This will help everyone to continue working with a positive mindset and keep learning different things from each other, promoting the aspects of social learning and enhancing workplace harmony.
3. Offer flexibility while working
Since the pandemic has already pushed everyone to work flexibly, it's still a thing that should be practiced even without restrictions. If your type of work allows working flexibly, you can prefer that option without a second thought. Letting the employees choose their work shifts, and allowing them to 'work from home ' will help them work at ease and be more productive because their preferences are being considered. This will also help them enjoy their personal life after work and maintain work-life harmony.
4. Arrange a Thanksgiving get-together or a meal
Organize a meal together in the workplace and allow the employees to bring their family members along with them. This will help the organizations to create a festive environment and break the ice from everyday work. Having a meal together is always one of the best options to know each other informally and the presence of families will ease out the process even more. Including a couple of events will increase the enjoyment and a few selected people can give their speech at the gathering, expressing their gratitude.
5. Organize charity events
As an organization, helping the needy is one of the best things to do. There are countless people who are not capable of enjoying such events so letting them experience the fun will make you feel great. There are so many NGOs already working for the cause, you can collaborate with those NGOs and charities to serve the underprivileged.
6. Promote learning and development
Continuous learning and development is highly crucial for an employee to sustain themselves in this competitive environment. So, sponsoring your top-performing employees with engaging and interesting courses to get upskilled will help them stay at their top potential in the workplace. There are various interactive and personalized ways you can promote learning and development in an organization, ensuring the training doesn't get monotonous midway. Employees can be advised to attend external seminars, workshops, and social events to enhance their industry exposure and improve their overall knowledge.
7. Share employee achievements
Sharing every employee's achievements individually will be a hassle, so let the team leaders of different teams host a meeting and all the members of that team will have their achievements and efforts acknowledged. Even if organizing a local meeting isn't possible and organizations started to have a lot of remote employees lately, there are enough options to host virtual events due to technological advancements today. When employees see that their achievements are not overlooked, they will feel more confident in their work. You can also give away small gifts and rewards for their efforts, proving the concepts of gamification can work outside of their training as well.
Happy Thanksgiving!
As a part of the annual Thanksgiving from our side, you can register for the upcoming LearnFlux Bootcamp at a discounted price until December 5th, 2022. When you sign up for the event, you are helping the underprivileged directly as each registration will help us provide 100 meals to the needy in our local community. LearnFlux is a 3-day virtual event for L&D professionals where they get to gain crucial insights about multiple aspects of the industry to become an eLearning champion. So, what can you possibly be waiting for? Register for the upcoming LearnFlux live event from 21st – 23rd March 2023 now!