5 Surefire Strategies for Assuring High Quality in Rapid eLearning Development Projects
For the success of rapid eLearning development, you need to be sure that the quality remains uncompromised. In this blog, we'll discuss how to ensure that this is the case, and explore the best practices to guarantee quality in the project.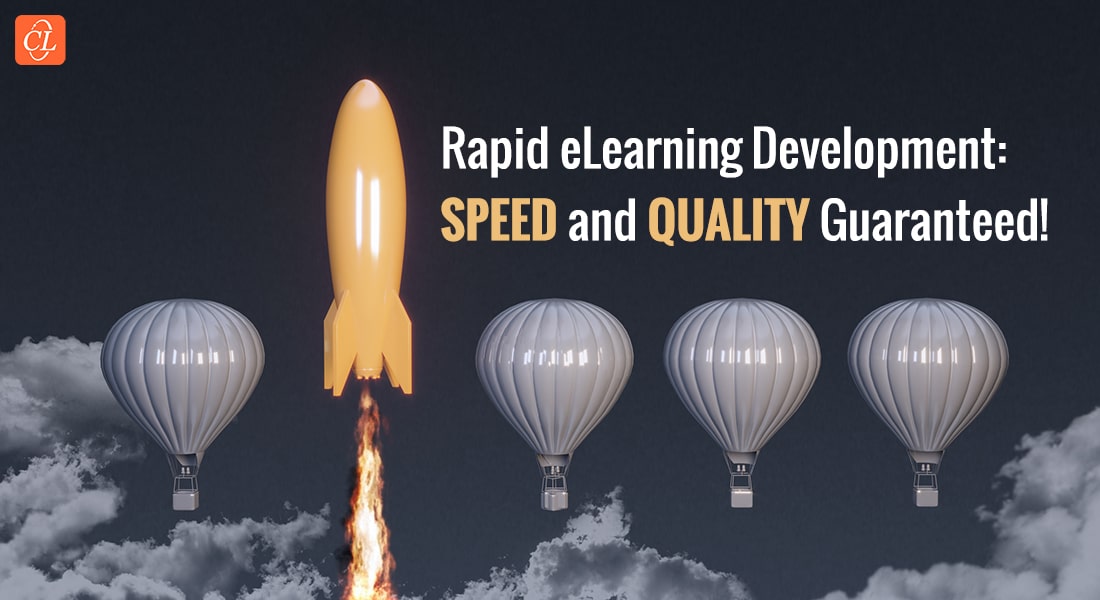 Rapid eLearning Development: Speed and Quality guaranteed!
It was a typical Tuesday morning in the corporate training department. The learning and development (L&D) professionals were gathered around the conference table discussing the latest corporate training and L&D trends.
Mandy was leading the conversation and highlighted that "the company needs to focus on speeding up the eLearning development process. We need to focus on getting our content out faster and with higher quality."
Following this, Raven, a new member at the organization suggested "Rapid eLearning Development". Highlighting the benefits, Raven says –
It allows for rapid design and development of courses, reducing the amount of time needed to create engaging and interactive courses. It also allows for the reuse of content, eliminating the need for multiple development cycles for the same course. Additionally, rapid eLearning development allows for easy scalability, allowing companies to quickly scale up their training efforts. Finally, it offers cost savings as companies don't have to invest heavily in developing and hosting their own eLearning platforms. All in all, rapid eLearning development provides numerous advantages for corporate training.
The benefits are all quite interesting. As learning and development professionals, we understand the importance of quick and effective corporate training. But how do we ensure that the quality of the online training module? Will it remain top-notch? Does the key focus on speed, mean that rapid eLearning development compromises on the quality of the module developed? John voices, a concern that several team members have.
Want to Ensure High Quality in Your Rapid eLearning Development?
Make sure that you follow these best practices:
Pre-plan for Quality
Establish Quality Controls
Test Early and Often
Utilize Quality Resources
Evaluate Results
Assuring that rapid eLearning does focus more on speed but it does not compromise on the quality, Raven further says that rapid eLearning development is a great way to quickly create engaging content for developing online training modules. But that doesn't mean that it overlooks the quality of the final output. And, the rapid eLearning development approach, which is built on robust instructional design (ID), uses rapid eLearning authoring tools and media assets like videos and animations to make eLearning modules more engaging and impactful.
However, it is important that the IDs and eLearning developers tasked with the project are well-aware and follow all the measures for quality assurance. Failing to do so can lead to unfavorable results.
So, let's take a look at five ways you can ensure quality in your rapid eLearning development process for corporate training:
5 Best Practices to Follow to Ensure Quality in Rapid eLearning Development
1. Pre-plan for Quality
Before you even start the eLearning development process, make sure you plan for quality. Have a checklist of all the quality assurance measures that need to be taken. Mention the expectations clearly and make sure that the plan serves as a blueprint for the quality to be maintained. This will ensure that all the steps are taken in the right order and that the quality is not compromised.
2. Establish Quality Controls
Once you have planned for quality, it's time to set up quality controls. These should include creating a standard structure and layout for all eLearning content, setting up a review process, and creating a process for feedback. For instance, establish the controls for the font and the colors to be used throughout the eLearning module, to ensure consistency and quality.
3. Test Early and Often
Testing should be done throughout the development process, not just at the end. This will help you catch any minor mistakes and make sure the content is engaging and effective. To ensure this, rapid eLearning development follows the successive approximation model (SAM) which is an agile framework that is iterative and allows for continuous testing and continuous improvement. This way, it is possible to test errors and rectify them early on and even the costs for the improvement are quite less.
4. Utilize Quality Resources
In addition to testing and feedback, you also need to make sure you are using quality resources in your development. This includes using quality images, audio files, video clips, and text. Make sure that whatever assets you use are of ideal and uniform resolution and have optimal viewability.
5. Evaluate Results
Finally, it is important to evaluate the results of the eLearning development process. This includes understanding how it impacted the trainees, what went wrong, and how the content can be improved in the future.
These five steps should help you ensure that your rapid eLearning development process for corporate training is of the highest quality. With the right planning, controls, and evaluation, you can be sure that your online training will be effective and engaging.
Parting Thoughts
As Learning and Development professionals, we know that time is one of the biggest constraints when it comes to developing effective eLearning modules for corporate training. And that is also a reason why rapid eLearning development came out as a star approach. But it is not just about the speed of the project development but also about the quality of the module. But rapid eLearning addresses that too and to know more about it, it is important for you to know about the 4Rs of rapid eLearning.
It is the 4Rs that help the eLearning meet the project timelines while making sure that there is no compromise in the quality. Get your hands on this eBook to explore more about the 4Rs.