Leveraging the Best of Social Media in Formal and Informal Corporate Training
Explore the significant role social media plays in corporate training by letting learners evolve from passive knowledge consumption to active contribution.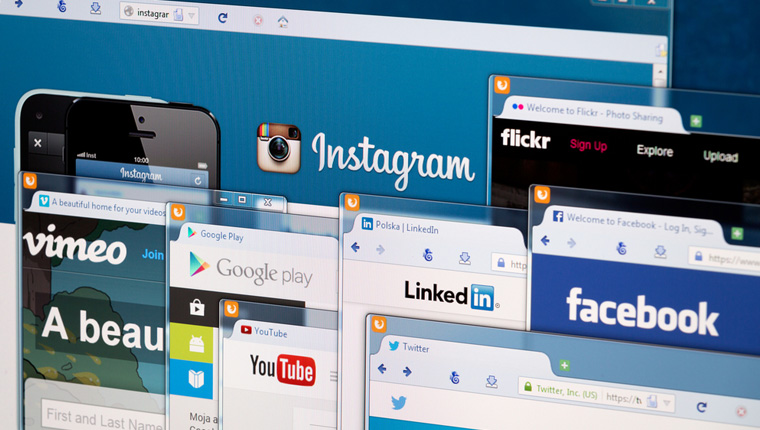 Social media has allowed corporate learners to evolve from passive knowledge consumers to active contributors. With the advancement of technology and the proliferation of mobile devices, social media has expanded the possibility of corporate training like never before. Top social media sites such as Facebook, Twitter, and LinkedIn bring together your geographically dispersed workforce and offer them an increased array of learning opportunities!
Social Media in Formal and Informal Corporate Training
In Formal Training
Build interest, excitement, and value
Assess learners in the form of games, challenges, and contests
In Informal Training
Enable peer-to-peer interactions

Connect SMEs with learners
Social media is an innovative and effective method for delivering knowledge through both formal and informal training. According to a November 2015 survey by ATD Research, nearly half of L&D leaders (45%) provide instruction using social media. If you haven't yet begun employing social media tools in your corporate training initiatives, it's time to start exploring the possibilities. Check out these practical ideas for delivering corporate training through social media.
Social Media in Formal Training
Build Interest, Excitement, and Value
You cannot deny the fact that adult learners are likely to be self-directed and autonomous. If employees are unable to understand how the training initiative is going to help them, they may naturally tend to become reluctant in investing time and energy. A well-thought out promotional strategy will help you educate your employees on how your training program can contribute to their professional growth and success.
You might have noticed how a trailer floods all social media platforms long before a film hits the marquee, or how posts and tweets show up on social media long before a book launch. Similarly, there are myriad ways to use social media platforms to promote your corporate training programs.
Promoting your upcoming corporate training programs via social media platforms make learners sit up and take notice of your initiatives, so that when the training program hits the ground, learners will be motivated to get their hands on it.
Example
A video can be developed providing an overview of your training program, including the objectives, content outline, and expectations. As for where to upload the video, a private Facebook page, LinkedIn group, or a private YouTube channel are good options.
For example, imagine you want to promote a compliance training program that needs to be rolled out globally at all your campuses. A 2-3-minute teaser video outlining the objectives and structure of the training program can give learners a taste of the actual course and easily grab their attention. This well-designed teaser video once uploaded on your organization's Facebook page, not only wows your learners but also leaves no room for curiosity in their minds about the relevance of the program. Consider using a leader or peer testimonial.
Tweets on Twitter or infographics and posters posted on LinkedIn are a few other ways to build interest in the training program.
A brief look at popular social media platforms and promotional formats:
| | |
| --- | --- |
| Social Media Channels | A Few Promotional Formats |
| Pinterest | Posters, Infographics, GIFs |
| Twitter | Tweets, links to promo videos and sample courses |
| Facebook, LinkedIn | Videos, blogs on success stories, and testimonies from senior employees |
| YouTube | Videos |
| WordPress | Blogs |
Assess Learners in the Form of Games, Challenges and Contests
According to the Loughborough University and Joint Information Systems Committee (JISC), assessments are a significant part of training strategies. Assessments held during as well as at the end of a training program strengthen learning and evaluate learners' accomplishment of the learning objectives.
Social media channels offer you interactive and entertaining ways to assess learners. Competitions, contests, games, challenges, and rewards motivate your learners to perform their best and make the most out of these competitions.
Example
For example, Facebook and Twitter are useful platforms to run competitions. They offer tools to create games, polls, quizzes and sweepstakes. Even features such as "Like" on Facebook can be used to determine a winner by asking other employees "Like" the answers they prefer; thus, making it more of a peer-to-peer experience.
Social Media in Informal Training
Enable Peer-to-Peer Interaction
Dan Pink in his book Drive: the surprising truth about what motivates us, talks about how humans have a desire to be self-determined, autonomous, and connected to one another. Social learning among employees through peer-to-peer interaction has always been happening at the grass root level. In today's fast-paced and ever-changing working environments, ongoing learning has become a necessary part of the workflow.
In informal learning, the advantage of using social media for corporate training is its ability to create virtual communities of employees that facilitate organic and indirect peer-to-peer interaction.
The advantages of allowing employees to collaborate on online platforms before, during, and after completing formal training programs are manifold. Employees can:
Ask questions
Share thoughts
Gain insights
Learn from the expertise of others
Avoid past errors
Example
When an employee shares how they struggled with a particular process on a LinkedIn group, that group can be of help in formulating tips: "I did it this way and it turned out much better." Such responses from a global peer group can offer employees fresh feedback and solutions to new challenges.
Social media platforms such as Facebook, LinkedIn, and YouTube can serve as a virtual meeting space to enable employees find common ground for team building and collaborative learning.
You can also leverage social bookmarking tools such as Delicious or Diigo to create an online repository of job-aids that can be easily located by employees. Employees can also be encouraged to participate in these groups with self-generated content – this can be used by peers for support, or by facilitators to provide feedback.
Example
Consider video recordings of employees applying what they have learned on the job. This can be posted on a forum for the peers and the instructor to watch and review. This way, an instructor can easily identify the challenges the employee encountered while applying the acquired skills on the job and offer constructive feedback.
Connect SMEs and Learners
Collaboration gets the best out of every individual and yields mutual benefits. If you want to help your employees sustain top performance, then the employee – Subject Matter Experts (SMEs) relation is one important aspect that needs special focus.
As an expert with extensive domain knowledge and experience, SMEs can help employees address their immediate concerns and needs. Using social media networks as an open communication channel helps you create good working relation between your SMEs and learners.
Whether you are using a LinkedIn group, Facebook, a custom wiki, or a designated Twitter hashtag, you can invite employees to ask questions of the SME in a just-in-time setting. SMEs can likewise use these platforms to offer clarifications or updates to employees on an ongoing basis.
With social media platforms you can also offer employees a real-world look into the training program by having a SME livestream from an on-the-job setting. If your corporate training is through an ILT session with demographically dispersed employees, then social platforms such as Skype might make the most sense.. unlimited options to choose from.
Wrapping It Up
Social media is a key to the future of corporate training and development. Hence start exploring the opportunities social media platforms can offer your corporate training programs. What is the first thing you would want to get started with? Also do share with us how social media helped you change the overall learning experience of your employees.