How to Easily Convert Large Manuals into Engaging E-learning Courses
Check out the blog to know the 6 steps of converting large manuals and classroom material into engaging and interactive e-learning courses.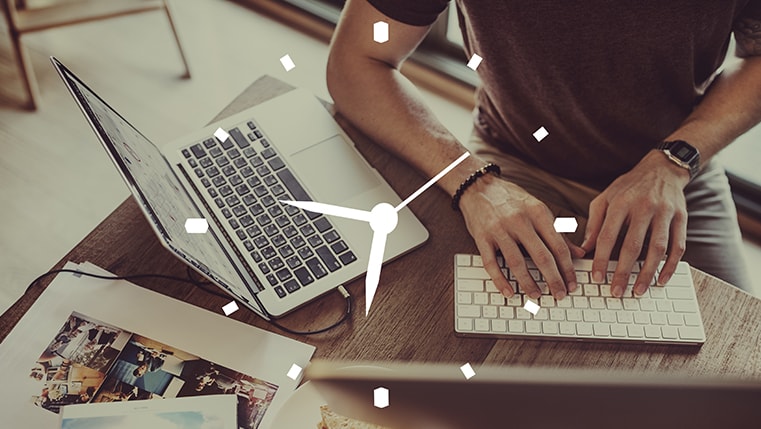 Instructor-led or classroom training has been the most common way to train employees for years. However, to make training more cost-effective and easily accessible, many organizations have started using e-learning as well. According to the Training Industry Report of 20151, 28.5% of the training hours in corporate companies were delivered via online or computer-based technologies (increased by 2.6% compared to the previous year), 15% via virtual classrooms (decreased by 1%), 4.2% via social learning (increased by 0.9%), and 1.4% via mobile devices. You can see that almost 50% of the training hours were delivered using some kind of e-learning.
Most organizations first start e-learning by converting their existing classroom materials and training manuals. This blog shares 6 simple steps for converting a large manual into an interesting online course.
Step 1: Analyze content and prepare an outline
Gather all relevant material to be converted. You need to analyze what has to be converted and how much of each. Check the material for gaps in content. In case of gaps, fill them with the help of your subject matter experts (SMEs). Then, prepare a logical outline of the content. You need to remember that converting an entire manual into a single e-learning course will not result in effective learning. Break the content into smaller parts, such that each part contains not more than a couple of learning points. Each part can be a standalone e-learning course. This will help your people digest and retain content easily.
Step 2: Determine the learning objectives
For each course, identify the expected performance outcomes from learners and frame appropriate learning objectives. To define the learning objectives, refer to Bloom's taxonomy2 that classifies cognitive learning into six levels – remembering, understanding, applying, analyzing, evaluating, and creating. This classification helps you identify which level you want your learning outcomes to target and include the required content.
Step 3: Formulate the learning strategy
Every subject is taught differently. For example, selling skills can be taught using contextual scenarios, product operation and servicing can be taught using simulations, new hire training can be done using the exploratory learning strategy. Identify how you can teach the subject being converted and formulate an appropriate instructional strategy. For insights into instructional strategies, explore this information-packed resource.
Step 4: Choose the right authoring tool
Now that the content is ready, learning objectives are set, and the learning strategy is formulated, it's time to choose a rapid authoring tool to develop the course. Many rapid authoring tools are available in the market, and you must select the right one, based on your learning strategy, budget, development time, and other factors. Refer to the blog Evaluation of 3 Rapid Authoring Tools that will help you choose the ideal tool that fulfills most of your requirements.
Step 5: Create a storyboard
Jumping directly into course development might lead to a lot of rework, if the final output is not what you wished for. So, take the help of an instructional designer to create a blueprint of the course (commonly known as a storyboard). This avoids rework and gives you a rough picture of what goes into the final product and how it will look like. You can take an approval on the blueprint or storyboard from the stakeholder(s) of the course, and then begin the development process.
Step 6: Develop the course and publish it to the desired format
Once the storyboard is finalized, you are all set to develop the course. E-learning developers use the storyboard to develop the e-learning course, with the rapid authoring tool you chose. They utilize the built-in templates and features available in the tool to save time and efforts. After completing the development, they publish the course to the desired format (Flash, HTML5, or video) and upload it on a learning management system (LMS) for learners to access.
These are 6 simple steps to convert your existing manuals and classroom material to e-learning:
Analyze content and prepare an outline
Determine the learning objectives
Formulate the learning strategy
Choose a right authoring tool
Create a storyboard
Develop the course and publish it to the desired format
Every step has its own importance and skipping any one will affect the final e-learning course you develop.