4 Unmissable Benefits of Rapid eLearning!
With faster and easier development, fewer resources, and scope for continuous improvement, Rapid eLearning offers several benefits. Read on to explore…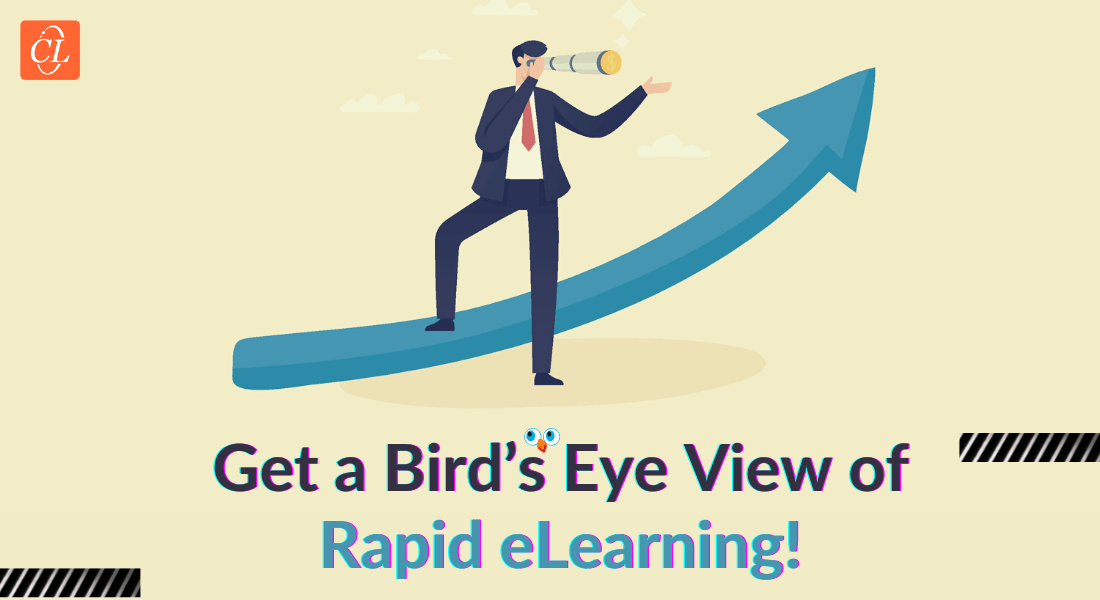 The world we live in today is on a fast-track mode and it mandates everything else to be on the same page. This is a key reason for the emergence of Rapid eLearning.
When speed and scale are your requirements, Rapid eLearning is your solution.
Discover
What Sets Rapid eLearning Apart — Its Benefits
What is the Role of Instructional Design in Rapid eLearning
Rapid eLearning is the L&D industry's answer to the increasing need for speed. Rapid eLearning is the process of designing and developing eLearning content at a rapid pace. The approach leverages the power of new-age authoring tools to develop eLearning courses faster. Furthermore, this new-age eLearning approach is built on instructional design principles.
Interested to know more about Rapid eLearning and the role of Instructional Design (ID) in Rapid eLearning?
Let's get started
Rapid eLearning involves developing eLearning course much faster. Traditionally, developing an eLearning course may take a couple of months, but with rapid eLearning, the job can be fulfilled within a few weeks. And the best part is that the team assigned to develop the training solution need not be big or tech-savvy. It uses rapid authoring tools to do the job.
Rapid eLearning development involves developing eLearning courses faster and at lower costs. It does so by
Using rapid authoring tools
Sticking to Instructional Design (ID) basics
Ensuring that it follows an agile project management process
But if you think that rapid eLearning development neglects the aspects of traditional eLearning development — IT DOESN'T! It includes all aspects of traditional eLearning such as assessments and evaluations.

What Sets Rapid eLearning Apart — Its Benefits
Rapid eLearning sets itself apart from traditional eLearning development in several ways. Let's discuss some of them here:
Reusability: The standard templates and reusable components are the very foundation of rapid eLearning. The ready-made templates can be used by eLearning project managers for planning the entire project. The Learning Experience Designers (LXDs) can use the templates to develop eLearning storyboards much faster. Further, eLearning developers can use the ready templates to design and implement the interactive elements.
Repurposing: Repurposing existing content is yet another excellent feature that sets rapid eLearning development apart from traditional development methodologies. Existing text, images, audio, and visual content can all be repurposed. For instance, existing classroom training content can be turned into a microlearning training repository. Similarly, training tutorials can be converted into interactive demos. This way, no content goes wasted; at the same time, the eLearning course is developed faster.
No need for programming expertise: Rapid eLearning development uses advanced authoring tools which help develop eLearning material from scratch. And you do not need a lot of programming knowledge to do so. This way, the development time is saved and so are the resources invested – you will not need too many programming experts to do the job. With the authoring tool, all you need to do is to drag, drop, and configure the elements from the templates and libraries.
Iterative: Rapid eLearning uses agile project management methodologies – this means that you don't have to worry a lot about every detail right from the start. By being agile and iterative, the process involves developing a minimum viable product (MVP) and building on it to make it perfect.
What is the Role of Instructional Design in Rapid eLearning
Course designers use Instructional Design (ID) to plan the flow and the structure of online courses. ID helps them make sure that the course includes all the aspects required to meet the predetermined learning objectives. Instructional designers are tasked with developing eLearning courses and training material, and redesigning courses when necessary.
Rapid eLearning is based on the principles of ID and adult learning and thus makes it more efficient. Instructional Designers in rapid eLearning use personalization, stories, and empathy to make learning more impactful.
ID in Rapid eLearning for Personalization
Personalization is a powerful strategy that keeps the learners hooked. This can be a very useful strategy in online learning. Rapid eLearning, with the help of Instructional Design, uses personalization to build personal engagement with the learner. Addressing the users with their names, giving them a learning point or a tip during the course, summarizing the entire course, or giving instant feedback are a few ways to personalize the online learning experience.
If you wish to go even further, you may also create learner avatars, that can draw the learner's attention while also keeping them engaged.
ID in Rapid eLearning for Empathy
Storytelling is a great way to draw the learners' attention and keep them engaged at much deeper levels. Storytelling brings about an emotional connection so that the learners can easily connect with the subject that is being conveyed to them. This can be done in two ways – one is by using case studies. The use of case studies talks about a problem and also gives the most accurate solution to it. This way, the learners can understand the subject and also identify where to apply it. This approach is very well suited for sales training and product training.
Another approach would be to use scenarios or situations which the learner may come across. Taking a situation and then prompting the most accurate solution could be a great learning tool. This method can also be used to assess the learners' understanding of the subject. Using scenarios is ideal for compliance training.
Wrapping Up
Implementing rapid eLearning is an ideal solution, especially when you have a lot of learning material to develop but have a time constraint. At the same time, it is also accompanied by several perks like reusability and repurposing. This saves both time and resources. Efficient use of Instructional Design and Rapid eLearning can bring in a lot of benefits to your online learning efforts.
Want to go Rapid with your eLearning design and development? This eBook will guide you on the best practices.
Editor's note: This post was originally published in November 2022 and has been updated for comprehensiveness.