How to Collaborate Effectively with Subject Matter Experts Through Rapid eLearning [Infographic]
Subject Matter Experts make valuable contribution with high-profile SMEs for rapid eLearning? Here are 4 tips to maximize their valuable input efficiently.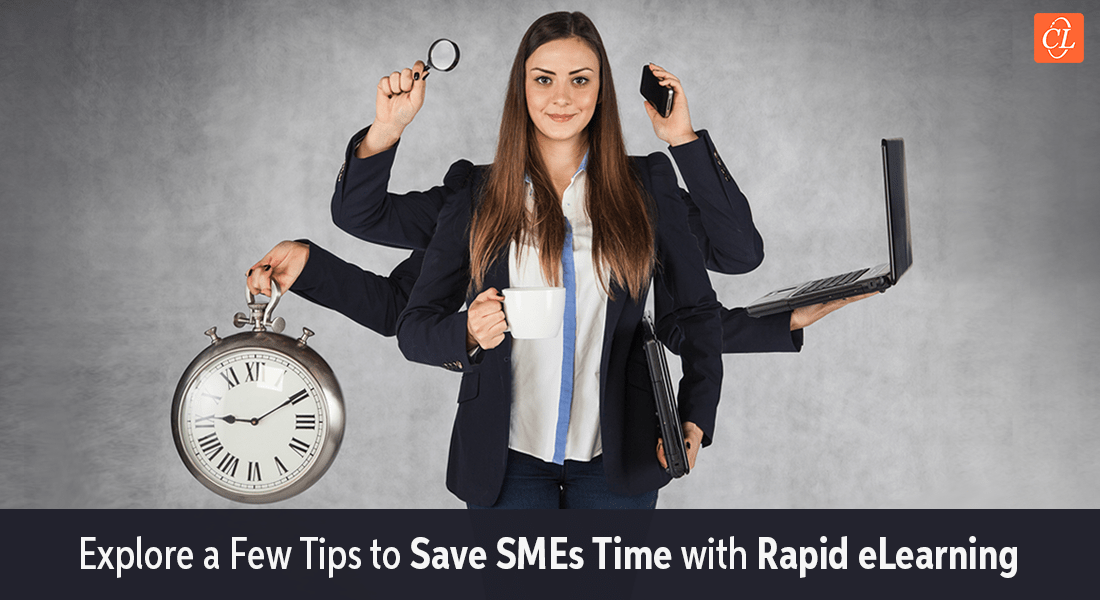 Let's admit it! Collaboration brings out the best in each person and produces positive results. The development of eLearning courses is no exception. The development of rapid eLearning course is a collaborative process that enlists the help of numerous stakeholders. The participation of SMEs is inevitable, and we should recognize that. Since they help to maintain the standard of eLearning courses by ensuring that the proper content is included in the proper modules.
Given their in-depth knowledge and experience, SMEs involvement is essential if you want to develop an eLearning course that appeals to the learners. As a result, there is a huge demand for them.
Here are the four best ways to help you and your subject matter experts form a productive working relationship that will enable you to develop an engaging eLearning course.
4 Best Ways for Effective SME Collaboration
1. Specify Roles and Expectations
Everyone in your team should be aware of what to expect, what is expected of them, and how their contributions affect the team dynamics. No exception applies to the Subject Matter Experts. Clarify their job responsibilities and the eLearning project's parameters during your meeting with your SMEs. Additionally, you can explain to them their precise role in the bigger picture.
2. Make Communication Clear
For SMEs, giving their input for the course content, reviewing the storyboards, offering feedback, are additional responsibilities. They have trouble managing their time, which can occasionally cause delays in course reviews and signoffs. Prior to contacting the SME, you can prepare a questionnaire to save time and be extremely precise about your queries and concerns. The development team should also do enough research to avoid asking obvious queries. As a result, when interacting with the SME, your eLearning development team ought to be very clear.
3. Provide a Brief Overview of the Course Development Process
Give Subject Matter Experts a broad overview of the eLearning course's design and development process, for instance, learning objectives, course outline, instructional strategy etc. The overview helps the SMEs understand the project plan and schedule their calendar accordingly. This in turn serves to rolling out courses as per stipulated timelines.
4. Follow-Up After The eLearning Project's Completion
Get in touch with your subject matter expert and find out their thoughts on the entire experience of working with the eLearning development team. Did they feel appreciated as a part of the eLearning team and felt at ease suggesting their ideas. Considering these comments from your SME can help you understand two things: First, the Subject Matter Expert will be more motivated to work with your eLearning team again. Second, it gives you the idea that where you need to improve in future working practices, especially when working with SMEs.
We've discussed a variety of approaches for collaborating with SMEs, but did you know that their busy schedules pose the biggest challenge? As a result, it's essential to value their time. Here is an infographic featuring the top 10 tips to save your SMEs time through Rapid eLearning.



Summing Up!
A rapid eLearning design and development process is made easier and more efficient when the eLearning development team and SMEs collaborate and retain the course's focus on the demands of the learners.
As I previously stated, persuading the SME to allow us time to assess the content or to review storyboards or courses is difficult. Being mindful of SMEs' busy schedules makes sense. Check out this handy eBook to get a more concise rundown of all the tips provided above.