Rapid eLearning: How Does it Help with Sales Training?
We all know how rapid eLearning is enabling the faster development of courses. Read how rapid eLearning ticks all boxes for sales training.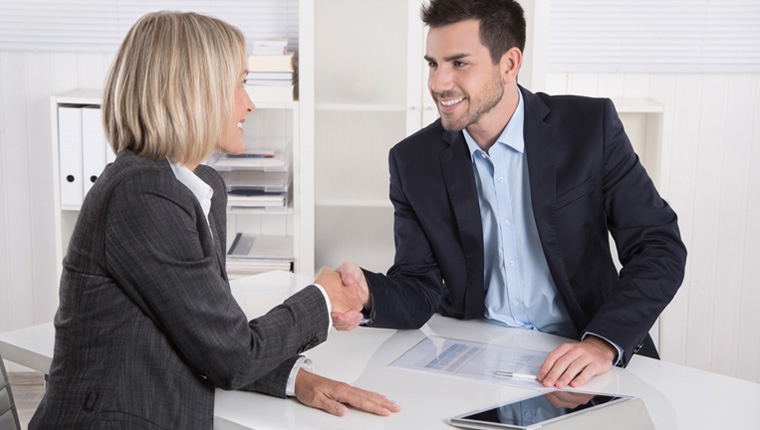 Salespeople by nature of their jobs are a mobile workforce. They require instant access to information, one that takes up very less time of their schedules. In their line of work, salespeople are required to stay up to date with the latest of products to be able to convert their organization's prospects into customers. For this 'sales enablement' to happen, sales training needs to be created at a rapid pace as quickly as new products are announced. To achieve this, companies can make use of rapid eLearning for faster course development and delivery. This blog will highlight four ways using rapid eLearning and its tools is the right development strategy for sales training.
Rapid eLearning for Effective Sales Training – 4 Reasons
Convert existing sales manuals into online courses
Use authoring tools' built-in templates for scenario-based learning
Develop bite-sized product training to impart necessary sales skills
Host product manuals in various formats on a portal for JIT
Four Reasons to Use Rapid eLearning for Sales Training
Convert Existing Sales Manuals into Online Learning Courses
If an organization is in possession of a pre-existing library of sales, marketing, and sales management material prepared by their own subject matter experts, it can now seamlessly be repurposed into online courses. This vast chunk of material makes up the basic blocks for an online sales training.
Vendors then leverage rapid authoring tools such as iSpring to quickly convert this material (paper-based sales textbooks, product manuals, written customer manifestos, or PDFs/Word/PPT documents) into good sales training modules with quality animations and interactivities. They utilize their expertise in learning and design (L&D) and rapid authoring tools to ensure the sales training program teaches the necessary sales skills and selling techniques.
2. Use the Tools' Built-in Templates for a Scenario-based Learning
The ethos of any sales training depends on, firstly, how well it imparts selling skills such as the concept of a good sales conversation (i.e., the dos and don'ts of sales-customer interaction); and secondly, teaching salespeople the contexts in which the products will be used to achieve good sales results. For this, the scenario-based learning strategy must be used to teach the required skills using interactive problem-based contexts that reflect the everyday situations salespeople encounter on a daily basis. These scenarios allow salespeople to apply their prior subject knowledge to the situation at hand and try their sales skills in a risk-free environment.
Rapid authoring tools such as Articulate Storyline come built-in with templates for scenario-based learning. Although it goes without saying, the mere availability of templates does not render the training effective or possible unless they are handled by expert hands with ample instructional design expertise.
3. Develop Bite-sized Product Training to Impart Necessary Sales Skills
Traditionally, sales training programs were so long that it took valuable time from a salesperson's work schedule if he/she were to look up for a specific concept/topic. But time is money when it comes to sales training and to ensure that salespeople are given only the necessary information, hour-long sales training courses can be broken down into small bite-sized modules (called microlearning modules).
Each microlearning module may cover one learning objective (such as customer service in one and how to close sales deals in another). In doing so, not only are the modules shorter but learners can focus on one topic at a time. These bite-sized modules are developed using rapid authoring tools; they are mobile-friendly and therefore can be sent to the learner's device (smartphone or tablet) as and when they are developed, making sure the learner is updated with the latest industry trends and product information at the click of a button.
4. Host Product Manuals in Various Formats on a Portal for JIT
JIT is just-in-time which means to provide access to the right information in times of crises (e.g., when he/she wishes to brush-up his/her product knowledge before meeting a prospective buyer). To make JIT a reality, the physical or virtual sales manuals must be repurposed using rapid authoring tools into various microlearning formats such as PDFs, short product videos, FAQs, case scenarios, skill-based assessments, digital flashcards, infographics, mobile apps, and interactive resources. These can then be hosted on a mobile-friendly learning management system (LMS) so that when a salesperson needs access to information before meeting a buyer, they can access it with just a few clicks.
It is challenging for sales personnel to keep up with industry trends, not to mention new product offers, products, and their related processes. To ensure they remain informed of the ever-changing product lines and are confident enough to guide a buyer to the best-matched solution, companies need to change the way training is developed and delivered. Rapid eLearning ticks all boxes for sales training – be it cutting down on the course development time/cost or making sure that salespeople are provided training in ways appropriate to their schedules and learning preferences.