Debunking the Myths of Rapid eLearning for Training Managers
Are you skeptical about adopting rapid eLearning solutions for your corporate training needs? Well, this blog will steer clear common myths around rapid eLearning and show how it helps boost your training plan. Read on to explore.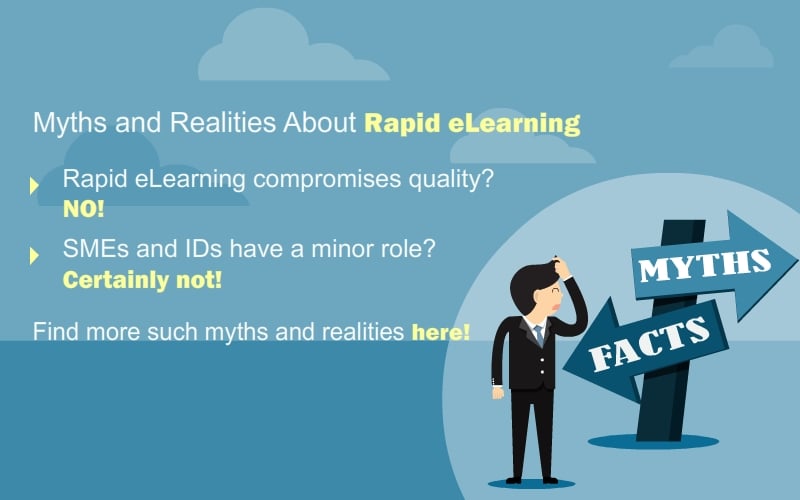 Getting ready for the hunt to find the best training solution in this challenging situation? Being a training manager is no mean feat, especially with all the disruptions due to COVID-19. However, you still have to meet training demands amidst 'budget cuts' and 'time constraints'. Thankfully, there is one solution which will make your life a lot easier. It promises to deliver impactful eLearning solutions in minimum time and budget. Yes, I am talking about rapid eLearning.
Rapid eLearning has been the talk of the L&D town for quite some time now. But despite its popularity, there are still many myths and misconceptions surrounding it. So, in this blog, I will bust some of those widely-held misconceptions about rapid eLearning and discuss how it can help you plan a successful online training strategy to achieve the business results you want.
Dispelling 6 'BIG MYTHS' About Rapid eLearning
Rapid eLearning compromises course quality
SMEs and IDs play only a small role
Any content that is available is okay for rapid eLearning
Rapid eLearning is limited to eLearning development
Reusing templates is the only way to ensure speed
The only criteria to choose an outsourcing vendor is authoring tool expertise
Busting 6 Rapid eLearning Myths for Training Managers
Myth 1: Rapid eLearning Compromises Course Quality
As far as myths go, this one is very common and quite understandable. Logically speaking, the lesser the time spent on development, the lower should be the quality of eLearning. But when it comes to rapid eLearning, this could not be farther from the truth. Rapid eLearning does speed up the development process, but NEVER at the expense of quality! Here's how it does that.
Rapid eLearning, while not going in for complex interactions and multimedia elements, is based on robust instructional design principles and adult learning principles.
It is designed to offer optimal learner engagement and interaction.
It leverages the built-in multimedia assets and features of rapid authoring tools to develop visually rich, engaging, and interactive eLearning courses.
Myth 2: SMEs and IDs Play only a Small Role
It is easy to be under the misapprehension that Subject Matter Experts and instructional designers won't be needed for rapid eLearning. After all, most discussions on rapid eLearning revolve around the technical aspects of course development and the use of authoring tools. While it is true that SMEs and IDs don't need to build content from scratch (as they would in case of custom eLearning), they still have a lot of things to take care of.
SMEs have to thoroughly assess all available material (online and offline) and curate the content, eliminating all extraneous and outdated content. They also have to fill any content gaps with relevant information.
What about instructional designers? Well, as we've already seen, they are responsible for the design of effective eLearning that's based on sound instructional design principles. They are the ones who make courses engaging using new-age learning strategies like personalization, storytelling, and gamification.
Myth 3: Any Content that is Available is Okay for Rapid eLearning
Rapid eLearning uses existing training material, both online and offline, to build the eLearning. It saves a lot of time that would have been otherwise wasted in creating content from scratch. The resources you choose can be SOPs, PDFs, PPT decks, ILT handouts, question banks, webinar videos, or legacy courses. But while having reusable content is obviously an integral part of rapid eLearning development, you will still need to make the content online-ready.
Here's what goes into making sure the existing ILT content is online-ready.
Setting performance-based learning objectives based on the content you want to cover in each eLearning course.
Ensuring the content has no gaps, contains relevant information, and is aligned with the set learning objectives.
Simplifying the content to make it understandable for learners without the presence of an instructor or facilitator – by selecting the right instructional design strategy.
Adding formative and summative assessments that are aligned with the learning objectives.
Replicating classroom interactivities in eLearning. For instance, demos to videos, hands-on practice exercises to simulations, and so on.
Myth 4: Rapid eLearning is Limited to eLearning Development
Even since its inception, rapid eLearning is being perceived differently by different L&D professionals. Some see it as a strategy to convert ILT to eLearning, while others feel it can be used to extend the utility of legacy assets.
The truth? Rapid eLearning has diverse capabilities that include:
Converting ILT materials (manuals, guides, and PPT decks) to eLearning
Migrating Flash-based eLearning courses to the HTML5 format
Translating English eLearning courses into multiple languages
Making desktop-only eLearning courses responsive
Building microlearning courses or modules from ILT content
Developing digital learning assets like videos, interactive PDFs, and infographics
Myth 5: Reusing Templates is the Only Way to Ensure Speed in Rapid eLearning
There is no denying the fact that authoring tools are imperative for rapid eLearning development. Their built-in interactive templates certainly cut down development time. But there are other features offered by authoring tools that help in speeding up eLearning development.
Most of the popular rapid authoring tools – Storyline 360, Captivate, Rise, Lectora, iSpring – offer inbuilt elements that reduce development time considerably.
Here are some of those features:
Inbuilt library of ready-to-use media assets – illustrations, characters, images, backgrounds, photographs – help in the rapid development of customized courses.
Graphics, animations, branching features make building complex interactivities fast and easy.
Screen recording and editing features help in creating watch-try-do (WTD) software simulations quickly. Adobe Captivate is known for its capabilities to create software simulations in three different modes – demo, training and assessment.
Online review tools ensure a fast and seamless feedback-implementation-review cycle. For instance, Lectora Online and Articulate's Review 360 help in reducing multiple review cycles by offering features such as in-context feedback, online access, easy update of feedback versions and more!
Myth 6: The Only Criteria to Choose an Outsourcing Vendor is Authoring Tool Expertise
If you don't have a dedicated in-house team with the capabilities and resources to carry out rapid eLearning development, you had best choose to outsource it to an eLearning vendor.
The vendor's expertise in authoring tools is an important factor in selection, but it should not be the only one. Here are a few other things you need to look for while choosing a vendor for outsourcing your rapid eLearning development.
Does the eLearning vendor have:
Expert instructional designers with experience in handling rapid eLearning projects?
An agile project management process for seamless development?
Expertise in using different authoring tools?
The capability to allot a dedicated team for your project?
Previous experience in handling similar projects?
Additional services like eLearning translation and LMS administration?
Summing it Up!
Agreed that 'Slow and steady wins the race', but not for businesses – in this digital era, they need results 'fast and furious'! Moreover, rapid eLearning is the need of the hour for restarting training after disruptions in L&D due to COVID-19. It allows you to rollout virtual training quickly and helps you future-proof your training.
So, if you want to keep up with the pace of the current business world and offer unhindered virtual training to your employees, go for rapid eLearning.
Download our eBook for more information on best practices for instructional designers to create impactful rapid eLearning courses.