4 Noteworthy Tips for Training Managers to Implement Rapid eLearning Effectively
Rapid eLearning is a powerful solution to make corporate training productive but only when training managers can correctly implement its fundamentals. This blog will help you with some tips/best practices to do so.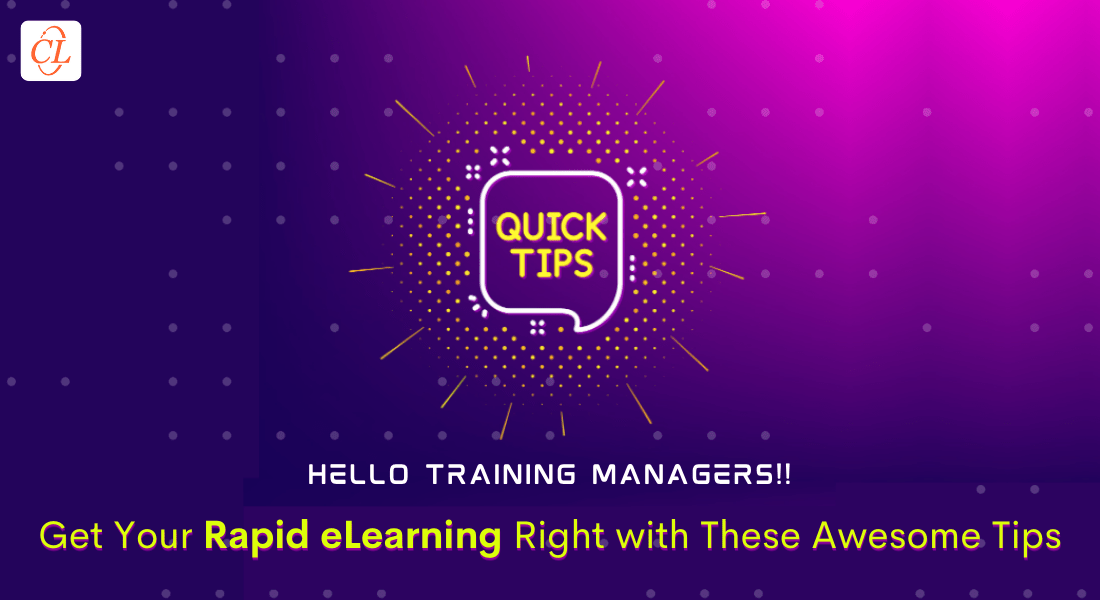 As training managers, it's quite natural for you all to be mostly under pressure to produce positive results and when you have to consider the various learning preferences of modern learners, it becomes more challenging. Rapid eLearning can help you roll out eLearning courses quickly that are engaging, interactive, and learner-centric, that too under a limited budget and tight deadlines. This blog will provide a few tips and best practices that will help you to implement rapid eLearning for your corporate training sessions successfully and seamlessly.
Facing Issues Implementing Rapid eLearning Effectively?
These tips might help you –
Evaluate your training needs before getting started with the development process
Prefer cloud-based rapid authoring tools over desktop-based ones
Outsource rapid eLearning development to save time and money
Ensure you have an agile project management process to streamline project proceeds
Why Rapid eLearning and not Conventional eLearning?
Rapid eLearning focuses only on "need-to-know" information while eliminating unnecessary frills, making sure the courses follow adult learning principles and are efficiently curated for modern learners. Here are three example situations where rapid eLearning can be preferred over conventional eLearning –
When you want to design refresher courses – Suppose you already have a conventional eLearning course for a certain subject, but it's too long, so you can create a microlearning course using the rapid eLearning authoring tools and share it with all your employees for quick revisions post main training session. This certainly boosts the knowledge retention of the learners and makes training impactful.
When you want to develop a course with a short shelf life – For example, company policies change every year, and it's mandatory for employees to get a hold of them. Rapid eLearning can be effectively used to design such types of courses where the shelf life is very short and updates are required every now and then.
When you have budget and time constraints – This is probably the most important reason why rapid eLearning gets an edge over conventional eLearning because it leverages the power of rapid authoring tools to design eLearning quickly without compromising on quality so that everything is under the budget and delivered before deadlines.
4 Rapid eLearning Implementation Tips for Training Managers
1. Evaluate your training needs before getting started with the development process
When you are implementing rapid eLearning, it is advised to gauge your training needs and start accordingly. Use the power of authoring tools and other modern technologies to get your development right. Here are a few things or solutions rapid eLearning can help you with –
Classroom to eLearning conversion: Rapid eLearning can be extremely helpful when you have training content in hand as it can be repurposed to create engaging eLearning courses quickly with enhanced interactions and visual design. Existing classroom training assets such as manuals, guides, PDFs, PPTs, and video lectures can be effectively edited and incorporated within the course after a certain instructional design is decided.
Legacy to HTML5 conversion: There's a strong possibility that you might not have separate assets but standalone legacy courses that are not so viable as per modern learning standards. Rapid eLearning can leverage the features of various modern authoring tools to convert these legacy courses into HTML5 format and the content, interactivity, and multimedia assets can be updated when the conversion process is carried out to make the course responsive and thereby enhance the utility of the courses
eLearning Translations: When you have a global audience to serve, rapid eLearning can help you out. You can translate the rapid eLearning courses in a relatively easier way because the rapid eLearning authoring tools allow easy updates and they have in-built AI translation tools with them to make things more streamlined.
2. Prefer Cloud-based rapid authoring tools over desktop-based ones
However, I have already mentioned why authoring tools are the heartbeat of rapid eLearning design and development, it's always important you choose the authoring tool that suits your learning objectives and training needs. Modern rapid authoring tools come with advanced features such as built-in editable templates, various multimedia assets, third-party software integrations, interactivities, screencasts, reviews, etc. All these features help the organization cut down the development effort and time by a considerable margin, enhancing the training ROI for them.
There are various types of authoring tools, majorly being of two types; cloud-based (iSpring, Elucidat, and dominKnow) and desktop-based (Adobe Captivate, Articulate Storyline 360, and Lectora Inspire). Cloud-based authoring tools are helpful when you have team members across the globe working on a single project whereas desktop-based tools can be the best option when only local teams are working separately on various projects. The workforce is mostly global these days, hence cloud-based authoring tools are being preferred more than desktop-based ones because they make the storage, sharing, and review process of these courses easier and more efficient facilitating the quicker rollout of courses.
3. Outsource rapid eLearning development to save time and money
There is a strong possibility that your in-house L&D teams might not have the required expertise to design rapid eLearning courses or maybe it can prove to be hectic amidst other work. Therefore, it is advised to outsource rapid eLearning design and development to an external vendor so that you can get quality courses within your budget and under your specified deadlines. The expertise of external vendors should be checked before you outsource along with other safety measures so that you choose the right vendor and get your work done in a jiffy. This will help you focus on other business priorities while your selected vendor is busy developing a well-curated interactive and engaging rapid eLearning course.
4. Ensure you have an agile project management process to streamline project proceeds
Just like any other project, before getting started with the development processes, create a list that states the roles and responsibilities of all the involved team members to create error-free rapid eLearning courses. While it is advised to outsource the project, that's only when you do not have an in-house competent team. But if that's not the case and you are opting for in-house development, having a project tracker where all the key stakeholders are included is a best practice. You can assign them clear roles and responsibilities so that it becomes easier for everyone to collaborate properly and ensure the course development happens smoothly.
Parting Thoughts!
As a training manager, it is very tricky to implement rapid eLearning correctly, but once you follow the correct guidelines and understand your learners well, it becomes relatively easy to design and develop engaging rapid eLearning courses for your employees. I hope these tips were helpful and in case you want a detailed guide, you can download our free eBook to explore actionable insights on rapid eLearning. Grab your copy now!
Editor's note: This post was originally published in December 2022 and has been updated for comprehensiveness.