How Rapid eLearning Solutions Improve Corporate Training ROI
Rapid eLearning maximizes ROI. Continue reading to explore how can transform your training initiatives and revolutionize your organization's success.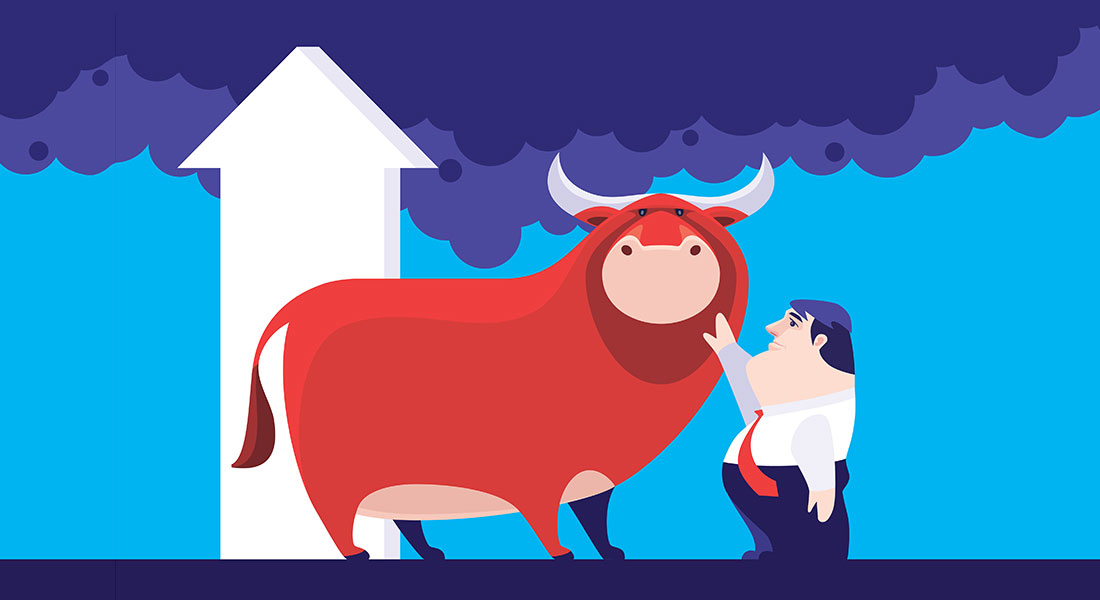 The corporate training market is huge. Every year, companies spend billions of dollars on training programs that are designed to improve employee performance and productivity. Rapid eLearning has been gaining steam over the past few years as more and more organizations realize its benefits. Rapid eLearning solutions can improve your organization's ROI by providing everything from rapid course development to faster content updates to better employee training support and more! It allows organizations to integrate audio, video, and kinesthetics in one place. Here's how it all comes together to create better value.
Rapid eLearning Boosts the Corporate Training ROI Significantly
Here are a few ways it does so:
Enhances Learning Experience
Provides Faster Content Updates
Amplifies Training Support for Your Employees
Facilitates Superior Content Quality
Minimizes Content Development Cost
Boosts User Engagement
Read on to explore more…
How Rapid eLearning Boosts Corporate Training ROI
1. Enhances Learning Experience
Rapid eLearning solutions are designed to be engaging as they provide a fluid learning experience that incorporates many of the same elements you would find in a traditional classroom setting. The difference is that rapid eLearning provides more efficiency and flexibility to use technology in ways that can enhance the learning experience of individual learners and help them become more productive at their job.
This means that you can deliver content in real-time or asynchronously, allowing employees to progress through their course at their own pace. You can also integrate learning activities across multiple modalities (such as audio, visuals, and kinesthetics) so your learners will get to have a personalized learning experience. The result? Your employees will be able to apply their new skills immediately without having to wait until their next scheduled online training session! Better efficiency coupled with routine testing and skills implementation can improve ROI by reducing the time required to bring the training into practical use.
2. Provides Faster Content Updates
One of the biggest advantages of rapid eLearning solutions is that they allow you to quickly update content as needed. With traditional authoring methods, the update process can take months whereas, with rapid eLearning services you can update your content in a matter of hours and sometimes even minutes. When you're producing top-notch, customized content at a much faster rate than traditional eLearning, you're bound to have much lower costs, essentially leading to a higher corporate training ROI.
Rapid eLearning leverages the power of modern eLearning authoring tools to design professional eLearning courses, update their content, and ensure their seamless delivery within a tight budget. These platforms also allow anyone on your team (not just designers) to make these changes remotely without knowing how it works behind the scenes so long as they're using the right authoring tool!
3. Amplifies Training Support for Your Employees
Rapid eLearning courses can be used by employees at any time, in any location. As an employer, you know that your employees have a busy schedule. They have to manage their personal lives as well as their careers. With eLearning courses, they no longer have to take time out of their day to travel somewhere and attend training sessions. They simply need access to the Internet, and they can use their own devices—home computers, laptops, or mobile phones—to complete all coursework and tests on their own schedule because rapid eLearning ensures that the courses follow a truly responsive design to enable seamless learning on the go.
4. Facilitates Superior Content Quality
Rapid eLearning ensures the learning content is created in an iterative and engaging way, which leads to higher-quality training. Rapid eLearning focuses on incorporating robust instructional design strategies and adult learning principles to design engaging and interactive eLearning courses quickly. The eLearning authoring tools come with a lot of ready-to-use templates and a huge content repository to ensure the quality of courses is top-notch. You can use the pre-built eLearning templates for all sorts of content whether it's the main course body or assessments, and incorporate various instructional design strategies such as storytelling, simulations, game-based learning, etc.
The multimedia library accessible in the modern authoring tool suites helps designers choose from a variety of images, backgrounds, avatars, icons, and many more visual assets to give a personalized look to your rapid eLearning courses. All the templates and multimedia assets are available for unlimited use for free because everything's included in the authoring tools suite subscription. This helps them save a lot of time as they don't have to develop all these from scratch, hence, enhancing the overall ROI.
5. Minimizes Content Development Cost
Rapid eLearning solutions reduce the time spent by designers and developers on creating, testing, editing, and publishing new courses because everything is provided by the authoring tools suite, and only customizations are required, which leads to lower costs per course. This is because rapid eLearning authoring tools facilitate seamless integration with external LMS and other third-party platforms. Rapid eLearning solutions also help incorporate agile project management by improving collaboration between different teams within an organization (creative design versus technical implementation) as well as providing tools for better quality control over content creation processes (such as user feedback).
6. Boosts User Engagement
As the user interface and experience is one of the most important aspects of rapid eLearning courses to maximize user engagement, it's crucial to ensure that your training modules are easy to use and intuitive. Use interactive elements like complementary colors, simple animation, relevant sounds for clicks and other interactive activities, and creative infographics as examples to keep users engaged in the learning process. Keep your content engaging and relevant by providing real-world examples, stories, and anecdotes. This will help learners relate to the information being presented and make it easier for them to remember what they've learned.
Considering all these advantages, rapid eLearning solutions are a must adopt for businesses focusing on sustainable growth and success! Want to enhance your training program with rapid eLearning? Here are some tips: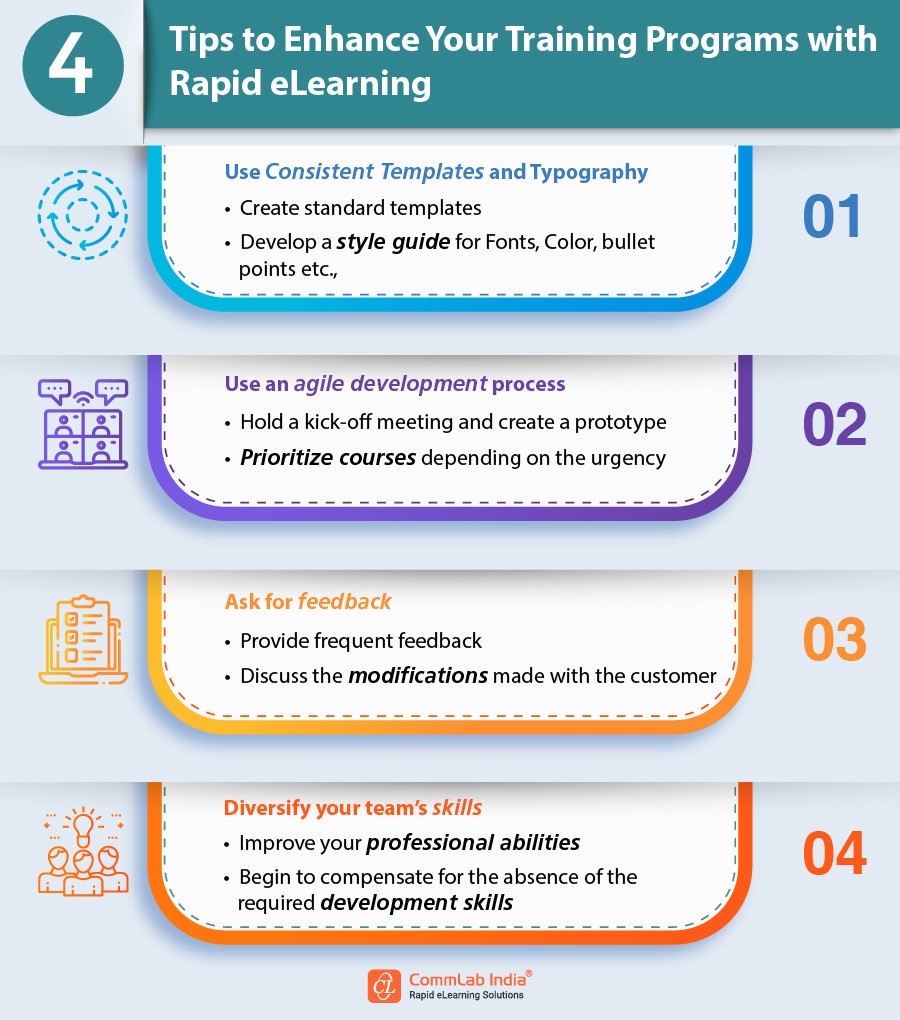 Parting Thoughts!
Rapid eLearning is a powerful solution for businesses and organizations looking to engage their employees and improve the quality of their work. If you're considering implementing an eLearning program, make sure that you have the right tools in place to create a high-quality, engaging learning experience. Rapid eLearning solutions have a huge impact on the ROI of corporate training, and they can help you to deliver better content to your employees. If you wish to know more about how eLearning impacts the training ROI, you can check out this free eBook and get started with your ROI calculations.
Editor's note: This post was originally published in May 2023 and has been updated for comprehensiveness.