4 Myths About Rapid eLearning Busted!
There are certain misconceptions associated with rapid eLearning and this blog addresses the 4 most common myths and debunks them.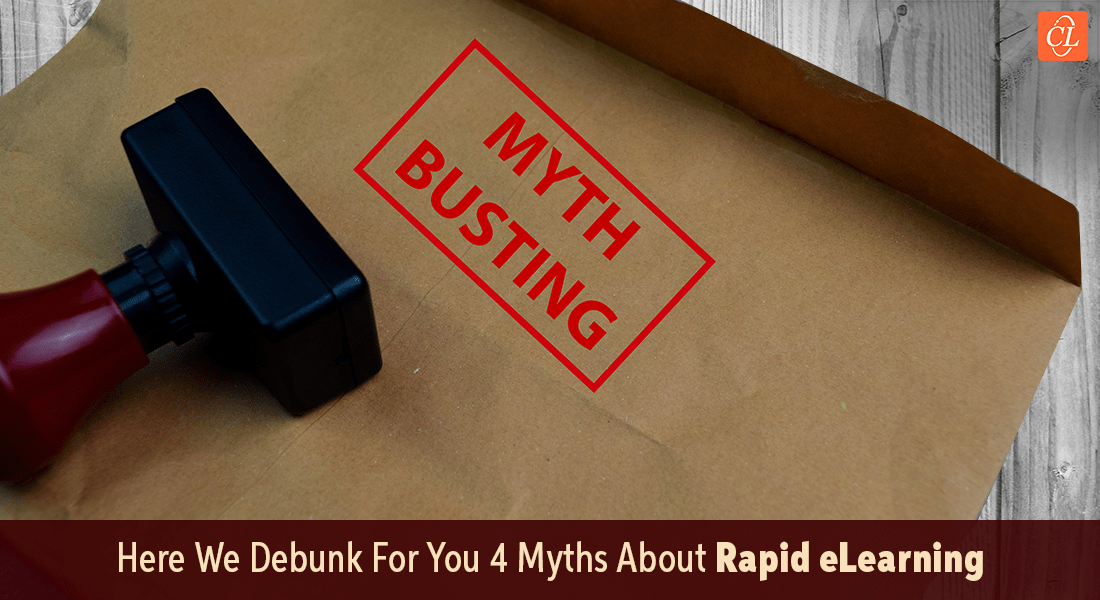 Employees need to be constantly upskilled and reskilled to keep up with the dynamic approach of this corporate era. To upskill and reskill employees, full-fletched courses can't be developed every time, as it is not a one-time process. Rapid eLearning is the fastest and most effective way of developing eLearning courses for the employees of an organization that desires to keep up with the competitive corporate work environment.
What Is It You Have Been Hearing About Rapid eLearning?
Is it one of these statements?
Minimized Budget Compromises the Quality.
Any Available Content is Suitable for Rapid eLearning Course Development.
Rapid eLearning Courses Lack Engagement and Creativity.
Only Programming Experts Can Develop eLearning Courses.
Well, these are myths and I have debunked each of these myths below.
Rapid eLearning provides a number of solutions and benefits to companies all over the world. Some of the prime benefits are as follows:
Convert an instructor-led classroom training program into a custom eLearning program.
Convert legacy courses into HTML5 format.
Translation of English courses into your desired language.
When a technique offers so much ease at your workplace, not everyone tends to believe it all. Hence, it gives birth to a few common misconceptions. These myths need to be avoided and thus, I will debunk 4 common myths that revolve around the concept of rapid eLearning.
4 Most Common Myths Associated with Rapid eLearning
1. Minimized Budget Compromises the Quality
This is one of the most common misconceptions that a rapid eLearning course development would compromise the quality of learning. This is a straight-up myth as the narrative is way different from reality. As a matter of fact, rapid eLearning development does cost less and takes less time as well, but it nowhere compromises the quality of the course.
Rapid eLearning is effective and efficient due to the following features:
2. Any Available Content is Suitable for Rapid eLearning Course Development
Rapid eLearning development indeed uses the already created learning resources, whether they are classroom training materials or legacy courses. The practice is preferred to save time that would be used up if a course development starts from scratch. eLearning courses are developed from various resources such as legacy courses, PPT presentation decks, webinars, classroom handouts, question banks, etc.
Now you might be thinking that I stated almost every type of resource possible but that's not what I meant. Before any sort of content is used for rapid eLearning development, there are a few measures that need to be ensured. Some of these are:
3. Rapid eLearning Courses Lack Engagement and Creativity
This is another big misconception that is still believed by a lot. This misconception might have started spreading due to the use of pre-built learning templates. On the contrary, the use of versatile and unique templates can be highly engaging for learners. Moreover, these templates are customizable so you can edit them as per your demands and objectives.
People often confuse complexity and creativity. Rapid eLearning focuses on things you need to know rather than the information that seems nice to know. Thus, it cuts down lengthy and complex explanations and simplifies the overall courses for the learners., Here are a few ways your courses can get creative and engage learners:
This myth gets easily busted when you actually opt for a good rapid eLearning course and know for yourself whether they lack creativity or not.
4. Only Programming Experts Can Develop Rapid eLearning Courses
People who don't belong to a technical background might have this misconception that the development of rapid eLearning courses would possibly require extensive knowledge of programming or coding. The existence of authoring tools such as Adobe Captivate and Storyline 360 has made the development of eLearning courses easier than ever. You only need to have a basic practical idea of MS word and Powerpoint and you are good to go. Authoring tools have various built-in elements and templates to choose from. Updating current courses is also a hassle-free activity due to the existence of these rapid authoring tools.
One more effective feature of authoring tools is that their final product is in HTML 5 format which makes their use pretty ideal for conversions of legacy courses to HTML 5. Let's discuss the primary features of authoring tools:
Myths Busted!
Rapid eLearning courses are fast, cost-effective, time-saving, and an improvised version of conventional eLearning. It follows instructional design principles and engages learners at their best by cutting down unnecessary resources and information. To maximize the training ROI and to achieve the desired goals, employees need to be trained with a personalized approach and rapid eLearning can be a legit solution.
Rapid eLearning courses need to include several modern formats of learning such as mobile learning and virtual training to engage the current generation of learners. To ensure your deadlines are not hampered due to all these customizations, get introduced to the 4 Rs of rapid eLearning. To help you with these 4 Rs, here's a free eBook.