Five Essential Elements of High Quality E-Learning Courses
This blog explains about the elements that make an e-learning complete.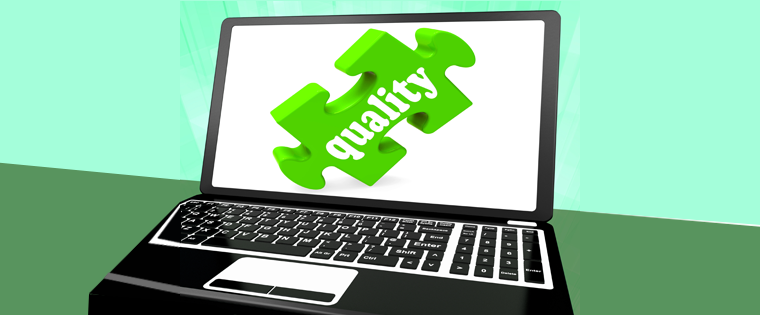 Every course available online can't be termed e-learning. E-learning should help course takers learn. It should adhere to Instructional Design principles so that learning is effective. Aimed at specific target audience, armed with measurable learning objectives, authentic content created in co-ordination with Subject Matter Experts (SMEs), assessments, and the flexibility to track learners' progress – these are the elements that make an e-learning a complete package. Let's look at each of these elements in detail.
1. Target Audience
Your e-learning should be aimed at specific target audience. When you know your target audience, you can develop an effective e-learning course that meets their expectations. To do that, you need to understand the training needs of your audience, their background, demographics, and learning preferences. This will help you develop a relevant and effective e-learning course.
2. Learning Objectives
Amateurs think tossing content in an authoring tool is e-learning. But the intention of e-learning is facilitating learning. For that, your e-learning should have specific and measurable learning objectives, right at the start. You need to tell your learners what you are going to offer through the e-learning, in the form of learning objectives. Adults learn only when they know why. Stating learning objectives serves this purpose. A learning objective is a statement, in specific and measurable terms, that describes what learners will be able to do after completing the course. This can be in terms of skills, knowledge, or performance. That's why they are also known as learning outcomes, performance or behavioral objectives. Without proper learning objectives, you can't have an e-learning. You need to write learning objectives with a measurable action verb that specifies the expected performance and condition and criteria (where applicable). How to frame effective learning objectives is in itself a comprehensive topic.
3. Authentic Content
You need to develop content for your e-learning course in co-ordination with Subject Matter Experts (SMEs). This way, you will generate relevant content that meets your learners' needs. Your e-learning content should challenge learners, arouse curiosity, and ignite a desire to learn. However, ensure the course content is easy to read. When I say content, don't think it is text alone. Images, text, videos, animations, and audio – all these elements comprise content. Your e-learning needs to balance all these elements to generate appealing, relevant content. You also need to use neutral (culture, politics, humor, and religion free) language in your e-learning content. This'll make your e-learning translation-friendly.
4. Assessments
You can't call e-learning complete without evaluating learners' knowledge. And assessments are crucial to ensure this. You can use formative assessments and summative assessments in e-learning. Formative assessments are diagnostic in nature and used after the completion of each unit to test learners' understanding of the discussed learning points. This also helps you get learners' feedback. You can improve the learning experience with this. The summative assessment comes at the end of the course in the form of a final quiz. This is used to assess whether learners have achieved the set learning objectives.
5. Track Learner Progress
E-learning will be a futile exercise without tracking learners' progress. Tracking the activity of learners gives you valuable insights on their behavior. You can track this conveniently using a Learning Management System (LMS). By collecting and analyzing the data, you can identify learning trends and offer meaningful e-learning experiences to your learners. Once you prepare an e-learning course, you make it SCORM compliant and share it via an LMS.
Providing additional resources for further learning makes your e-learning course more comprehensive. Hope you will be able to develop full-fledged and winning e-learning courses for your employees, taking into account all these elements.
Hope you liked the post. Do share your views.