6 Ways to Promote eLearning to your Employees
Despite its well-known benefits (cost effectiveness, anywhere, anytime access, reduced time for learning, and better retention), eLearning finds no takers in many organizations. Reason? Failure to create awareness of eLearning in learners. Read on to know how you can promote eLearning to your learners.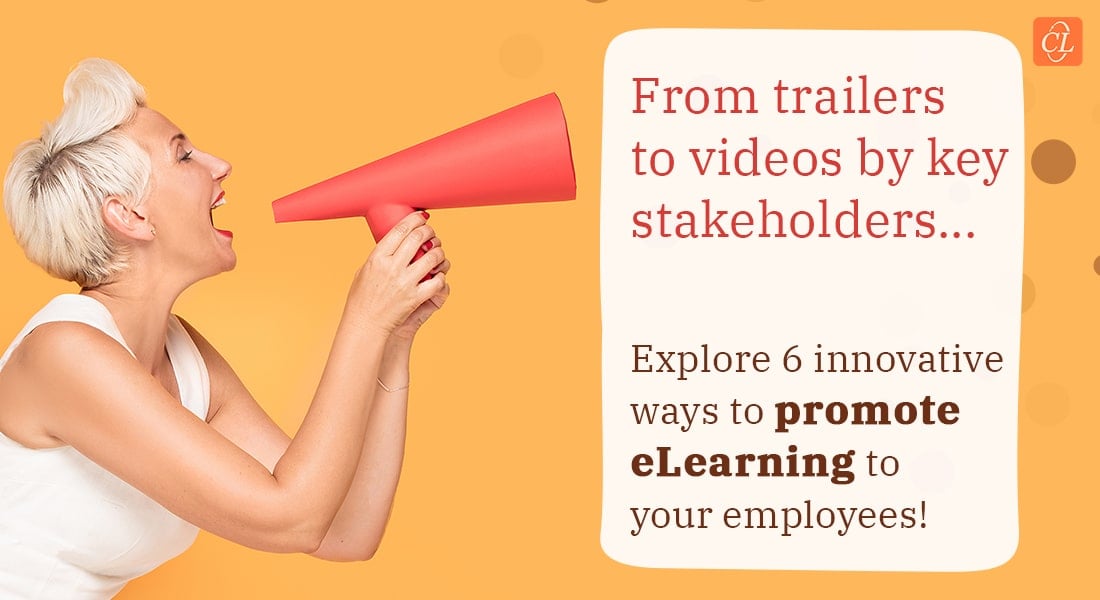 More and more organizations are shifting from traditional instructor-led training (ILT) to eLearning to ensure seamless training and avoid disruptions. Despite its many advantages (cost-effectiveness, anytime, anywhere learning, reduced time for learning, and better retention, to name just a few), organizations face many challenges when it comes to successfully implementing eLearning. That includes resistance from both the management and employees – the biggest challenge being "It-may-be-good-but-it-will-not-work-in-our-company" mindset.
What you will need is a well-thought-out communication, promotional and marketing campaign within the organization that can make all the difference between success and failure.
Challenges to Successful eLearning Implementation
The challenges to successful implementation of eLearning may include:
Lack of top management support
Resistance from employees
IT infrastructure requirements
Of all these challenges, getting the learners to enthusiastically go for eLearning is the most difficult. That is because some (or most) of them consider the classroom to be the best place to learn new knowledge or skills. So, I'll be talking a bit more in detail on how to overcome resistance from your employees or learners.
Looking to Promote eLearning to your Employees?
Try these 6 easy ways:
Get top management to endorse eLearning
Conduct in-house seminars
Plan for innovative training programs
Pique learners' interest with teasers and trailers
Use social media discussion forums
Offer incentives and rewards
But first, let's get the other two challenges out of the way.
Tackling eLearning Implementation Challenges
The lack of top management support can be dealt with by presenting a comprehensive business case for eLearning that will help convince top management and key stakeholders to support eLearning. The business case should include, at a minimum:
The business challenge that needs to be addressed
How you will use eLearning to solve the problem
The existing training methodology and alternatives
A comparison of benefits of the present training method vs. eLearning
Resources needed and action steps
The IT infrastructure requirements can be met with by ensuring basic infrastructure (a network, LAN, Internet connectivity, servers, and firewalls) along with a hosting option where courses can be made available to employees from a centralized location. The courses may be hosted on the Intranet, SharePoint, a Learning Portal, or a Learning Management System (LMS). Many organizations are opting for the LMS to facilitate the delivery and management of learning content to learners.
Dealing with resistance from your employees (learners) is not so simple. Employees, especially the older ones, resist getting trained with the help of technology. A few even feel "disrespected" when assigned eLearning courses. So, how do we overcome resistance from employees?
1. Get top management to endorse eLearning
A video with the CEO or key stakeholders talking about the benefits of the eLearning program will go a long way to ensure high emotional connect and make learners more open to training via eLearning. Just think of the impact of a video from the management announcing an important upcoming eLearning course and explaining why it is essential to attend the training.
A video of a training manager or subject matter expert discussing the relevance of the online learning training and how it will help learners improve performance and go forward in their careers will not only increase confidence in the training but will also foster the idea that the organization genuinely cares about their professional development.
2. Conduct in-house seminars for carefully selected target groups to highlight the benefits of adopting eLearning.
3. Plan for innovative training programs that cater to the unique needs of your multigenerational workforce. Instead of the same old page-turner courses, go for:
Microlearning: Short, 3-5-minute learning modules, each focusing on one learning objective.
Mobile learning: Bite-sized online modules that learners can access anywhere, anytime on all mobile devices – Smartphones, iPads, Android devices.
Video-based learning: Short engaging videos using different visual strategies and video-based courses that include short video snippets.
Gamification: Game-based courses that will engage learners' attention and make them want to complete the game (course).
4. Pique learners' interest with teasers and trailers
Even before the eLearning course is ready to be delivered to learners, give them a sneak peek of what is coming their way. As this gives them a taste of the actual training, it will increase motivation and develop a sense of anticipation in learners. Work with the marketing and communications teams to create and deliver an eye-catching teaser.
Here are a few tips on how to use teasers:
Start releasing teasers at least 20-30 days before the course launch.
Explain the benefits of the course in the teaser.
Ensure the teaser has just enough content to pique learners' interest in the course, but not so much that it negates the need for the course.
Solicit learner feedback on the teasers. Find out if they like what they see or if there is anything else they would like in the course. This gives you the opportunity to improve your course and make it more relevant.
5. Use social media discussion forums
Social media discussion forums are a very effective continuous marketing approach to keep your staff informed. A closed Facebook group, LinkedIn group, or Teams, for example, are wonderful locations to post announcements about online training courses, event invitations, and online training suggestions.
Employees can also share resource links and talk about the online training sessions. But make sure to establish some netiquette standards so that everyone stays on topic. Also, try to use social media channels that employees are already familiar with. Surveys and polls can help identify the most popular sites, allowing you to tailor your marketing strategy.
6. Offer incentives and rewards
Who does not like being rewarded? Create a quick learning game or plan a quiz around the eLearning course as one way to use rewards to promote eLearning. Inform your employees that the first ten employees who sign up and play the game will receive prizes, coupons, or vouchers.
This method of rewarding learners also encourages word-of-mouth publicity. Use leaderboards in your LMS to display names of learners who have signed up for the game or course each week. Post learners' scores to make it even more interesting and encourage healthy competition.
In Conclusion
The importance of marketing and promoting the advantages of eLearning to learners cannot be overstated. Well-designed promotional techniques attract more learners to enroll in the course, ensuring long-term success, and profitability. Tell learners what they are getting into and how online learning can help them perform better, and watch your eLearning enrollment rates skyrocket.
Are you considering implementing eLearning in your company to increase employee productivity? Check this eBook to learn more about how eLearning can help you achieve your business goals.