5 Best Practices to Create Online Training with Measurable Impact
Training is expected to improve employee performance positively. Explore how online training can be designed for maximum input.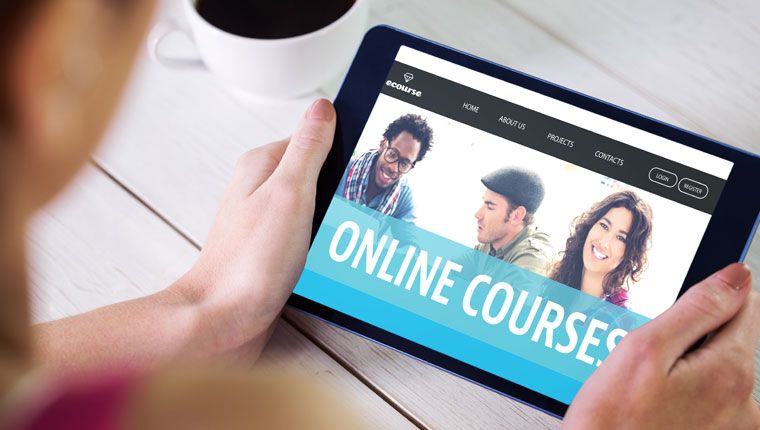 Developing an effective online training course can positively impact learner engagement, performance, and productivity. But how can training managers ensure online courses are aligned with organizational goals? Today, as global companies sharpen their focus on training ROI, the emphasis has shifted from how jazzy online courses are to how well they are at improving employee performance.
This blog shares five quick tips to ensure you create online courses with measurable impact on your company's business objectives.
Tips to Create Online Courses with Measurable Impact
Link online courses to business goals
Get top level management support
Make online training courses meaningful to learners
Make courses accessible at learners' moments of need

Influence direct managers to reinforce training
Tips to Develop Online Courses with Positive Impact
1. Link Online Courses to Business Goals
A good online course will enable employees to achieve your business goals and objectives. A training program might impart a new set of skills to your employees and make them happier. However, what if that contributes nothing toward your organization's strategic goals and objectives? You need a course that meets your business goals and objectives and contributes to observable, meaningful performance outcomes among employees. But how do you accomplish this? Let's have a look.
a. Define your business goals
Define the business goals your organization aims to achieve through the eLearning program. For example, these goals can be to improve customer service, increase sales, or improve production.
b. Identify knowledge gaps
Once the business goals have been defined, find out whether your employees have the required knowledge and skill set to achieve those goals. This can be done through conducting a training needs analysis. Based on the result of this analysis, you can find existing knowledge/skill gaps.
c. Set learning objectives
Once you have figured employees' existing knowledge gaps and the knowledge that needs to be imparted to achieve the defined business goals, set learning objectives that address the learning gap. For the maximum impact, your online course should include content to fill this gap.
d. Communicate the objectives and training need to learners
Clearly communicate the significance of achieving these business objectives, and how their accomplishment will help learners make a meaningful contribution to business vision. This understanding will lead to them investing their time in the training!
2. Get Top Level Management Support
Do you know what happens when online training courses have top management support? According to the 2019 Workplace Learning Report from LinkedIn Learning, 75% of employees would take a course assigned by their manager and 69% of organizations leverage leadership and managers to promote learning. Thus, gaining your top-management buy-in is imperative to the success of your online training initiatives.
Interact with key stakeholders or managers in charge of different operational units regularly and understand their training needs and requirements. This will help you understand your learners and come up with appropriate online training strategies that would appeal to them.
For example, a customer relations manager has identified that many of his team members have a problem dealing with irate customers. Understanding such requirements will help you develop highly relevant online training courses that address specific training requirements of the stakeholder.
Highlight the impact your online training course will have on the business, to stakeholders. For example, how will it reduce the expenditure incurred in instructor-led training or how will it improve performance by being available 24/7 to learners.
Once you have identified the training needs and convinced stakeholders of the positive impact training will have on business, it's time to use all gathered information and build a business case for your online training program. Here are a few features your business case must include:
Significance of online training courses and their shelf-life
A plan of action on how you wish to execute the eLearning development process
Approximate budget required for developing and implementing online training
The return on investment (ROI) of your online training course
3. Make Online Courses Meaningful to Learners
Studies show that around 50% online training courses are taken by employees when the courses are highly relevant to their jobs. A course that offers learners knowledge/skills useful to meet their immediate workplace challenges will be well received and tap into their motivation for learning. Here are a few points that will help you create learner-centric courses.
a. Understand your learners
Employees come from diverse backgrounds and have different learning styles. Hence, to design a learner-centric online training course, it is necessary to know the knowledge level, expertise, learning styles, age, and educational background of your learners.
So, get to know your learners before developing an online course and package the course content in multiple formats that will help you reach each type of learner – videos, infographics, charts, quizzes, activities and so on.
b. Spell out how learners will benefit
Adult learners need to know why they are learning something and what is in the course for them. To answer this, ensure your learning objectives tell learners what they can gain by the end of the course.
c. Offer real-world examples and scenarios
The most meaningful online training course is one that offers learners knowledge and skills that can be transferred into effective performance at the workplace. Hence, ensure your online course makes learners aware of the real-world benefits and applications of the subject.
For example, if you are developing an online course for sales training, you can offer learners eLearning scenarios on sales negotiation. Similarly, scenarios can also be used to make courses on tasks that involve a great deal of complexity more meaningful. It is challenging to explain complex tasks or processes in a way that is easily comprehensible to learners. Using an interactive eLearning scenario, you can make complex processes simple and straightforward and ask learners to make appropriate decisions by examining the knowledge gained thus far.
4. Make Courses Accessible at Learners' Moments of Need
Modern employees are on-the-go and hard pressed for time. They rely on mobile devices such as smartphones and tablets for quick solutions in their personal lives as well as the workplace. According to Pew Research Center, 67% of modern day adults are smartphone users and 85% of them use the Internet. Hence, it comes as no surprise that modern learners expect their online course content to be accessible on their mobile devices just like the information on the Internet.
Thus, one of the most effective ways to improve employee performance is by maximizing the accessibility of online courses to whenever and wherever learners seeks moment of need support.
Microlearning modules in the form of infographics, videos, games, animations, and PDF documents can be made easily accessible as just-in-time support on the mobile devices of learners. The micro size of these online training assets makes it easy to load and download on mobile devices, even at places with low connectivity.
5. Influence Direct Managers to Reinforce Training
The effectiveness of a corporate training program is measured by effective knowledge transfer and workplace application, both of which cannot happen without knowledge retention. Employee development does not end with the conclusion of an online training course. To promote knowledge retention, they need to be offered regular opportunities to reinforce the acquired knowledge and skill.
Learners' direct managers are considered an ideal catalyst for knowledge retention and behavioral change through a training process. However, according to a LinkedIn survey, one of the challenges for L&D teams is to get managers involved in employee training. So how do you as an L&D manager get your functional managers' buy-in to encourage learning within their teams?
a. Circulate success stories of managers who have successfully encouraged learning within their team.
For instance, LinkedIn used this strategy through its Manager Track Project to show how managers used eLearning to upskill their teams. Presentation of curated success stories were shown to managers describing how their peers gained success.
b. Show managers the job is not as hard as they imagine
Using an eLearning program, help managers understand how they can figure out relevant reinforcement programs and make suggestions to learners. A customized list of reinforcement courses can be uploaded on your LMS for managers' reference. They can then recommend this list to learners who are struggling to accomplish their tasks or looking for opportunities to enhance their already existing knowledge.
For example, when a sales rep looking to reinforce his knowledge on the latest market trends approaches his direct manager, the latter can easily refer an appropriate course from the LMS.
c. Motivate managers to enquire about employees' learning needs
Your managers can be encouraged to ask their direct employees what knowledge and skills they would like to acquire during a particular quarter or time period. Managers can also ask themselves where exactly they would like the team members to improve and recommend online training courses that will help in those areas.
Organizations shift to online training to enhance the impact of employee training and cut down the effort and cost associated with ILT sessions. An effective online training course can reduce employee turnover, increase productivity, and add to organizational profitability. Hope the best practices covered in this blog will help you create eLearning courses with measurable impact.
Would you like to know in detail how to measure and evaluate the impact of online training courses in your organization? Check our e-book on eLearning ROI to ensure your online training programs yield the best results.