Boosting Employee Retention with Online Training
A blog for training managers who need to know how online training can be used to improve employee retention.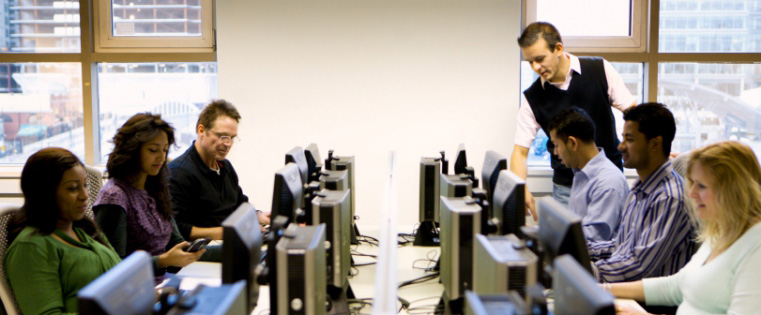 Some of the 'best companies to work' invest in great management, leadership, and training to offer employees an all-round professional growth. Why do organizations focus on boosting employee retention with training? Poor training leads to employees leaving their jobs within their first year.
It is practically impossible for organizations to conduct classroom training programs continuously for employee development. What can be provided instead is an online training program that can be accessed by employees at their own pace, and convenience. Read on to know more about the positives of online training that can help in attracting and retaining the right talent in your workforce.
Effective Online Onboarding
A new hire orientation program is an opportunity to introduce new hires to the company's policies, culture, and products. It is also the organization's chance to make the best impression on its employees. New hires, sometimes have to wait for weeks after joining, to attend a classroom orientation program. This may be due to unavailability of trainers or logistical issues in arranging classroom training programs. New hires also need to go through a variety of other training programs such as employee diversity, office ergonomics, and safety training. If all these trainings have to be conducted through instructor-led training programs, then it would take months for new hires to complete the onboarding program.
An online onboarding process not only saves time and money, it also helps keep track of the employee's progress, and meets the needs of a geographically dispersed workforce. It is possible to improve employee retention with online training. Research statistics prove that, with a standard onboarding process, companies experience a 50% increase in new hire retention. When you automate the onboarding program, it results in an additional 16% increase in retention of new hires.
Great Learning Environment
Learning is a continuous process. While training needs to be imparted on new skills, existing skills need to be reinforced. An organization that fosters a learning environment with a multitude of online training programs, improves employee engagement.
In 2014, Training Magazine honored Discover Financial, a Fortune 1000 company, for its corporate training innovations. The company converted 70% of instructor-led training programs to interactive eLearning. This helped them evaluate individual performance and provide personalized training.
An organization's investment in training and development, makes employees feel they are valued. If you do not offer your employees a chance to learn, they will quit and find the opportunity elsewhere.
Repository of Training Resources
With online training programs, learners gain access to a centralized repository of training resources. Instead of pushing learning, follow a "pull" learning culture that gives learners an opportunity to look for information that is relevant to their job.
E-learning makes it possible to build a repository of training resources that learners can access anytime, anywhere. Giving learners the freedom to access resources that will help them perform their job more effectively, is one way to boost employee retention with training.
Personalized Learning Paths
Often, busy employees find themselves left with very little time to concentrate on a training program during the workday. You can empower such employees by allowing them to follow a personalized learning path in an online training program.
Employees can select modules, and training activities that are relevant to bridge their knowledge gaps.
The dwindling attention span of learners, demands of a mobile workforce, and need for just-in-time learning, have led to the popularity of microlearning. Companies need to give employees, the training that is essential to do their job effectively. A positive impact on learner motivation in turn contributes to improved productivity.
Most corporate employees value training and development as perks for the following reasons:
To get better at their job
To make themselves eligible for promotion
To move to new opportunities
Some organizations are wary about implementing training programs as they fear that their employees may switch jobs anytime. It makes sense for organizations to invest in an online training program that attracts as well as retains the best talent.
Online training is all about offering your employees personal and professional growth. Has your organization managed to boost employee retention with training? If yes, share your thoughts, and inspire others.