Instructional Design Strategies for Online Product Training Curriculum
Check out the ideal instructional design strategy for developing online product training curriculum for sales and service personnel.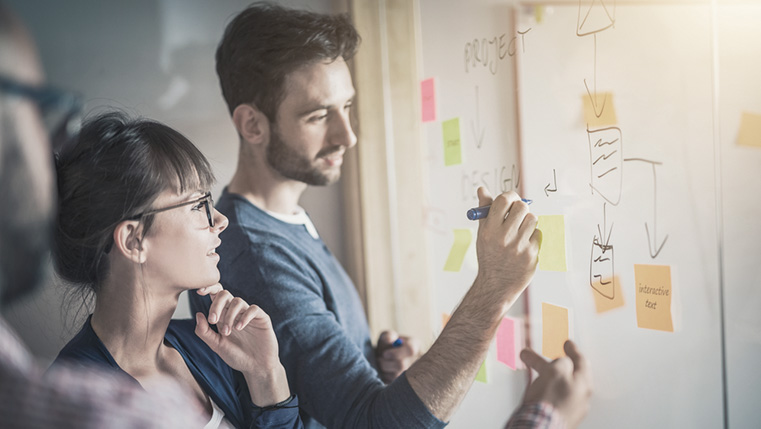 In order to sell a product, sales people require,
product knowledge
to know how to sell the products (i.e. psychology of selling) and
a thorough knowledge about the sales process and procedures of his company.
It is this holistic knowledge that aids them to make the right pitch to a potential customer. What exactly does this holistic knowledge mean? Let's look at it in greater detail.
Product knowledge that is relevant to sales personnel is not just about product features. After all, products are seldom sold based on their features. They are usually sold based on the benefits that the features provide to the end user. This is where the sales person needs to know the psychology of selling, i.e. how is the product going to benefit the customer. For example, if you are selling a high precision weighing scale, a customer may not really understand if you go on and on about its technical specifications. However, if you explain to him that the equipment has the capacity to weigh samples as low as 0.01g and that you take considerably lower time to measure a sample, is low on maintenance, it might strike a chord. Similarly, a sales person also needs to know the next steps once a customer has expressed his interest to buy the product. How is the order going to place, what is the necessary paperwork and who are the people to be involved in processing the order and so on, which are a part of the organization's sales process.
These aspects are usually integrated into a sales training program, when it is conducted face to face. However, when designing online training programs, a holistic aspect might be overlooked. Effective eLearning courses for product training do not get made by merely converting product manuals into eLearning modules. It would not be effective and purposeful to a sales person.
Check out a presentation that explains how to develop a crisp product training content for sales people.
How can eLearning courses for product training, be made instructionally sound? The first step in this direction would be to analyze what needs to be in the product training curriculum.
Aspects to consider for developing eLearning curriculum for product training
Obviously, the first aspect that one considers when designing a training curriculum is the training needs analysis. This enables you to establish the goal for the training curriculum. Here are some of the basic questions that you need to answer to develop an eLearning curriculum for product training.
Is the training for a single product or a range of products?
How broad based do you want your training to be? You can choose to focus on a single or a couple of main products that are most often used in the curriculum or develop the curriculum for the entire range of products, enabling your sales personnel to choose the modules that are relevant to them. Clarity on what you want to focus in the curriculum will define the scope of the training initiative.
Who are your target audience?
Product training is given to many people – sales people, dealers, distributors, customer sales representatives, service engineers. What is their comfort in terms of using computers? Do they work away from their desks for a long duration? Would it be better to make modules accessible on mobile devices? Is the target group from different geographical regions, necessitating translations of courses into multiple languages? These are some of the aspects that are required to be considered before developing online product training courses.
Would a curriculum be more beneficial instead of ad-hoc eLearning courses?
Each of the target group seeks information about products but they may not require the same amount of information or the depth of the information. So, you need to segregate information and design modules such that it caters to the target group. For example, basic information about a product i.e. Features, Advantages and Benefits might be required for all the people. However, troubleshooting a problem, assembling a product or dealing with complications in the functioning of the product is needed by service engineers and to some extent customer care representatives. If these are designed as separate modules, you can develop a curriculum by grouping modules that are most relevant to a particular group.
Would eLearning be enough or providing mLearning option would succeed in roping in more employees into the training fold?
Sales and service personnel work on the field and you need to consider if training should be made available on mobile devices. Providing this option ensures that employees can make use of their down time or time between meetings to access training material. Also, certain modules can be accessed to refer key inputs that might help them in their jobs. So, byte sized modules can also double up as performance support tools.
Would courses in multiple languages benefit more number of employees?
Translating eLearning courses or mLearning courses into multiple languages is more cost-effective than re-developing courses into multiple languages at region level. It also ensures consistency in quality of content. Therefore, if you target groups of employees who reside across the globe and if it makes sense to train them in their native language, you must factor this before developing eLearning courses.
These are some aspects that need to be considered prior to commencing eLearning course development. Once these factors are finalized, and you have a blue print on the direction your product training course needs to take, you can start developing the actual eLearning courses. In the next section, let's examine the typical tools and interactivities that help to make online product training courses effective.
Design strategies for developing online product training curriculum
As mentioned earlier, product training content cannot just confine to information about products. The information that is conveyed through the training curriculum should be such that the knowledge gained has specific purpose to learners in doing theirjob. For the purpose, information should be presented in an interesting and easy to understand format. Based on the training need, eLearning modules can be developed based either on
your products and their different version or
based on the level (i.e. basic, intermediate or advanced)
These modules can be mixed and matched to form a curriculum specific to the target audience. Thus, your employees can get either an overall perspective or a more specific and thorough perspective of a particular product. In fact, if you have existing training content, these can be re-purposed to form a comprehensive eLearning curriculum that can cater to the needs of wider audience in your organization. The unique features of the eLearning curriculum will be:
Byte sized learning modules that can be repurposed or combined to form a curriculum, based on the target audience
Usage of multiple formats in which learning content is presented. Various formats can be

Videos
PDF documents
Podcasts
E-learning modules
M-learning modules
Interactive assessments and so on
Here are some specific instructional design ideas to present product training content to learners.
Product demo videos
If you have complicated or huge products that cannot be physically transported easily, it is a good idea to develop videos that demonstrate how the product functions. This ensures that more number of employees can be educated and trained on a particular product as you don't have restrictions on the number of employees who can be accommodated on the shop floor or in a training room. These videos can be embedded into eLearning courses or can function as stand-alone learning objects.
Product simulations
If it is not viable for you to get videos developed, we can develop product simulations. These can be developed using Flash tools taking content from product manuals, technical documents and user guides. These can also be made interactive, ensuring learner engagement.
Software simulations – Watch-try-do
When the product in question is a software program, there is no better option than software simulation. Watch-try-do strategy can be incorporated for the purpose that enables learners to not just get first hand demo on how the software program functions, but also to try and work on the program in a simulated and safe environment.
Case study based training
Sales people can understand concepts and sales processes better when explained with day to day examples. They can relate better when stories about peers or fellow sales personnel are shared to explain do's and don'ts.
Hotspots for explaining product features
Hotspots are useful when we need demonstrate parts of a product and their specific functions. By hovering the mouse over the hotspot, more information appears on the screen about the part without taking away the learners from the big picture.
Drag and drop to match features with benefits
As mentioned earlier, there is no use for sales people to know about a product feature if they are not able to align it to the specific benefit that it brings to the client. You can have formative assessments using drag and drop features, where learners need to match the feature to the specific benefit that it has for the customer.
Interactive eBooks
There is always considerable number of training resources such as product manuals, technical specification, cross-selling options and more that are useful for sales people. You never know when they need them and at the same time it is not always possible to carry a hard copy of these resources with them. Therefore, having these resources in a digital format in the form on interactive eBook can be very handy. They can serve as a reference for the sales personnel. At the same time, they can be used as supplement information to clients to counter a sales objection or reluctance.
With new challenges that our sales personnel keep facing on a day to day basis, it is necessary to support them with timely and adequate training so that they feel confident as they face clients. Having a broad-based product training curriculum that employees can rely for reference and support at the time of need is extremely essential. This curriculum can consist of not just product knowledge but tips to sell products and reinforcement of sales processes of the organization. A variety of tools and formats can be used to make the curriculum interactive, engaging and useful to employees.