The Power of Microlearning Videos in Corporate Training
Are you looking to harness the power of microlearning videos for your employee training program? Here are the top 7 ways to incorporate microlearning videos with your corporate training program.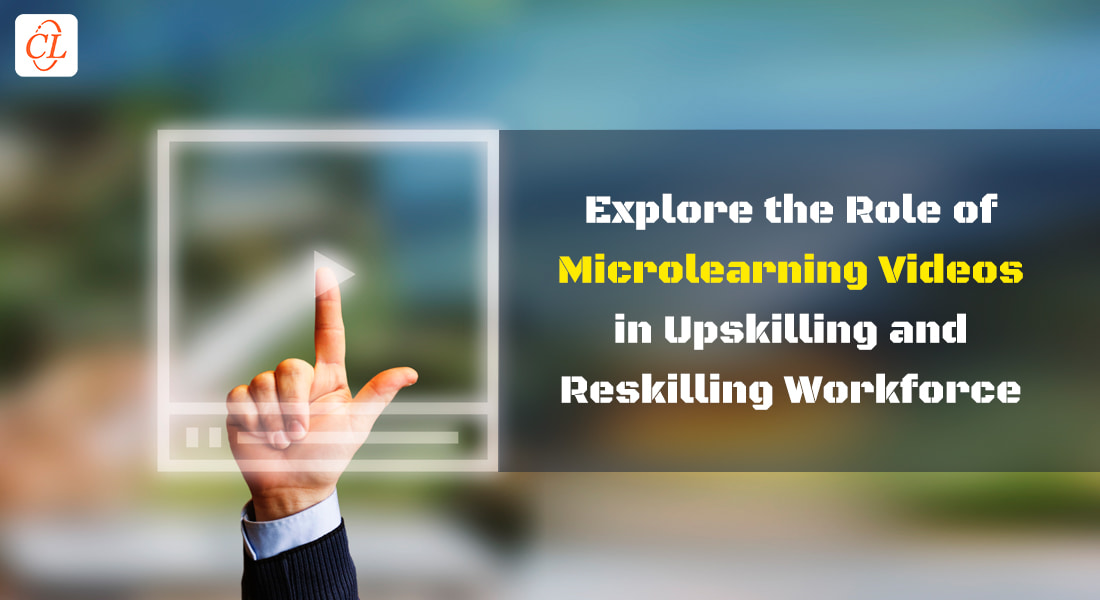 In these uncertain times, organizations are looking to upskill and reskill their employees to meet the challenges of remote and hybrid models to ensure continuity and profitability. Many companies have switched to remote models, while others have adopted a hybrid model. Most employees have returned to their offices full-time. However, staffing has been on thin ice ever since the onset of the COVID-19 pandemic and the Great Resignation in 2021. As a result, leaders and managers ask this question. How do we consistently facilitate continual learning in diverse work conditions? Well, one effective solution is microlearning videos.
How to Incorporate Microlearning Videos with Your Corporate Training Program
Here's a quick guide on how to incorporate microlearning videos with your corporate training program:
Learn About Different Authoring Tools and Choose One
Use Microlearning Videos as a Visual Medium
Practice the Narration
Plan the Script Thoroughly
Avoid Too Many Resources
Choose Visuals Carefully
Provide Previews to Refine Videos
As modern organizations and employees embrace digitalization, L&D teams and managers are using microlearning videos to upskill and reskill their employees. However, adopting this innovative tool requires a fair bit of consideration.
In this post, we'll share the key benefits of wielding the power of microlearning videos to enhance the learning outcomes of your employee training program. We'll also provide a brief guide on how to effectively incorporate microlearning videos.
Benefits of Utilizing Microlearning Videos for Upskilling and Reskilling
Here's why applying microlearning videos in your corporate training program is a smart strategy:
1. Bite-Sized Learning Reduces Cognitive Overload
Corporate training can be demanding, considering the unprecedented levels of uncertainty and disruptions and the pace of operations in the present time. These factors have made employees busier than ever before. As a result, understanding, absorbing, and recalling information is much more challenging now using traditional classroom training and long, online courses.
Microlearning is an adept solution that enables employees to access and absorb small, bite-sized modules as opposed to copious amounts of learning. This approach helps reduce cognitive overload and allows employees to absorb and preserve key concepts and access the information they need on-demand.
Since microlearning videos serve as visual aids, learners don't have to burden themselves and their long-term memory skills. Microlearning videos allow employees to process more information and connect it to their preexisting knowledge without worrying about their recall.
2. Microlearning Videos Are More Engaging
Another significant benefit of incorporating microlearning videos with training modules is enhanced learner engagement. According to research, microlearning videos are more engaging than their long-form alternatives. This is primarily caused by declining attention spans.
Time-consuming videos, webinars, and other extensive visual training content can reduce a learner's ability to pay attention and regulate emotions. Learners become absent minded when the many videos and filmed content uploaded on social media are on their regular viewing menu.
Microlearning videos range anywhere between five to ten minutes. Its quick duration helps prevent decline in attention and fatigue. L&D teams use these videos to address a single concept in each module, breaking down learning into more manageable chunks.
3. Microlearning Videos Provide "Just-In-Time" Support
Microlearning videos are perfect for the moment-of-need online training model because they break down concepts into multiple, small, goal-centered chunks. As a result, they serve as digital instruction manuals that can be accessed from anywhere, on any device, and at any time.
For instance, a salesperson can access information related to the products or services they're selling in real-time to answer queries from customers. This access enhances their overall performance as they're not dependent on recalling information.
4. Microlearning Videos Reduce Training Expenditure
With microlearning videos, employees can continue to focus on their regular tasks and responsibilities without needing to compromise on their learning results. This way, they can kill two birds with one stone by closing skill gaps and take part in uninterrupted training.
This innovative strategy to upskill and reskill increases workplace productivity. With microlearning videos, there's little disruption to workflows, and companies save on expenses like arranging classroom training sessions, hiring instructors, purchasing training equipment, and printing training material.
How to Incorporate Microlearning Videos with Your Corporate Training Program
If you're intrigued by the prospect of microlearning videos, here's a quick guide on how to incorporate them with your corporate training program:
1. Learn About Different Video Authoring Tools and Choose One
Authoring tools are programs that enable L&D teams to create microlearning videos and doesn't require prior coding experience. Today, there are hundreds of microlearning authoring tools in the market, including LearnWorlds, Seismic, TalentLMS, Animaker, Vyond, AVS Video Editor, and Filmora, to name a few.
2. Use Microlearning Videos as a Visual Medium
Microlearning offers various multimedia to engage learners, including infographics, static resources, gamification, podcasts, and simulations. However, L&D managers can benefit from microlearning videos, as it's a proven fact that videos are far more effective in improving knowledge transfer and retention.
So, when you're creating videos for your training course, let your visuals do most of the talking. Don't rely too much on other multimedia formats or written text to impart critical information faster and more efficiently.
3. Practice the Narration
Ad-libbing might be popular in sales and marketing, where you often have to think on your feet. However, in eLearning, this is not a valid strategy as today's learners expect you to be thorough and research based. Therefore, your videos need to highlight your expertise on the subject, and this can only happen through excellent presentation skills.
You can't hit the record button and start narrating outlines and concepts. You must script and rehearse it well before creating a recording.
4. Plan the Script Thoroughly
When preparing a script for your microlearning videos, keep the commentary brief and to the point. The idea is to illustrate your ideas and explain unique concepts in compact sentences. Therefore, every sentence you write should contribute to the video's objective.
5. Avoid Too Many Resources
Your microlearning video should be the star of the show. Even if your employees benefit from resources like infographics or interactive PDFs, your video should encompass all your learning objectives. You mustn't depend only on additional resources to grasp the concepts and message of your video.
6. Choose Visuals Carefully
Visuals are an important component of microlearning videos even though they're limited to text-based information. Therefore, the visuals you choose, such as infographics, pie charts, polls, graphs, and illustrations, must be engaging and goal oriented.
7. Provide Previews to Refine Videos
Before officially launching your microlearning videos, preview them to a select group of people, such as managers, executives, and L&D professionals. Providing previews to your videos will help you get feedback for improvements. You can use the feedback to refine your videos before sharing them with learners.
The Bottom Line
Microlearning videos are an excellent strategy for modern and dynamic corporate training. These small, to-the-point videos are engaging, time-saving, and appealing. They're perfectly suited for the contemporary learner who prefer learning from small, bite-sized modules while managing fast-paced routines in dynamic work environments.
However, incorporating this appealing visual technique with your training program requires strategic planning. You'll require the services of an eLearning partner to help you create microlearning videos based on your learning objectives and your employees' capabilities and preferences.
To learn more, check out this free webinar on "What Microlearning is and what it isn't". Get deeper insights into how microlearning can fit in your training strategy. Click on the box below and start exploring now!