Understanding the Benefits of Microlearning in Corporate Training and 5 Ways to Apply It
Are you looking for ways to upskill employees without disrupting their routines? Then, go for microlearning! Read on to discover the benefits of microlearning in corporate training.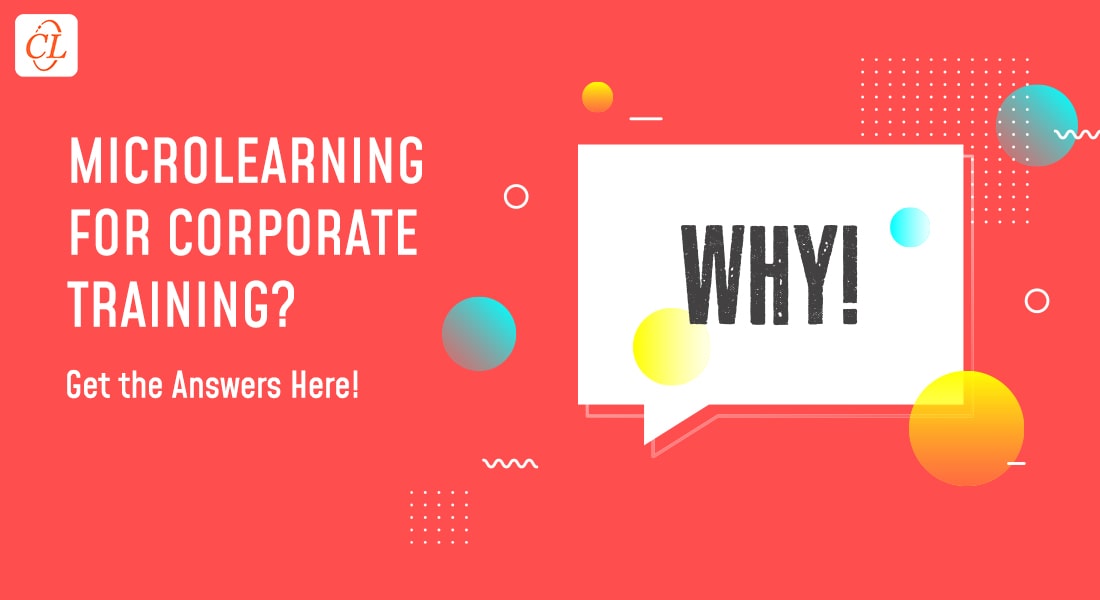 Much before COVID-19 disrupted "business as usual," organizations were already rethinking their approaches to corporate training. The rise of both remote and hybrid workspace models as well as rapid digitalization has made it increasingly difficult to keep up with the pace of developments in this field. As a result, companies are looking for quick and effortless ways to upskill their workforce and fuel their transition into the digital age. This is where microlearning comes in. It offers knowledge in short, strategic nuggets.
In this post, we'll dive deeper into microlearning and discover the secrets to its success. Keep reading to learn how you can use it to ensure better knowledge retention and application for your employees.
Microlearning for uninterrupted corporate training
Key benefits of microlearning:
Enhances Learner Engagement
Ensures Mobile-Friendly Training Modules
Enables Instant Learning Support
Helps in Closing Learning Gaps Quickly
Catalyzes Learning Reinforcement
The Rise of Microlearning in Corporate Training – The "What"
Microlearning is a technology-based training method aimed at delivering learning content in the form of bite-sized nuggets. The purpose of this innovative corporate training method is to break down modules into manageable chunks.
In a world where distractions, reduced attention spans, and dynamic workflows are commonplace, this solution makes sense as learners are susceptible to forgetting almost 90% of newly learned information through conventional training methods.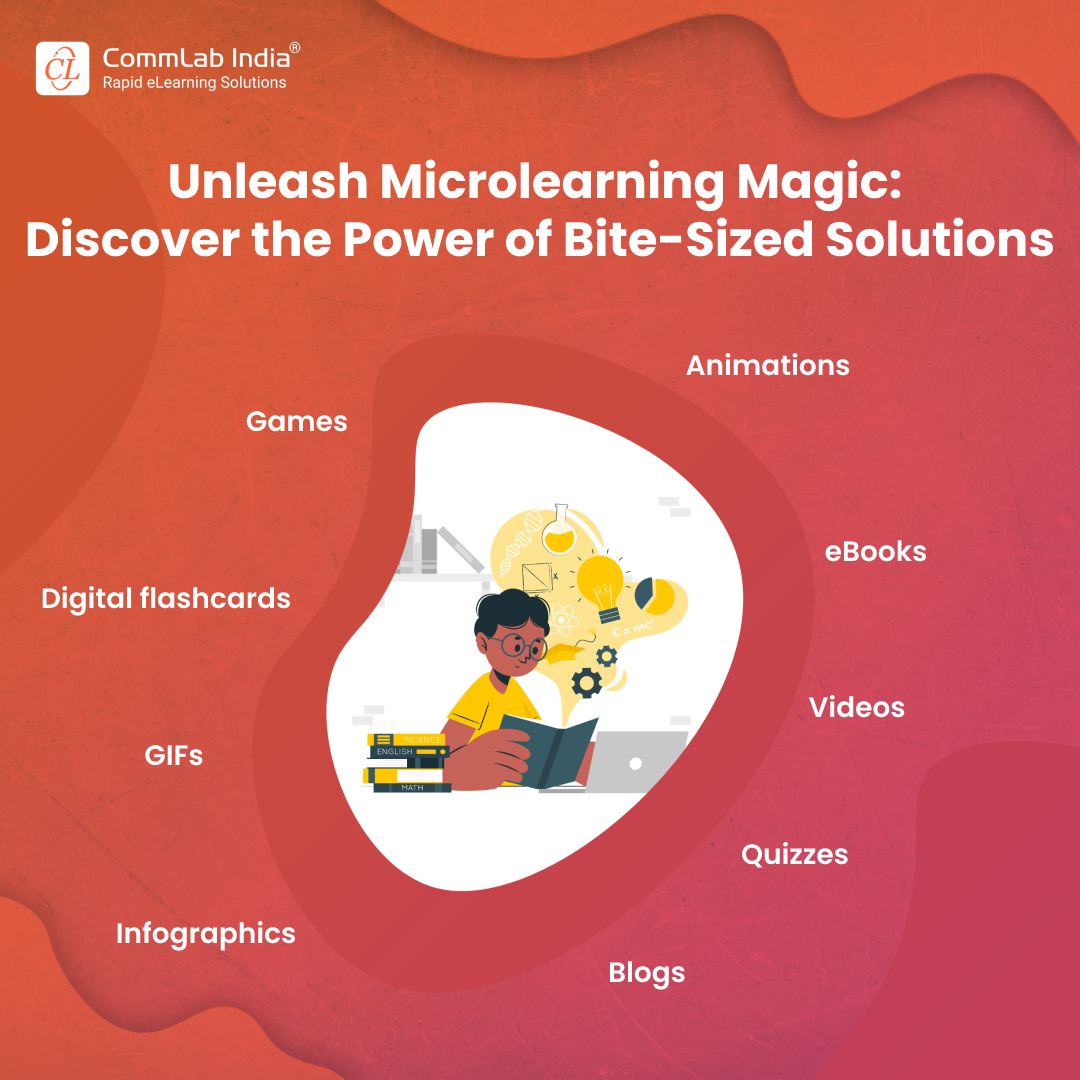 Microlearning helps companies beat the forgetting curve by reinforcing concepts through strategic repetition. This strategy has proven to be an effective addition to modern corporate training methods and has been trending, since 2019, in the eLearning industry.
The Key Benefits of Microlearning in Corporate Training – The "Why"
Before we discuss diverse ways that you can implement microlearning, let's check out the key benefits of employing this powerful strategy:
1. Enhances Learner Engagement
As mentioned above, short attention spans are a persistent barrier to knowledge retention. The modern workforce works in an intense business environment and focusing on training for extended time periods can be a luxury for them. Thus, bite-sized courses can be cleverly used to support employees' usual, busy routines and help them learn new concepts and skills.
Moreover, according to Lynne Millward, the author of Understanding Occupational & Organizational Psychology, short, focused learning enhances employees' ability to process knowledge by reducing their load.
2. Ensures Mobile-Friendly Training Modules
In recent years, the workforce has developed an increase in mobility, especially with the emergence of advanced devices, such as smartphones, laptops, and enhanced internet connectivity. As a result, many companies have implemented microlearning strategies and are enabling learning at their employees' fingertips.
By using smartphones and laptops, employees can easily access bite-sized learning nuggets from any device and location.
3. Enables Instant Learning Support
Microlearning courses are excellent at delivering high-quality just-in-time learning support. They help reinforce knowledge faster and more efficiently making it available on-demand. Simply put, employees can access information whenever they need it. They don't need to go through tedious training materials such as company policies, instruction manuals, and introductory videos.
4. Helps in Closing Learning Gaps Quickly
Microlearning nuggets play a vital role in ensuring employees make the best use of their time. In many cases, getting started with learning can be the most difficult part. Microlearning modules help take away any hesitation and assist employees to come out of their comfort zones. Overall, organizations can quickly close learning gaps and maximize employee performance.
5. Catalyzes Learning Reinforcement
In most cases, employees require a unique approach to learning, one where they can retain as much information as possible. Microlearning modules can be more effective than lengthy recapitulation or in-person interaction due to their bite-sized, digestible, and easy to convey structure.
4 Ways to Implement Microlearning in Corporate Training – The "How"
Now that you're well-informed on the key benefits of microlearning, let's check out the different methods organizations can adapt this corporate training strategy:
1. Quizzes
The better you know your employees, the better you can develop microlearning modules for them. One of the best ways of assessing your employees is to learn what they already know. You can create a pre-assessment quiz to test their existing knowledge and use that learning to construct a more personalized module and ensure the efficient transfer of knowledge and skills.
2. Videos
Videos are a great medium for transferring chunks of information, engaging employees, and helping improve knowledge retention. However, videos need to be shortened so they can be easily digested. For example, you can create how-to videos on processes and tasks explaining procedures step-by-step. Similarly, you can share product descriptions or company policies through videos to ensure learners access them when required.
3. Infographics
Infographics are a combination of images, text, charts, graphs, and icons. They are designed to summarize large, text-heavy information through visual representation. Many eLearning companies use dynamic content, such as GIFs or animations to grab the learner's attention and enable longer periods of retention.
4. Gamified Courses
Gamification is trending in the eLearning and corporate training worlds. This innovative strategy combines game mechanics with learning to offer knowledge in an entertaining mode. When learning becomes fun, learners develop interest in new concepts and engage for longer time periods. To leverage the power of gamified microlearning, you can hire microlearning specialists to develop a customized course based on your requirements.
When do you Use Microlearning in Corporate Training – The "When"
Knowing how to use microlearning in corporate training is one thing. Knowing when to use it is an entirely different game plan. You must consider several factors, including your learners' existing skills, education, and experience. Moreover, you need to determine your company's performance indicators and set your goals. Also, you need to consider:
Your workforce's learning curve and level of interest
Opportunities and threats
Your organization's culture
Access to technology and resources
Here are some circumstances when microlearning could be a viable training solution:
1. Employees Are Hard-Pressed for Time
In many organizations, employees have the responsibility of completing a plethora of tasks with tough deadlines. Therefore, being available for long and detailed training courses is nearly impossible. Here, microlearning modules can prove handy as they are short and precise, and ideal for quick access to information. Also, employees can benefit from them when they have only a few spare minutes.
2. Poor Learner Engagement
Microlearning modules are perfect when there is inadequate employee engagement as a result of lengthy courses. Instead of extensive passages, case studies, and documentary-styled videos, these modules employ infographics, podcasts, short videos, and interactive PDFs to improve learner engagement and participation.
3. The Need to Respond to Rapid Market Changes
We're living in an age of dynamic market trends. Therefore, modern organizations need to always stay on their feet and roll out training programs to prepare their employees for these changes. Microlearning modules are much easier to develop compared to conventional eLearning and offline courses.
Thus, you can accelerate your organization's transition into digitalization as well as upskill your employees' capabilities to ensure continuity and growth.
Parting Thoughts
And there you have it – the definition, key benefits, implementation strategies and crucial timing of microlearning in corporate training. With this information, you can dive deeper and explore more of this trending eLearning method. You can also access your organization's need and determine whether it is a feasible addition to your training strategy. Employing this innovative training solution is an easy decision, when you consider the recent developments in the market as well as the unique benefits it offers.
Are you still not sure where microlearning fits into your corporate training strategy? You can get answers to your queries and find out more core aspects to help you incorporate microlearning in your corporate training strategy. Grab a free copy of the eBook now!
Editor's note: This post was originally published in May 2022 and has been updated for comprehensiveness.