10 Frequently Asked Questions on Microlearning Answered for Beginners
Just getting started with microlearning? Then you are sure to have questions. Don't miss this compilation of frequently asked questions on bite-sized learning.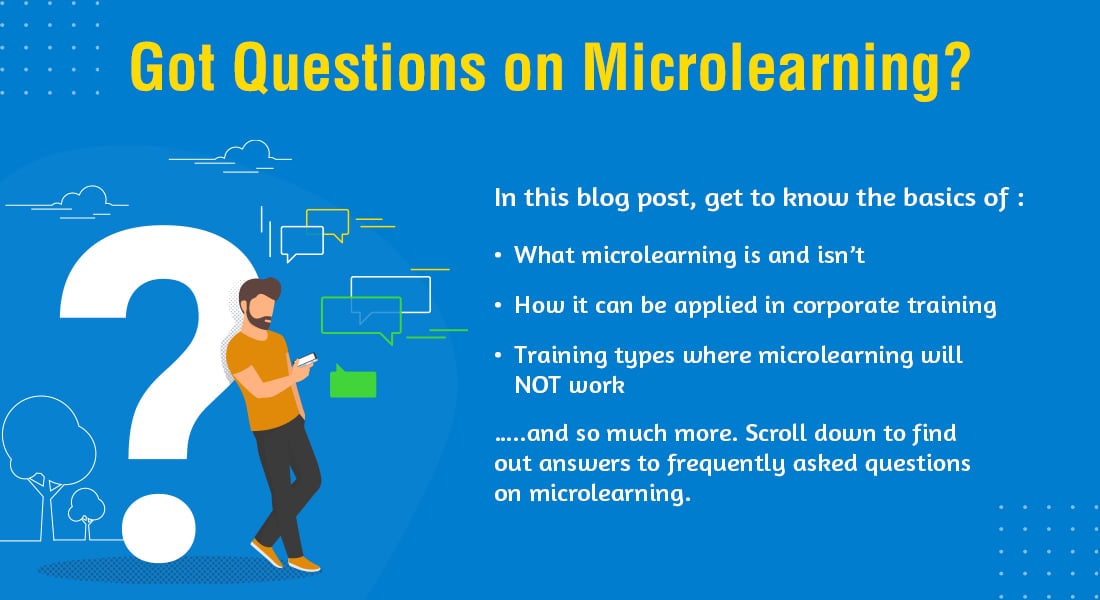 Microcontent (and microlearning!) is all around us!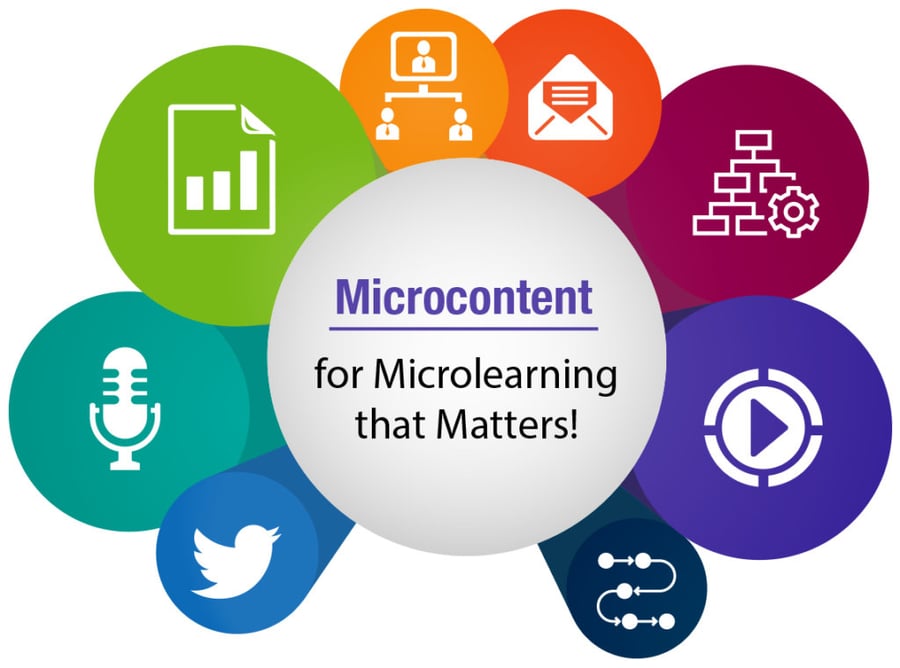 It could be a tweet, a YouTube video, an infographic, or something else. The idea of microcontent is not new, it is just that in this technological age, it's become hugely popular as it is easier to consume on mobile devices.
It comes as no surprise then that the global market for microlearning is expected to grow from USD 1.5 billion in 2019 to USD 2.7 billion by 2024.
Answers to FAQs on Microlearning
This blog post answers these FAQs:
What is microlearning? And what is it not?
Is there a fixed duration for microlearning?
Is it always video-based?
What are the different microlearning formats?
Is microlearning the same as mobile learning?
How can we use microlearning in corporate training?
Is there any training where microlearning will not work?
How can we deploy microlearning?
Is an assessment required for microlearning?
Should microlearning development be done inhouse or outsourced?
According to Learning Architect Ray Jimenez, microlearning courses take 300% less time to create and cost 50% less than traditional eLearning. While that's an important factor for training ROI, it's not the only reason for its rising popularity.
For the new generation of learners accustomed to receiving short snippets of information through digital channels such as social media, microlearning allows quick access to focused information that's instantly applicable on their job.
But before implementing microlearning in the organization, it's important to get the basics of this bite-sized learning strategy right. So, here goes.
FAQs on MICROLEARNING
1. What is Microlearning? And what is it NOT?
Microlearning is a training approach that delivers small nuggets of learning, each focused on a single learning objective.
Microlearning is not simply about dividing content, nor does it refer to every course that is short in duration. And, most importantly, it is not a replacement for eLearning, and cannot be used for all types of training.
2. Is there a fixed duration for microlearning courses?
The length of microlearning courses cannot be fixed – they should be as long as necessary, but as short as possible. According to a study conducted by ATD, the most effective length for a microlearning activity is between 2 and 5 minutes, but it depends entirely on the learning objective that you want to achieve. So, it is possible to have a microlearning course of 10-15 minutes as well.
3. Are microlearning courses always video-based?
It's a misconception that microlearning courses are always video based. Although video is a popular microlearning format (as it is highly engaging), there are many other formats that can be used.
4. What are the different microlearning formats?
There are many different types of bite-sized learning formats to choose from as you can see below.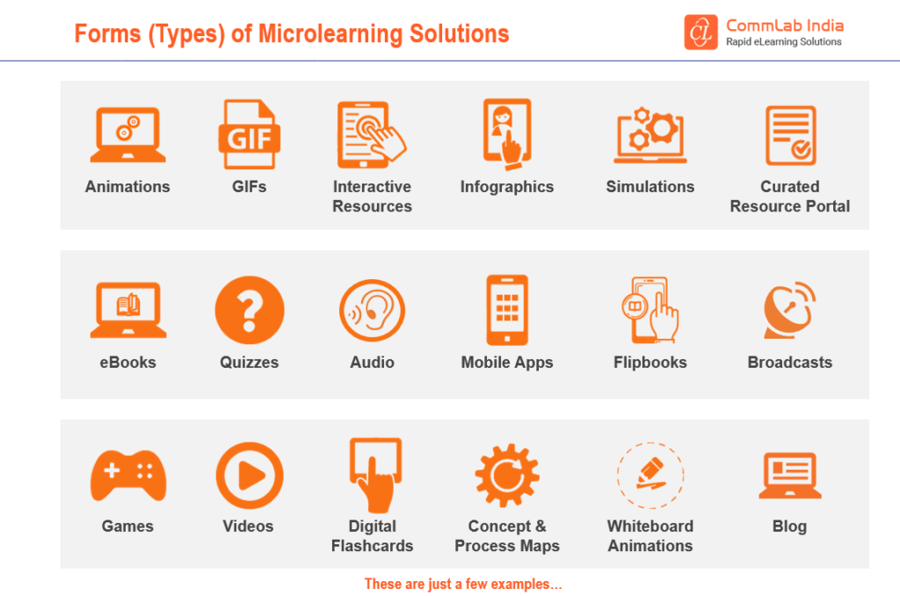 5. Is microlearning the same as mobile learning?
No, microlearning and mobile learning are not the same. Though microlearning follows a mobile-first approach, it focuses on a single learning objective. Mobile learning, on the other hand, caters to learners who learn on the go, but it need not necessarily be focused on a single learning objective.
6. How can we use microlearning in corporate training?
Bite-sized learning can be used before, during, and after training to:
Deliver formal as well as informal training
Supplement classroom training on complex topics
Reinforce learning
Facilitate performance support at the moment of need to help complete tasks at the workplace
The different types of training where microlearning can be applied include:
Sales training
Product training
Customer service training
Employee Onboarding
Compliance training
Safety training
Software training
7. Is there any training where microlearning cannot be used?
Microlearning is not the solution for every training need and cannot be used to gain mastery over a subject. Some situations where bite-sized learning should not be used:
To teach complex skills or tasks requiring extensive practice or time to master
Training content that needs to be presented in a continuous flow
Training that focuses on long-term performance goals involving multiple steps, tasks, and skills
8. How can we deploy microlearning?
Microlearning can be delivered through your organization's LMS for easy deployment and tracking. You can also make these bite-sized modules searchable on the LMS.
However, if tracking is not a priority, you can deploy microlearning through the intranet or internal portals, social media (social learning), or through mobile apps (Note: mobile apps can be synced to the LMS if tracking is required).
9. Is an assessment possible/required for microlearning?
When you deliver bite-sized nuggets of learning that hardly last a few minutes, is an assessment even necessary? Absolutely! Microlearning is designed to facilitate measurement of learning, as it is focused on a single performance-based learning objective. So, an assessment at the end of each microlearning module is required to check if the module has helped learners achieve the learning objective.
Micro assessments in microlearning modules help learners apply and retain information. It also helps L&D professionals evaluate whether the microlearning module has met the purpose it was intended for.
10. Should microlearning design and development be done inhouse or outsourced?
If you have a team that's well experienced in designing and developing microlearning content and has the required authoring tool expertise, by all means do it inhouse.
But if you don't have the expertise, it is better to outsource microlearning development to eLearning vendors who are well versed with the best practices of microlearning development. It also allows your inhouse L&D team to focus on other core responsibilities. Not to forget that an experienced vendor will be able to complete microlearning development faster and create meaningful learning experiences for your learners.
A Concluding Note
Modern learners are looking for easy to access, easy to consume bite-sized nuggets of learning. And microlearning fits the bill perfectly.
I hope this blog post has answered some of your questions on microlearning. Got more questions? Let us know through the Comments section.
If you would like to get started with using microlearning to achieve organizational goals, download this free eBook.