5 Web Design Lessons and Strategies L&D Teams Can Use for Microlearning Design
Microlearning is a relatively new training approach in the eLearning industry. L&D teams can seek inspiration from other industries like web design for better learning outcomes.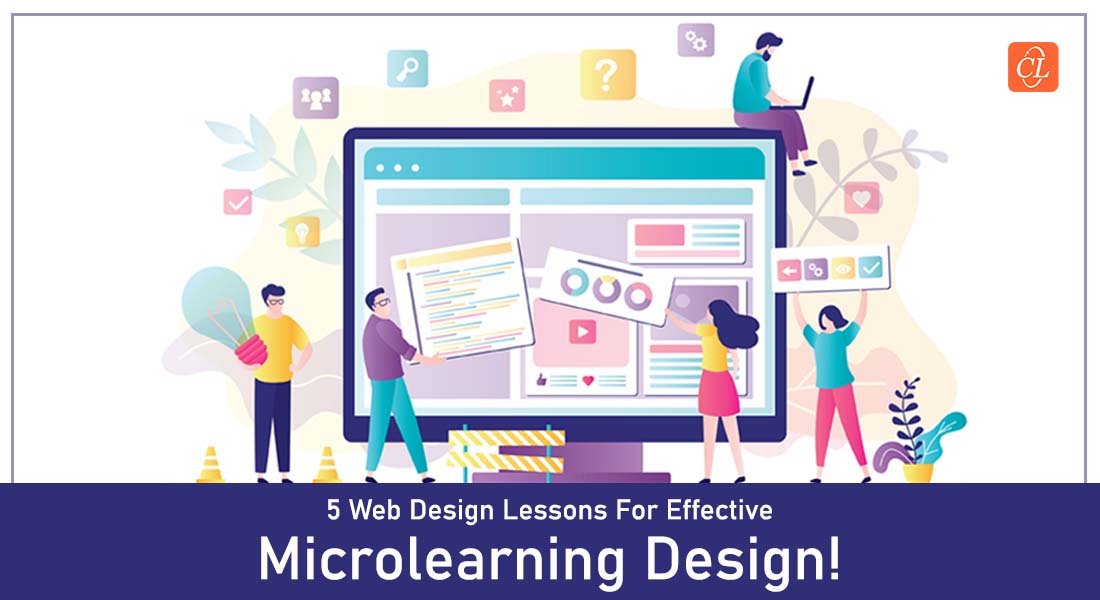 Microlearning has rapidly become a popular corporate training approach for many organizations. At its core, this training method simply involves breaking down long or complex training content into small, more manageable modules with the aid of audio-visual elements. This includes short how-to or product videos, podcasts, infographics, and interactive PDFs, to name a few. However, microlearning remains a relatively untapped resource compared to traditional eLearning methods. Therefore, there's room for improvement for L&D teams to explore when creating microlearning designs.
Looking Forward to Creating Impactful Microlearning Courses?
Here are 5 Web Design Lessons That Can Help You:
Cover All Major Design Essentials
Account for Declining Attention Spans
Minimalist Design Approach
Maximum Visibility Integration
Design Every Aspect of Your Audio-Visual Content According to Your Target Audience
One of the best benefits of eLearning is that it enables teams to adopt elements from several industries to upskill and reskill employees. However, no industry can do a better job of enabling collaborative learning for the modern workforce than the web design industry, with experience spanning over two decades following the commercialization of the internet in 1995.
The web development industry has remained in constant transition ever since with the emergence of new design trends, development technologies, regulatory changes, and modern devices. Thus, web design professionals have had plenty of time to hone and fine-tune their craft.
As a result, they have the expertise and research to teach L&D teams to improve engagement, participation, and the overall learning experience for employees.
In this post, we'll share five lessons or strategies microlearning design teams can learn from web design and development.
5 Web Design Lessons or Strategies L&D Teams Can Use for Microlearning Design
1. Cover All Major Design Essentials
You first need to understand that eLearning or microlearning design isn't about you. It's about your employees, who, in this case, are also learners and users signing up for your program. Thus, you need to create a design that covers all the web design essentials so you can prompt them to do what you want them to do, such as completing the course and meeting all its objectives.
Ideally, your design should make them put in maximum effort and willingly engage in learning to improve their capabilities. Thus, you need to make it as easy as possible to navigate your course by getting the right buttons in place or improving your content's readability by choosing the right font and color combinations.
Modern authoring tools like Adobe Captivate and Articulate Storyline 360 allow you to create super nice-looking microlearning courses with soothing color combinations and consistent knowledge flow.
Moreover, a huge aspect of microlearning involves enabling just-in-time information anytime, anywhere. Responsiveness is another web design essential you can adapt to your microlearning course.
Today, most employees use multiple devices for work, especially following the pandemic, which introduced remote work models. Thus, L&D teams need to ensure their courses look good on smartphones, laptops, different browsers, and other mobile devices.
Aiming to designing high-impact microlearning assets? You need to blend form and function. Learn how.
2. Account for Declining Attention Spans
One of the most noticeable signs of a bad website is its loading speed. According to Blogging Wizard, internet users in the US, on average, visit over 130 websites daily. However, this wasn't the case in the early 2000s. One of the main consequences of this change is a significant decline in our attention spans. Today, users will likely grow impatient in five or six seconds if a site doesn't load.
Thus, web designers have to ensure their sites load at acceptable times on desktops and mobile devices. Since microlearning entails using a lot of visual content, optimizing it to ensure quick load times can be difficult for L&D teams. Popular methods include switching to a dedicated authoring tool for microlearning, such as iSpring Learn, EduMe, and EdApp.
Using these solutions, you can optimize every aspect of your audio-visual content, from resizing images to compressing videos and deferring load times until page load is complete.
3. Minimalist Design Approach
When it comes to web design, one of the most important lessons web designers can teach eLearning development teams is the importance of simplicity. A minimalist microlearning design is aesthetically pleasing, easy to understand, and a massive upgrade from courses trying to fit too much training content in every module or page.
If you pay attention, you will notice that modern websites present information in its simplest form. Thus, you should be looking to do the same to accelerate the learning curve. Simple microlearning videos, infographics, and courses are easier to navigate, skim, and scan. So, you can make quick changes to your eLearning design by:
Uncluttering navigation bars to remove irrelevant information and include useful content for employees.
Using multiple modules to break up the content so users can find what they need quickly.
Minimizing the use of text and replacing it with images, animations, or other forms of audio-visual content for better retention and recall.
4. Maximum Visibility Integration
It is no secret that non-verbal communication can be just as essential in sending the desired message to your audience. In web design, visual elements, such as your logo, font, color palette, etc., act as non-verbal language. Similarly, when it comes to microlearning design, you need to pay attention to different visual elements to support your core content.
These elements include typography, timelines, graphs and charts, progress bars, buttons, icons, and even relatable characters, such as avatars for narrating the course content. Moreover, you need to consider three important principles that can help employees during your course – organization, economy, and communication.
This approach entails strategically placing all visual elements to move the learner in a forward direction while keeping a minimalist or economic approach when it comes to using elements. You want these elements to guide them, not distract them from learning. Finally, you need to ensure the communication is clear and set according to your audience, which brings us to our final point.
5. Design Every Aspect of Your Audio-Visual Content According to Your Target Audience
Modern websites are considered digital storefronts for many businesses, especially in the post-pandemic digital age. As a result, a lot of marketing research goes into the web development phase to ensure the design elements, brand voice, and content are designed according to the target audience. It doesn't matter how well your text is written or how stunning your video looks.
They won't get you the desired ROI until you segment your target audience properly and develop personalized content to pique their interest. The same applies to microlearning or eLearning course development. For instance, you can't create cartoonish animated videos for high-level corporate executives and expect them to take learning seriously.
Similarly, you can't expect to grasp and maintain learner attention with long, text-dominated content that doesn't read naturally. Instead, you need to ensure the writing is conversational. If you're using videos or podcasts, you should employ a narrative tone of voice to foster a feeling of storytelling. Finally, use relatively large, self-explanatory titles to avoid word stuffing when creating images.
Bottomline
So, there you have it – 5 lessons learned from web design you can adapt to your microlearning design. With these valuable tips, you can reap the full benefits of this concise training approach and accelerate your learning outcomes cost-effectively. The eLearning design industry is relatively fresh compared to its much broader counterpart.
Thus, there are several other design strategies L&D teams can employ to make their courses look and perform better. However, to do this, they need to learn about their target audience just like marketers to ensure they can adjust their microlearning design to meet their learning needs and preferences.
Are you curious to know where microlearning fits in your learning strategy? This eBook might help you.