How to Use Microlearning Before, During and After Training
Wondering why microlearning is the new buzzword in the corporate L&D space? It's because these rapid eLearning courses can be presented in diverse formats and are used to sustain continuous learning. Read on to discover how microlearning can be used before, during and after training.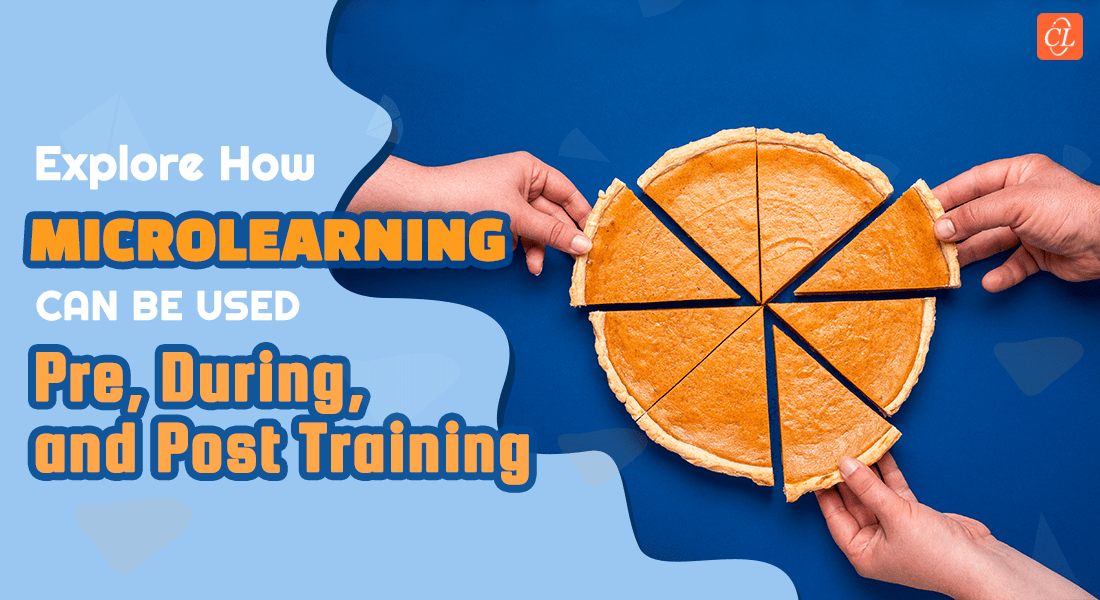 Did you know that we humans have attention spans that last a mere 8 seconds? That's even less than a goldfish! You must be thinking what this has to do with corporate training. Well, today's global workforce is dominated by the millennial generation. They have short attention spans and want easy access to information. They usually access information on their mobile phones and at their leisure. Consequently, your training strategies need to match the evolving needs of today's learner. How can you accomplish that you may ask? Well, that's easy! With Microlearning! It's no wonder that microlearning is the new buzzword in the corporate training world!
How to use microlearning before, during and after training
Before training:
Bite-sized videos that grab your learners' attention and set the context for upcoming courses
Microlearning quizzes that assess learners' prior knowledge
During training:
Branching scenarios that simulate real-life work situations and promote critical thinking
Game-based mini courses that facilitate immersive learning
After training:
Micro quizzes that assess learners' comprehension
Infographics and interactive PDFs that provide performance support job-aids
How Microlearning Can Help Corporate Trainers
Microlearning is a modular training approach that delivers content in the form of 'bite-sized' courses that are palatable and easy to consume. Let's take a quick look at the advantages that microlearning has to offer.
Saves Time
As the name implies, microlearning modules come in the form of short rapid eLearning courses. These mini courses and modules ensure that training happens in the flow of the work/life habits of your employees. I Microlearning saves time. Your employees can take up microlearning courses during their breaks, even when they are on the go, making it the preferred training strategy.
Enhances Learner Engagement
Microlearning modules are meant to be short, and they are focused on a single learning objective. They come in various engaging formats such as videos, animations, and infographics just to name a few. Using these microlearning assets can make your content highly appealing and keep your learners focused on their courses. Owing to the short duration of these modules, microlearning courses have higher rates of completion. Also, learners can finish their course in one go which gives them a sense of accomplishment and motivates them to learn even more.
Improves Retention
Microlearning courses can easily catch your learners' attention and keep them engaged throughout the duration of the module. Short courses and modules are easy to remember and promote learner retention. Microlearning modules can be used to refresh your learners' comprehension. Your learners can keep going back to these mini modules and as a result improve their retention.
Ensures Easy Accessibility
Microlearning assets are mobile-friendly. This means your learners can have your course at hand and access it anytime and anywhere on their mobile devices. They can access courses in their spare time, for example, while travelling or while waiting for a meeting.
Provides Flexibility
Microlearning modules are highly flexible. They can be configured with a variety of learning formats such as videos, animations, gifs, and quizzes. Microlearning offers you the opportunity to create interesting content and elevate your learners' experience.
How to Use Microlearning
Microlearning can be used at various stages of the learning journey. You can use it to grab your learners' attention and assess their knowledge before training begins. Microlearning modules can also be used to deliver content in the classroom or even during VILT (Virtual Instructor-led Training) sessions. You can use this type of module when you want to reinforce learning after your session is over.
Let's delve deeper to discover how to use microlearning before, during and after training.
Before Training
Microlearning assets can be used to grab your learners' attention and assess their knowledge of the topic.
You can use bite-sized videos to grab your learners' attention, set up the context for upcoming courses, and present your learners with their learning objectives before their training beings.
Quiz-based microlearning courses are a fantastic way to assess your learners' prior knowledge on the training topic.
You can also use short podcasts to showcase the highlights of upcoming courses as well as introduce interesting facts to build your learners' curiosity.
During Training
Microlearning modules contain highly engaging training content, and they offer experiential learning. You can use a blend of different microlearning assets to inform, coach and challenge your learners at various points during your course to ensure effective learning. Let's find out how this works.
You can use videos to demonstrate the functioning of sophisticated machinery and talk about complex processes from your workplace. Microlearning modules are the ideal substitute for lengthy and dull product manuals. Safety procedures that cannot be demonstrated in classrooms can be easily demonstrated using videos.
Short branching scenarios can be used to simulate real-life situations occurring in your organisation. These scenarios can be used to develop your learners' critical thinking skills and provide them with a competitive edge that enhances their performance at work.
Mini simulation exercises can provide your learners with real-life situations related to your workplace. These exercises present your learners with challenges giving them the opportunity to tackle these problems head on in a risk-free environment.
Invite in-house subject matter experts (SMEs) and other industry experts to host short weekly podcasts where they can share their work-related war stories and anecdotes. This can provide your learners with insider knowledge first-hand. These microlearning podcasts can also boost performance at work.
Game-based microlearning modules can facilitate immersive learning. You can turn your learners' everyday problems at work into interesting games by weaving into your courses elements of storytelling, avatars, and characters. In addition, you can add to your courses gaming elements such as scores, badges, certificates, and leader boards to instil a competitive spirit amongst your learners and motivate them to finish their training with flying colours.
You can use polls and surveys to gauge your learners' views. You can also use quizzes to check on your learners at various points during their learning journey.
After Training
Did you know that learners forget around 90% of newly gained knowledge within a week? This calls for learning reinforcement and can be achieved by your learners going back to their microlearning modules several times. Microlearning formats can be used to reinforce learning and beat the forgetting curve. They can also be used to design effective assessments.
You can design your evaluations in the form of microlearning quizzes and scenario-based games.
You need to offer your learners with handy job aids utilizing interactive PDFs, infographics, and flipbooks. These job aids work well to reinforce learning.
You can use diverse microlearning assets in your refresher programs after the training is done. These assets can promote your learners' retention and enhance your employees' proficiency at work.
The Bottom Line
In today's fast-paced world of hectic schedules, long to-do lists and dwindling attention spans, microlearning can serve as the most effective training strategy. It is also a sustainable solution to effectively train the present globally dispersed workforce who are working under pandemic related conditions.
What are you waiting for? Go the microlearning way and ensure your employees' performance at work improves and you achieve a higher ROI (Return on Investment).
Download this free eBook now to gain more insight into microlearning and its implementation!