4 Considerations When Selecting a Learning Outsourcing Company
Investing time and resources into employee training, but is the result mediocre? It's a cue to get a learning outsourcing company on board! Let's discuss how.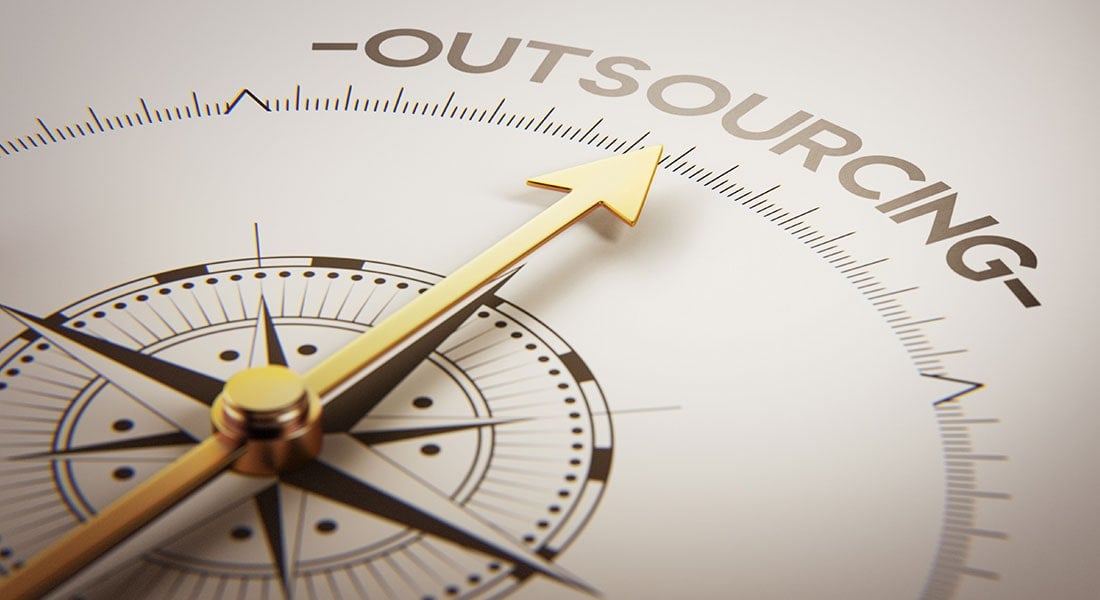 Learning outsourcing is a great approach to handle your L&D initiatives. But before you take the leap and start looking for a learning outsourcing partner, there are key factors to be considered. This blog post discusses these factors to help you choose the right learning outsourcing company.
Let's start by understanding why you need a learning outsourcing company...
Learning Outsourcing Companies Help Organizations Maximize

Training Effectiveness and

ROI.

The benefits of outsourcing L&D services include:
Cost Savings

Specialized Expertise

Increased Efficiency

Enhanced Training Effectiveness

Flexibility
Learning Outsourcing Companies
Learning outsourcing companies, also referred to as learning and development (L&D) service providers, are organizations that specialize in providing training and development services to other companies. They offer a wide range of learning solutions such as custom eLearning, virtual instructor-led training (VILT), blended learning, virtual classrooms, and many more. These companies have become increasingly popular over the years due to the growing demand for high-quality employee training and development programs.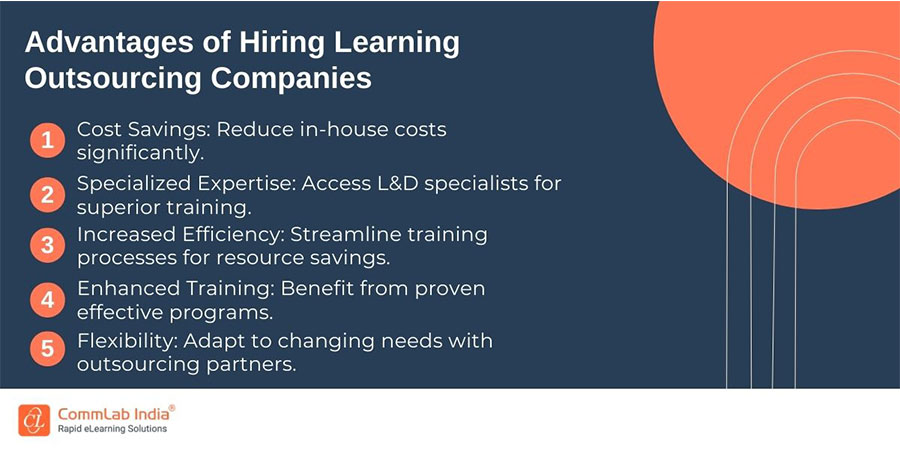 Types of Learning Outsourcing Companies
There are three main types of learning outsourcing companies: full-service providers, niche providers, and platform-based providers.
1. Full-Service Providers: They offer end-to-end solutions, from design to delivery, suited for complex, large-scale training needs.
2. Niche Providers: Specialize in specific training types or technologies, providing tailored solutions and even staff augmentation services.
3. Platform-Based Providers: Offer software platforms for self-managed training, including course creation, LMS, and learning analytics, ideal for companies with in-house L&D teams.
All the three types of learning outsourcing companies offer services that can take your organization's L&D initiatives to the next level. So as an L&D professional, the choice is up to you. However, it is also important that you are aware of the key considerations to be made while choosing the learning outsourcing company.
Factors to Consider when Selecting a Learning Outsourcing Company
1. Expertise and Experience
One of the most important factors to consider is the expertise and experience of the learning outsourcing company. Look for a provider who has a proven track record in delivering high-quality training solutions across different industries and domains.
Make sure that the provider is well-versed with:
1. Industry Insights: Has industry exposure, understanding various sectors, business processes, and employee requirements. This expertise allows them to craft tailored training programs.
2. Skilled Professionals: Has skilled professionals with a strong blend of theoretical knowledge and practical industry experience. They offer real-world insights and best practices, enriching the training sessions.
3. Proven Track Record: Has a remarkable success record of delivering what has been promised. This showcases their capability in helping organizations achieve their training objectives.
2. Flexibility and Customization Options
Flexibility and customization are vital factors in choosing a learning outsourcing company. Consider the following:
1. Tailored Learning Solutions: Look for providers that craft learning solutions to fit your organization's industry, size, demographics, and preferred methods, avoiding generic approaches.
2. Scalable Services: Choose a partner that lets you easily adjust training services to adapt to growth or changes, without disruption or penalties.
3. Blended Learning Options: Seek companies offering diverse training delivery methods, like classroom, online, virtual, and on-the-job, catering to different learning styles and needs.
4. Customizable Content: Ensure the ability to customize training materials with your company's branding and terminology for relevance.
3. Technology Capabilities
When outsourcing your learning needs, assessing a partner's tech capabilities is critical. Here are key factors to consider:
1. Learning Management System (LMS): Evaluate the type of LMS used, ensuring it is user-friendly, supports multimedia content, fosters social learning, and is mobile-friendly.
2. Authoring Tools: Ensure the outsourcing partner has access to authoring tools like Articulate Storyline, Adobe Captivate, or Lectora, enabling them to create interactive courses efficiently.
3. Virtual Classroom Technology: In the era of remote work, assess the partner's capabilities for conducting webinars, video conferencing, and screen sharing during live training sessions.
4. Gamification: Check if the partner has experience incorporating gamification elements, such as badges, leaderboards, and point systems, into their courses to enhance engagement.
5. Mobile Learning: Confirm whether the partner offers mobile-friendly learning solutions with responsive design or a dedicated mobile app for accessibility on smartphones and tablets.
6. Data Analytics: Ensure the outsourcing partner has robust data analytics capabilities to track learner progress and evaluate the return on investment (ROI) of training initiatives effectively.
7. Security: Prioritize data security by verifying that the partner has strong measures in place, including secure logins, data encryption, and regular system backups to safeguard sensitive company information.
4. Reputation and Client Reviews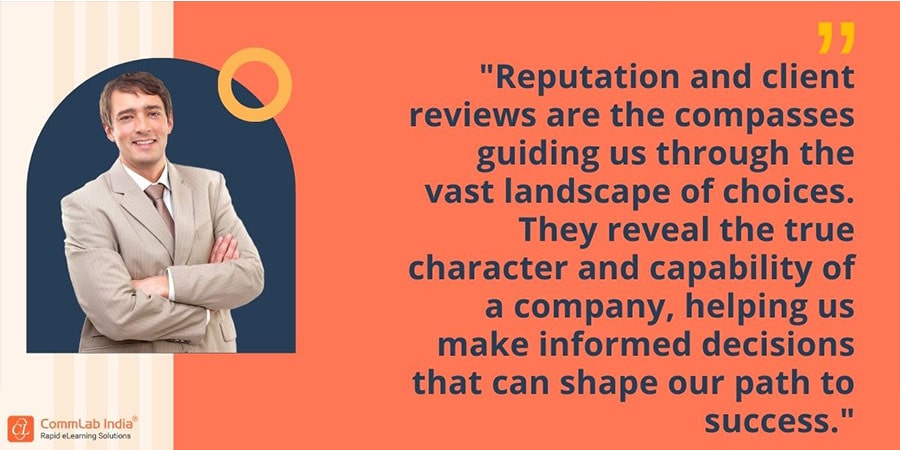 When choosing a learning outsourcing company, consider their reputation and client reviews. Reputation reflects reliability and performance. Look for awards, partnerships, and collaborations. Client reviews provide insights into satisfaction and potential issues.
In today's digital age, it is easier than ever to access online reviews and ratings from previous clients. Check platforms like Google My Business, Yelp, Clutch, Trustpilot, and social media for feedback.
Wrapping Up
In conclusion, selecting the right learning outsourcing company is a critical decision for any organization seeking to enhance its training and development efforts. By carefully considering the factors discussed in this blog, you can make an informed choice that aligns with your unique organizational needs and goals.
Want more guidance on choosing an outsourcing partner for your L&D needs? Here's an eBook to help you: