5 Points to Remember Before You Get Started with eLearning Outsourcing
Are you finding it difficult to develop eLearning courses in-house? Well, outsourcing your eLearning design and development can save much of your time and let you focus on business priorities. Read this blog to find out a few key points before getting started with eLearning outsourcing.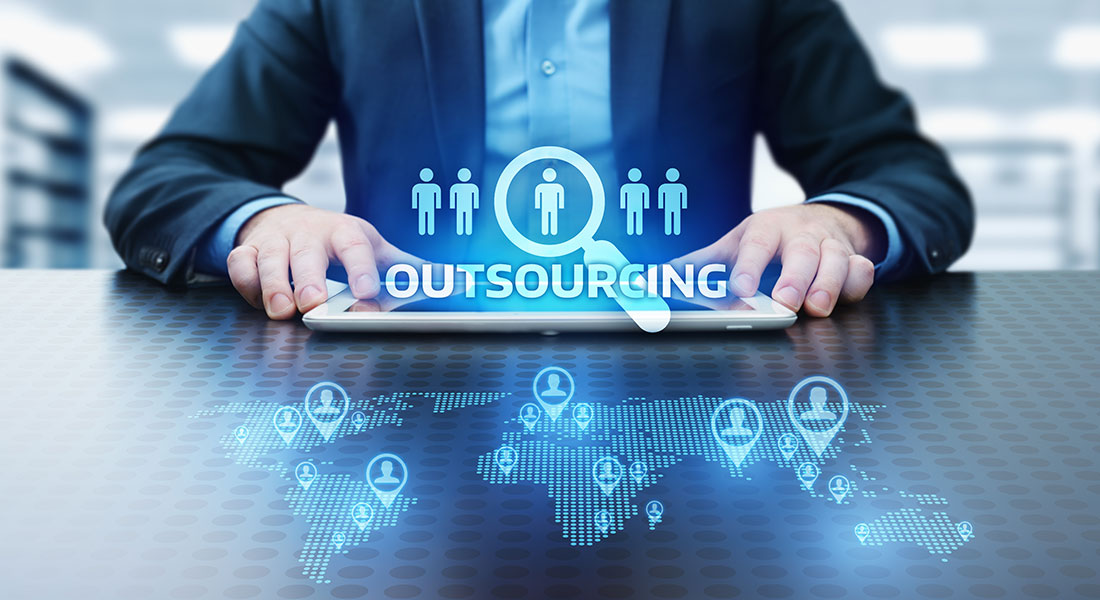 The eLearning outsourcing market is growing, but it's still not as well-known as traditional outsourcing. That's why it's important to know what to look for when you're getting started with an eLearning outsourcing partner—the more information you have about their processes and capabilities, the better you'll be able to take advantage of them for your business.
It's no secret that eLearning outsourcing has gained momentum in recent years and is expected to continue its rapid expansion over the next few years. The sector has grown by leaps and bounds in both scope and size, with more companies turning to this practice as they seek out new ways to improve their business processes while keeping costs under control. As more businesses realize how beneficial it can be for them, we will likely see even further growth in this area!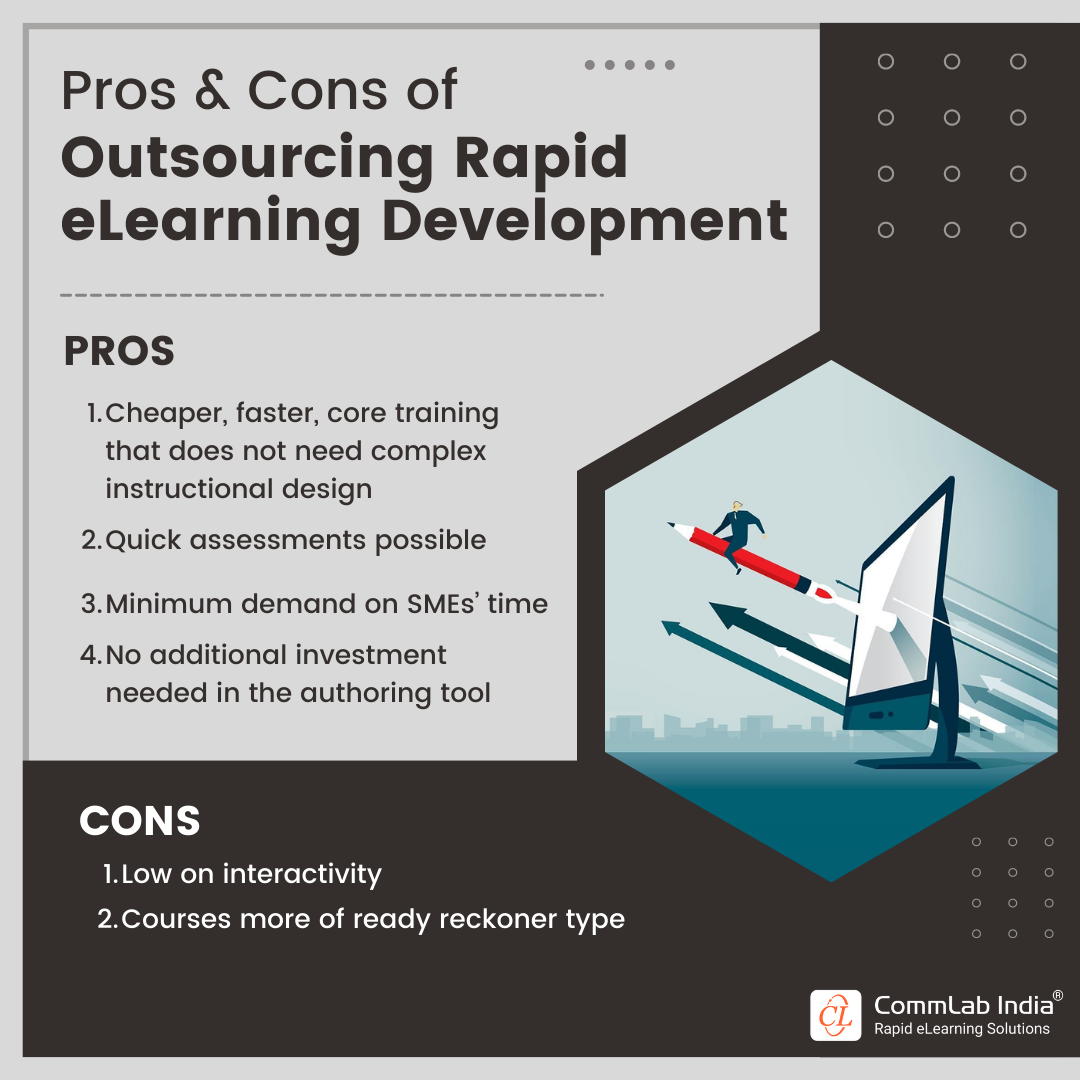 eLearning Outsourcing Can Benefit Corporates in Many Ways
Here are 3 key points to remember before getting started with eLearning outsourcing:
Seek approval on your eLearning course design
Hire an experienced eLearning outsourcing partner
Minimize language barriers
Read on the blog for more tips.
In this article, we take a look at some of the points to remember before you outsource your eLearning program. The points can help you improve your eLearning solutions and integrate outcomes in a better manner.
5 Key Points Before Getting Started with eLearning Outsourcing
Seek Approval on Your eLearning Course Design
If you have a design, it's important to get feedback on your designs before the development process begins. You can do this by creating a prototype and sharing it with internal team members who will be working on this project. Alternatively, you could hire an external partner (such as an eLearning outsourcing company) to review your designs and provide feedback on them.
How should you go about getting this kind of feedback? It depends on what kind of design document you've created: if it's just text in PowerPoint or Word, then perhaps sending out an email asking colleagues for their thoughts will suffice.
Hire an Experienced eLearning Outsourcing Partner
When outsourcing your eLearning development, it's important to choose a company with experience in the field. An experienced eLearning outsourcing partner can help you make better decisions and avoid mistakes when it comes to your project.
A good example of this is when you're deciding which type of eLearning platform should be used for your course. There are many options out there and each platform has its own pros and cons, so it's important to consider every aspect before making a final decision. An experienced eLearning outsourcing partner will know what features are available on different platforms as well as their strengths and weaknesses–and they'll be able to advise you accordingly based on their knowledge of these tools!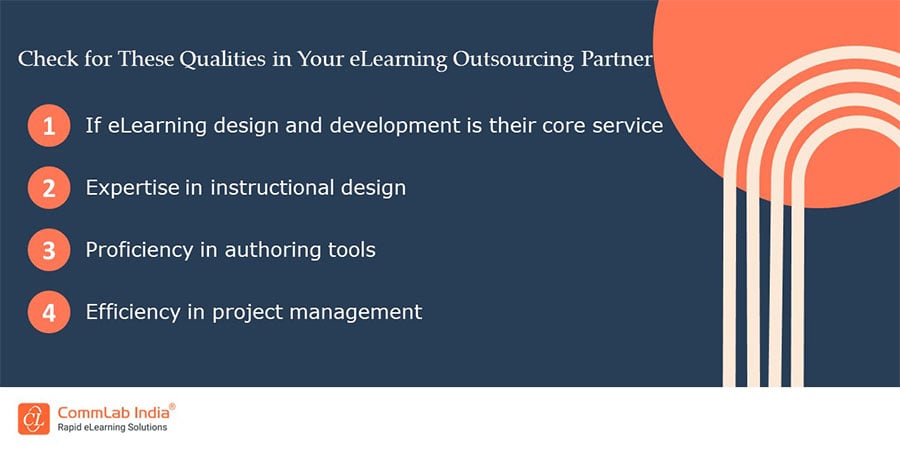 Minimize Language Barriers
Translation is a crucial part of the eLearning process, and it's easy to overlook the importance of finding a good translation partner. It's essential that you appoint someone who understands both your subject matter and language. For example, if you are creating an eLearning course on building houses in a foreign country, it would be best to hire someone who has experience with building houses and knows the local language as well.
You should avoid using multiple eLearning translation partners to ensure consistency throughout your course in terms of content presentation, style, and overall visual appearance. This also enables learners to feel comfortable switching between modules without being confused.
Take Feedback from Previous Customers
While you are looking for an eLearning outsourcing vendor, it's important to ask for feedback from previous customers. You should ask for examples of their work and references from clients who have used their services in the past. You should also request testimonials from past clients and a portfolio of work samples that will help you gauge what kind of quality level to expect from them.
You may also want to consider asking about client lists so that you can see which types of organizations have hired this particular eLearning outsourcing company before (or even better yet–if they are willing to share some names with us!). This can be helpful when making decisions about budgeting because if we know what kind of companies tend to use this type of service, we might be able to predict how much time or money we need to be budgeted based on our own organization's needs and wants.
Benefit from the eLearning Outsourcing Partner's Expertise
One of the biggest advantages of outsourcing eLearning development is that you can take advantage of their expertise. They will be able to help you choose the right platform for your needs and suggest appropriate training formats to deliver your content. You can take input regarding recent trends and AI tools in the learning and development (L&D) sphere to design learner-centric courses. This will help you to offer courses to your learners that are at par with industry standards and motivate them for continual learning.
As now you are acquainted with what parameters you should be focusing on to find the right eLearning outsourcing partner for you, let's see how the process works.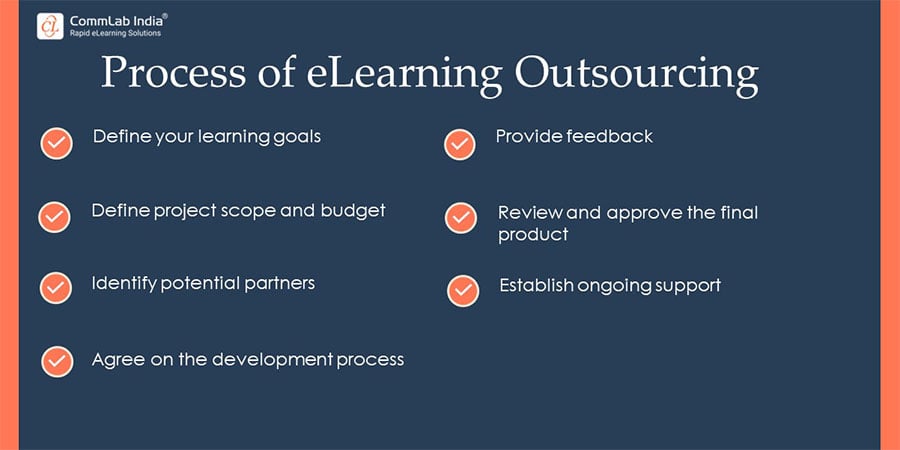 Process of eLearning Outsourcing
Working with an eLearning outsourcing partner can be a cost-effective and efficient way to develop high-quality online learning content. Here are some steps to consider when engaging with an eLearning outsourcing partner:
Define your learning goals: Before engaging with an eLearning outsourcing partner, it's essential to have a clear idea of what you want to achieve with your online learning content. You should identify the learning outcomes you want to achieve and the target audience for your courses.
Define project scope and budget: Once you have identified potential partners, you should define the project scope and budget. This will help you to avoid any misunderstandings later on. Provide a clear and detailed project brief outlining the scope of the project, the expected deliverables, timelines, and budget.
Identify potential partners: Once you have defined your learning goals, you can start looking for eLearning outsourcing partners. Look for partners that have experience creating content similar to what you need. Ask for referrals, check online reviews, and evaluate the partner's portfolio to ensure they can meet your needs.
Agree on the development process: You should agree on the development process with your eLearning outsourcing partner. This may include regular project updates, quality assurance procedures, and testing and review cycles.
Provide feedback: Provide feedback to your eLearning outsourcing partner during the development process. This will help ensure that the content meets your expectations and that any issues can be resolved before the project is complete.
Review and approve the final product: Once the eLearning content is complete, review and approve the final product. This will help ensure that the content meets the learning goals and expectations set out in the project brief.
Establish ongoing support: Finally, establish ongoing support with your eLearning outsourcing partner to ensure that the content remains up-to-date and relevant. This may include ongoing updates to the content, technical support, and training for your team.
Watch this video to find four scenarios where eLearning outsourcing saves the day.
It's a Wrap!
We hope this article has helped you to understand the ins and outs of eLearning outsourcing. It's an exciting market with lots of potential for growth, but it can also be tricky to navigate if you don't know what questions to ask or where to go for reliable information. We hope that by reading through our tips above, you now feel confident enough in your knowledge base so that when it comes time to make decisions about hiring an agency or freelancer–whether domestically or internationally–you'll know exactly what steps are involved! For more tips and best practices for an effective eLearning outsourcing journey, get your hands on this comprehensive guide. Get your copy now!
Editor's note: This post was originally published in May 2023 and has been updated for comprehensiveness.