How Rapid eLearning and Gamification Can Enliven Your eLearning Courses
Modern learners have very short attention spans so gamification is useful to enhance their engagement, and rapid eLearning plays a vital role in developing gamified courses efficiently. Read on to understand their collective impact on corporate training.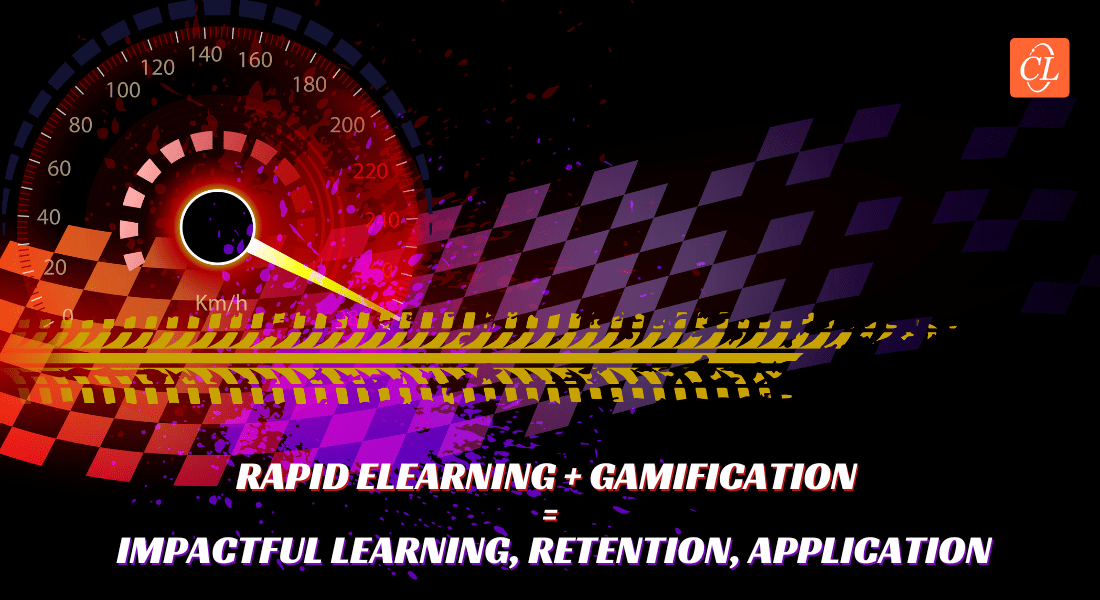 Games are necessary for a bit of entertainment and are generally used as time killers, but they can be much more than that. When we consider their effectiveness in eLearning, it's crucial to enhance the engagement and motivation of employees towards completing their training courses. There are a lot of other advantages of gamifying the eLearning courses that I will discuss in the blog, but ever wondered how this idea of gamification came up? In my opinion, rapid eLearning has been a catalyst for the effective implementation of gamification in eLearning and this blog will help you understand how they are related to each other.
All Set to Unleash the Powerful Duo – Rapid eLearning and Gamification?
Here are a few insights you will gain through this blog:
Rapid eLearning and gamification: How they are related to each other
Gamification and game-based learning: Similarities and differences
The power of rapid eLearning to create gamified courses
Rapid eLearning and Gamification: How are They Related to Each Other
The purpose of rapid eLearning is to use the power of authoring tools and instructional designs to roll out training faster than usual and gamification is an instructional design strategy. This is enough to conclude that rapid eLearning brought gamification into the play, improving the engagement of employees by making use of game elements throughout the course and making learning interesting. Gamification also helps the learners retain their knowledge for a longer period of time since they enjoyed gaining that information in the first place, and this improved retention helps them to stay productive at their job.
Since gamification made its cut, it was an easy way for actual games to make their way into the eLearning domain. Here, learners can actually play games to learn things instead of incorporating only the game elements. Let's take a deeper look into the similarities and differences between gamification and game-based learning.
Gamification and Game-based Learning: Similarities and Differences
These are the 2 different ways game mechanics can be leveraged in eLearning courses but their concepts and implementation differ. Game-based learning involves actual games or a game environment to learn various topics and gain practical knowledge about them virtually. Gamification, on the other hand, utilizes different game elements such as awards, points, badges, and leaderboards to use them for different purposes in an eLearning course. Gamification uses these elements to drive learner engagement and improve the completion rates of eLearning courses. Whereas, game-based learning provides the learners with a sense of competition to perform better, improving their overall time to proficiency.
If you consider the differences or even keep them aside, gamification tends to provide more of a holistic approach toward learning because of its vast applications and keeping the sense of corporate training alive. Game-based learning falls behind because its applications are minimal, it's still a viable strategy, but to provide a better learning experience, gamification is preferred over it. Another crucial downside to game-based learning is that it's expensive and takes more time to develop. In contrast, gamification can be efficiently implemented with the help of rapid eLearning authoring tools and the corresponding instructional design strategies.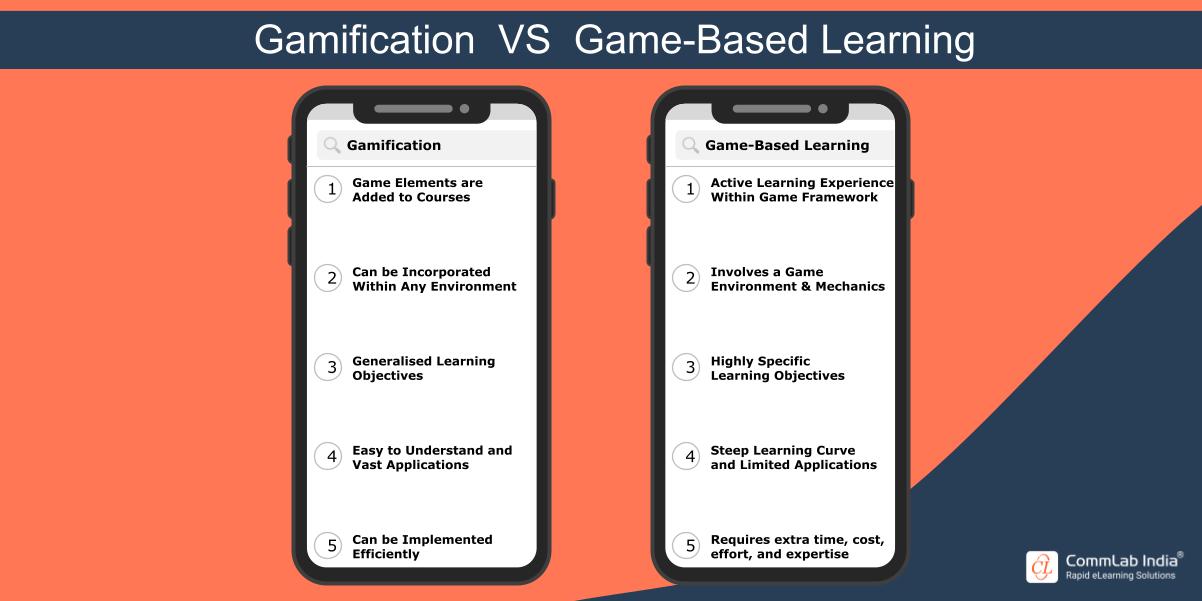 The Power of Rapid eLearning to Create Gamified eLearning Courses
1. The role of instructional designers
A successful instructional design is one of the two most important aspects of designing a gamified course. Instructional designers are responsible for deciding the most viable strategy for every course and fitting gamification elements wherever effective. Here is an example of how a team of instructional designers creates a gamified course for training.
Segregate the content into different modules and each of them can be considered as individual levels and these modules will have certain sub-topics that can be considered a checkpoint.
Plan the modules from easy to difficult because that's the primary concept of levels, the coming level is said to be harder than the previous levels.
Assign the points for each checkpoint crossed and award badges when a module is completed.
Provide a leaderboard to show the final scores at the end, along with a list of other rewards received throughout the course, ultimately highlighting the progress and achievements of the learners.
The above process was only for the core development to progress with the idea of course. Gamification is also useful to create personalization in your eLearning courses with the help of avatars that can either be changed as per your wish or gained at special checkpoints. Apart from avatars, customized characters can also be added at different moments to help you navigate throughout the course with ease. Gamifying eLearning assessments can make them more interactive and these assessment scores can also be displayed on your leaderboard.
2. The importance of rapid authoring tools
The role of instructional designers is understood, but how do they develop the courses as per their preferences? With the help of various rapid eLearning authoring tools that provide customized layouts, themes, and pre-built templates to incorporate gamification elements successfully. Authoring tools also have a repository of stock images, icons, backgrounds, and graphics to add more exclusiveness to your courses. Some popular rapid authoring tools that make the development of gamified courses seamless are Articulate Storyline 360, Adobe Captivate, and iSpring. These modern tools help designers to develop interactive gamified courses rapidly.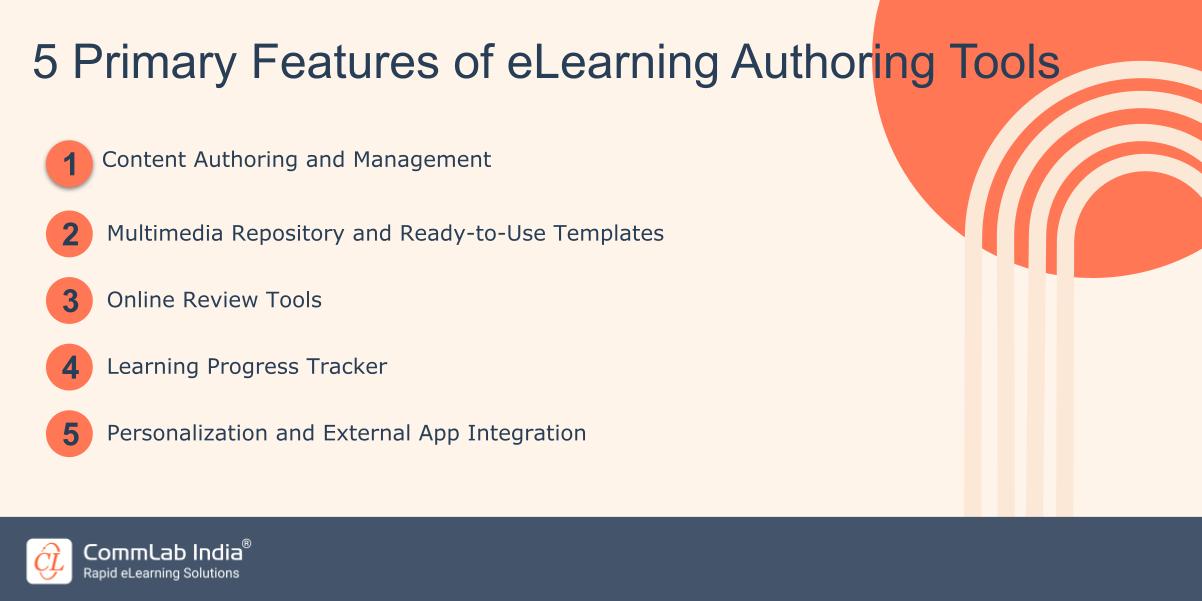 3. The impact of mobile learning
Mobile learning has been preferred by a lot of organizations lately because of the resources it saves without compromising the quality. Mobile gaming is on the rise so accessing gamified courses on mobiles should provide more options to enhance learner engagement. Creating a responsive gamified course will help the learners gain just-in-time training, performance support, and refresher training. Mobile learning and gamification are a powerful duo that still has more untapped potential because of the dynamic advancements happening every day in technology.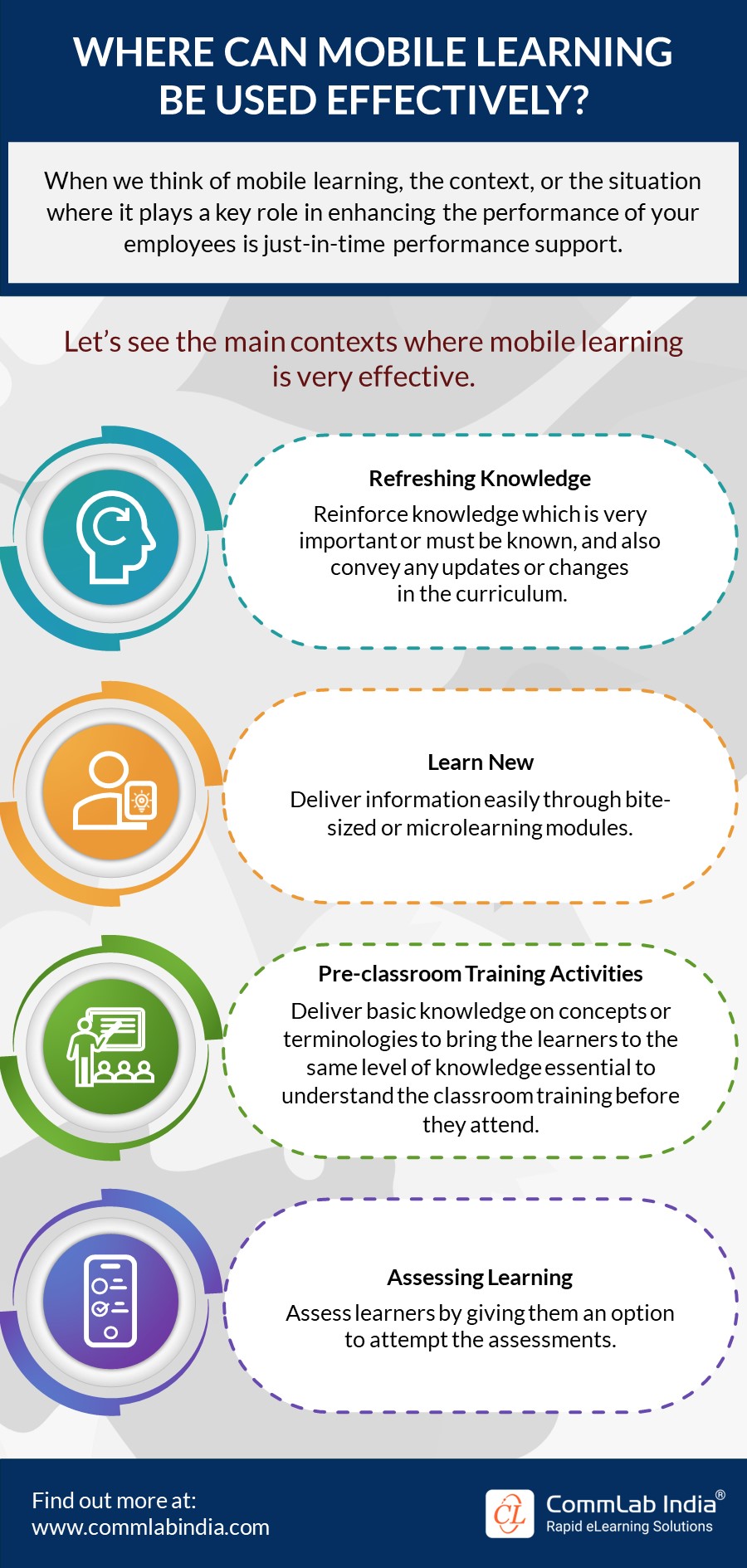 Wrapping Up!
There is nothing more important for the training managers if their training programs are turning out economically effective and employees deem them to be productive. Rapid eLearning when correctly used to develop gamified courses will help organizations improve their training ROI because it will extensively enhance learner engagement and productivity at their job. Besides gamification, there are many other strategies that can enliven your eLearning courses. You can refer to this free webinar recording to explore other relevant instructional design strategies that are equally capable of engaging learners.
Editor's note: This post was originally published in November 2022 and has been updated for comprehensiveness.