8 Best Practices for Instructional Design: A Comprehensive Guide
Creating learner-centric courses adhering to best practices for instructional design and putting an emphasis on quality for effective content delivery.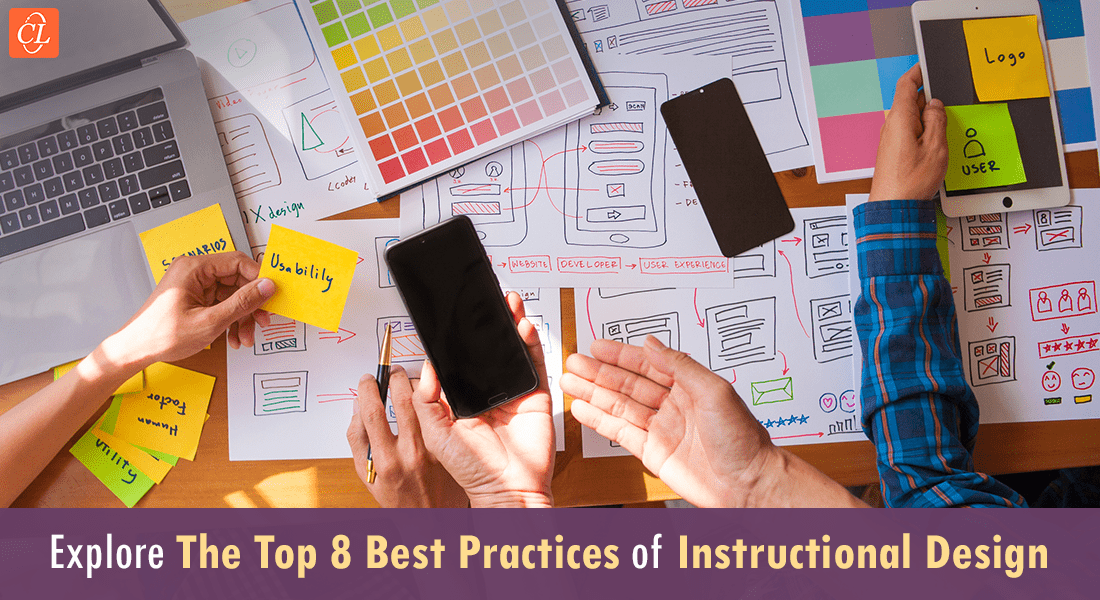 Due to the need to provide online courses quickly to meet the latest corporate expectations, the process of providing training has become more challenging. The fundamental goal of instructional designers is to increase learner engagement and reduce turnover rates in the workforce; therefore, courses filled with frills and fads might not necessarily be the best option. Regardless of all the frills, courses that are based on the principles of adult learning and instructional design will achieve these objectives of reducing turnover rates of employees and increasing learner engagement.
Because they compensate for the lack of a live instructor, ID methods are essential when creating corporate eLearning. Any instructional design method's main objective is to make up for the loss of human connection in an eLearning course. It mimics a classroom setting with elevated amounts of engagement and participation. Many businesses are considering it because the mix of instructional design and resources produces unforgettable learning experiences that expedite the implementation of knowledge, enhanced information retention, and speed up the process of learning.
Wondering How to Develop Courses Rooted in Instructional Design?
Here are the top five best practices to follow:
Specify Your Learning Goals Clearly
Provide Simple and Straightforward Navigation
Create a Captivating and Interesting Course
Use Powerful Audio
Add Scenarios
Read on to know more.
Principles of Adult Learning
There are 6 adult learning principles that, when put into practice, aid adults in learning successfully. Engage them in the learning journey.
Adults must understand why they ought to learn a new skill. Specify learning goals that explain why they "need to know." Tell them about the advantages of learning.
Adults have a strong desire to govern their own lives. Allow them unrestricted freedom to go around the course as they like.
Adults have more experience than young people do, both in quantity and quality. Help them integrate their prior knowledge and experience with new learning.
When an adult feels the desire to be able to perform something successfully, they become ready to learn. Tell them how much the course will improve their performance.
Adults approach learning with a problem-focused mindset. Create courses that help learners develop their abilities or solve challenges.
Intrinsic and extrinsic motivation are used to drive adults to learn. Encourage them by awarding them points, badges, or awards. The foundations of adult learning (Andragogy) refer to the science and practice of assisting adult learners.
An eLearning course is made effective through good instructional design.An instructional designer focuses on specific instructional design strategies in order to produce extremely engaging and effective courses. Successful courses that effectively provide training generally require a well-made and focused course design.
Top 8 Best Practices of Instructional Design
1. Specify Your Learning Objectives Clearly
Simply put, as an instructional designer, it's critical to make your course goals crystal clear. In other words, what do you wish learners to be able to do after completing the course? This will compel them to finish the course and could become engaged by discussing how the training will enhance their ability to do their jobs. This process involves going through the content and deciding the learning objectives to align with business goals and intimating the learners about them.
2. Provide Simple and Straightforward Navigation
Making the navigation clear and straightforward for the learner to comprehend is crucial in an eLearning course. Allow learners to move around the training course without any limits since they won't enjoy being constrained as adults. This would enable learners to easily understand the course and select the subject they wish to learn.
Make sure they know where the course completion status, upcoming new courses, volume controls, Next, and Previous buttons are by not making them search for the navigation should also be customized for special-abled learners.
3. Create a Captivating and Interesting Course
The use of various interactivities, avatars, simulations, films, infographics, and other tools may make the course exciting and engaging. Interactivities include clicking on tabs, dots, pictures, notes, rollovers, etc. They aid in capturing the learner's attention and aid in helping them remember concepts for a prolonged time. Interactivities in an online course provide the learner with the chance to engage with the material through doing or by contemplating. It enhances the learner's connection to the course.
4. Use Powerful Audio
Appropriate audio utilization in eLearning improves a course's attractiveness, and audio integration increases a learner's attention and focus. Reduced cognitive strain is a benefit of high-quality audio storytelling. Make sure the audio is understandable and has a neutral style.
5. Add Scenarios
Scenarios assist learners in thinking critically and making judgments while also making the material more pertinent to real-world situations. Learners are motivated and engaged when scenarios are rendered interactive by using video clips, audio, and visuals.
This enables learners to practice applying the information and abilities they have acquired throughout the course and use them subsequently on the job.
6. Incorporate Effective Quizzes
A quantitative way of evaluating the learner's understanding is an eLearning quiz. The assessment measures their capacity for applicability, recall of information, and participation in the eLearning program. Since "True or False" questions are often used in eLearning courses, testing learners is not difficult. It's crucial to mix up the question formats in a course and take advantage of situations like drag-and-drop, drop-down menus, and numerous selections; they are effective ways to test how well learners comprehend a topic.
7. Offer Prompt and Detailed Feedback
The primary component that will inspire learners in an eLearning course is feedback. Feedback must always be precise and include a justification for the learner's right or wrong answer. For instance, if a learner chooses the right answer, the response shouldn't merely state, "Yes, that's right! Instead of doing this, we should provide a succinct justification for why they are accurate, allowing reaffirming the main ideas of the subject.
If a learner chooses the erroneous answer, the feedback shouldn't just state, "Sorry, that's incorrect!" Instead, we may provide a tip, explain why he chose incorrectly, or invite him to try again. It is preferable to inform the learner that they are partly accurate if they choose a portion of the correct choice than to inform them that they are mistaken.
8. Offer Rewards
Rewarding success encourages learning. When playing video games, people get too involved because they are rewarded; they compete and feel accomplished. Like that, it helps to provide certificates to learners who finished the course successfully. While they receive a reward, they would then feel content and inspired.
Your learners will be encouraged to do better via points, awards, levels, badges, and leaderboards, among other things. As they get more points, they'll want to gain even more points and learn more. They will want to learn more as they get rewards, which will help them earn more in the future. They will thus remain engaged during the entire course.
Parting Thoughts
By combining a variety of elements and design concepts, instructional design can develop courses that are simple for learners to explore and finish. You may develop an engaging and efficient course by adhering to the best standards for eLearning instructional design. The attention of a learner may be maintained by introducing interactive components into courses.
There are a lot of additional tactics that may be tailored individually to a single course. Check out our free eBook for additional information on creating learner-centric eLearning courses. It contains the core knowledge that instructional designers need to create effective, meaningful digital courses that achieve learning goals.