Leverage the Power of Infographics in Online Training – 4 Awesome Ways!
Infographics are a sure way to spice up online training. Check this blog to know about the 4 ways you can use infographics in your online training.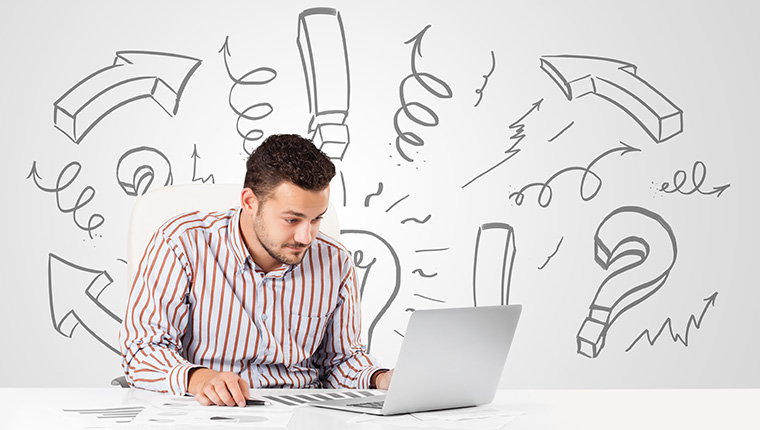 Content with images tends to get 94% more views compared to content without images, according to an article by Jeff Bullas. This is one reason infographics steal the show in any platform. Be it in newspapers or social media, infographics can be found everywhere, even in online learning.
4 Ways to Use Infographics in Online Training
Adapt within online courses to reduce cognitive overload
Provide job-aids for performance support
Offer additional resources to expand learning
Promote your eLearning courses for increased adoption
Yes, the importance of visuals is increasing in the learning sphere as much as its importance in our daily lives. Developments in technology have opened new paths which enable the integration of various digital formats in an eLearning course.
Infographics in online learning can be used to present content through visual nuggets that create a visual narrative, thus making it easier for learners to understand and retain the knowledge gained. So, what are the different ways you can use infographics within an eLearning course?
4 Ways to Use Infographics in Online Learning
1. Adapt within Online Courses to Reduce Cognitive Overload
Infographics are known for their ability to grab the attention of individuals due to their highly visual characteristics. And within an eLearning course, infographics are used to liven up dull content and enrich the learning process.
For example, consider you would want to include a set of statistics within your course. Instead of bluntly presenting the statistics using bullet points, you can make an infographic. Infographics are especially known for their ability to make things stand out. Similarly, various other information such as timelines, compare and contrast, a complex process, etc., can be made into infographics. This will allow learners to absorb the required content in a jiffy, rather than having to read or watch a lengthy text or video.
2. Provide Job-aids for Performance Support
Business dictionary.com defines job-aids as "Devices or tools that allow an individual to quickly access the information he or she needs to perform a task." 'Quick access' is what a job-aid is all about. Considering the fact that infographics are majorly known for their power to let learners fast-track the necessary information to the brain, what else would be a better format than them for job-aids?
For example, let us consider you've just trained your employees on performing certain actions on the new HRIS software, using a full-fledged eLearning course. But you notice that, when your employees get back to work, they often end up with a lot of doubts on the steps to perform. It is obviously not possible to go through an entire course all over again just to clarify a few steps or even take the assistance of a senior employee every single time.
It is in such situations that an infographic can come in handy. To further assist learners in carrying out a particular action in the software, an infographic of the steps involved in carrying out that action can be provided to the employees. They can either be given as handouts or to be accessed on their desktops or mobile devices, basically acting as a performance support tool. No matter what the procedure is, an infographic will be enough to present the way to perform it effectively.
3. Offer Additional Resources to Expand Learning
Whenever an eLearning course is developed, only the content that caters to the final learning objectives ('need to know') is included. Any other information (nice to know) will just lead to overwhelming learners, thus derailing them from actual learning. Hence, only the need to know content will be included in the course. The 'nice to know' content is usually provided as additional resources.
Infographics are one of the best ways to provide additional resources in online learning. Of course, there are many other formats such as PDFs, videos, etc., but when additional resources are provided in the form of infographics, learners can quickly grasp the content instead of having to go through chunks of text.
For example if you are delivering a product training course to explain the features of an analytical balance, the need to know information would obviously be the features of the product and how exactly to use it. The nice to know information would be how the product fares over competition. Thus, if required, the learner can also go forward and refer the infographic to know about the rest of the details.
4. Promote your eLearning Courses for Increased Adoption
If you are planning to deliver online training, do get ready to double up as a marketer too. Employees these days are always in the midst of doing something or already have a long to-do list prepared for the rest of the day. Hence, if you want them to take up your eLearning courses and they are not convinced why, it is necessary to market your eLearning initiatives as this is the best way to promote eLearning within your organization.
You can use infographics for this purpose too. An infographic can be created on the benefits the learners are going to gain if they take up the course or maybe the learning objectives of the course can be made into an infographic. This infographic can then be sent via emails to all the employees, posted on bulletin boards etc. Thus employees will be aware of why exactly they should be taking up the training and what they can expect from the training, just by taking a look at the infographic for a few minutes.
Infographics can indeed be a great boon for online training, if leveraged appropriately. I hope this blog helped you understand a few of the ways you can use them. Eager to know about more such ways to make your eLearning journey a great one? Download this free eBook to gain access to 32 amazing hacks!