3 Steps to Gain SME Buy-in for ILT to eLearning Migration [Infographic]
ILT to eLearning migration is the need of the hour. But do you know how to appease your SMEs and get them to invest their time in this process? Here's an infographic with ideas to gain SME buy-in for ILT to eLearning migration.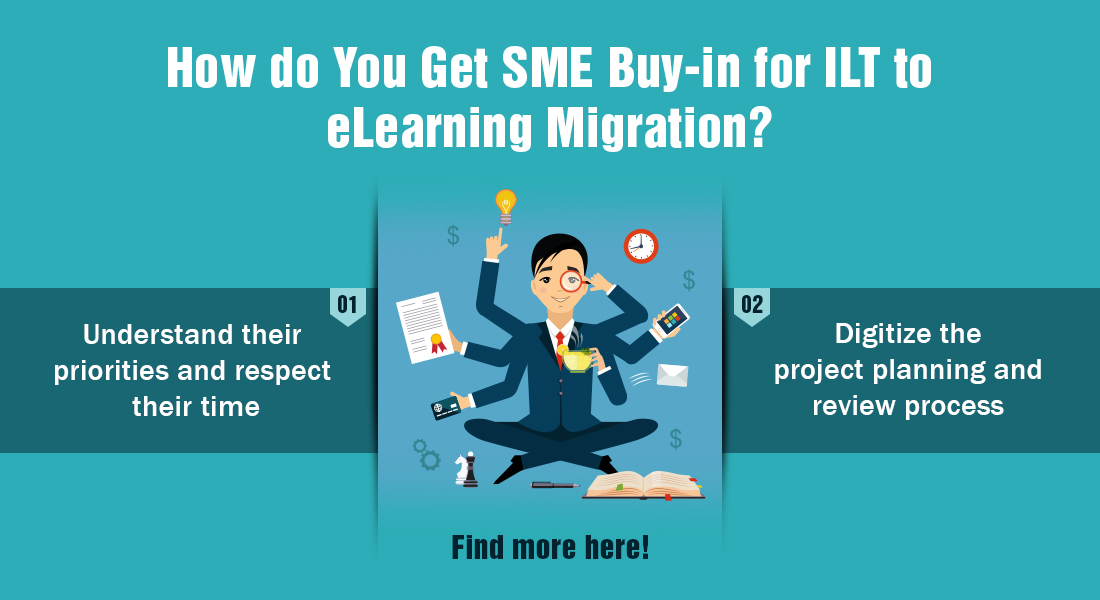 Instructor-led training has been the preferred mode of corporate training for a long time and its appeal will not wane anytime soon. Yet, this COVID-19 lockdown situation has forced organizations to consider the advantages of virtual training to deliver training for employees working from home. I guess after much ado most organizations have now recognized the importance and absolute need for online training and preparing for ILT to eLearning migration. But shifting from ILT to eLearning in such a short notice isn't without its own challenges, is it?
The first and foremost challenge is finding the right strategy. You need a quick and economical strategy to shift from ILT to eLearning without much fanfare. The solution for this is simple – Rapid eLearning. It promises to deliver fast, high-impact training without burning a hole in your wallet. There you go, that was easily solved, but the next challenge won't be.
The second most crucial challenge against ILT to eLearning during this time is getting your SMEs' approval and time. Subject Matter Experts (SMEs), as you know, are the masterminds behind all your training content. Without their expert contribution, the success of your training program hinges on a knife's edge. But getting SME buy-in at a time like this when they are busy with changes in the business world is difficult to say the least. They are busy people who are now even busier in this post-COVID-19 corporate world. Not to mention many SMEs are skeptical about online training still.
So how can you gain SMEs' buy-in for ILT to eLearning migration? Here is an infographic that can help you.