4 Ways of Incorporating Experiential Learning in eLearning
Experiential learning matters for a sticky eLearning experience! Have you applied experiential learning in eLearning yet? Here are four ways.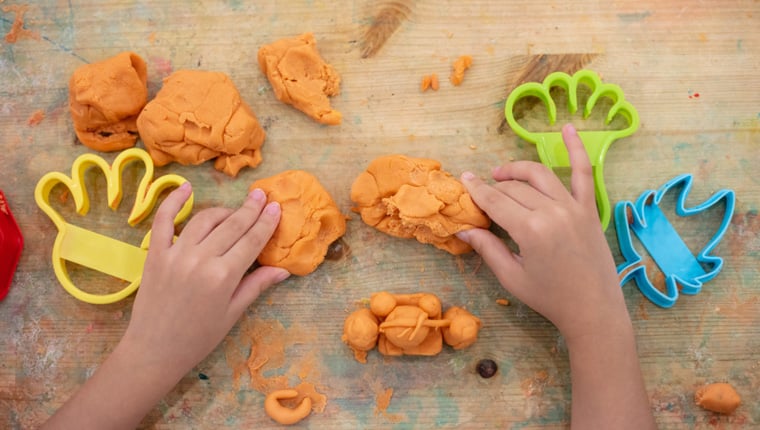 We are all shaped by our experiences. No amount of textbook-learning can replace the wisdom, clarity, and knowledge that are drawn from experiences. This is ascertained by Experiential Learning Theory (David A. Kolb, 1984) that explains how the very principle of adult learning is to derive meaning out of experiences. Hence, adults learn optimally when they learn by doing in contrast to memorizing facts and definitions from books. However, is it possible to emulate Experiential Learning in eLearning?
Experiential Learning in eLearning
4 Ways to Design Experiential-based eLearning
Go beyond traditional training with online simulations
Create opportunities for reflection with scenarios in eLearning
Leverage the power of shared learning with social learning

Allow experiential learning by exploring with gamification
Before we answer that question, let's get the foundation of the theory correct.
What is the Experiential Learning Theory?
David A. Kolb defines experiential learning as "the process whereby knowledge is created through the transformation of experience. Knowledge results from the combination of grasping and transforming experience."
The theory also reveals the cyclic nature of experiential learning and how it takes place in four stages. Although presented in continuum, the stages can occur in any order.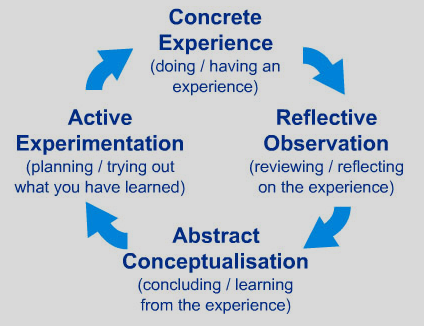 Image Source: Simply Psychology
The cycle begins with the experience learners might have had, which is followed by a chance to reflect on that experience. Moving on, learners conceptualize and derive conclusions about what they've observed, which leads them to experimenting with different behaviors.
Why Do Conventional eLearning Courses Fail in Incorporating Experiential Learning?
Do your conventional eLearning courses provide scope for experimentation? Are they aimed at disseminating information pertaining to different learning needs? They might be filled with definitions and concepts. But, do you think that memorizing information is sufficient? Don't you want learners to apply the acquired knowledge and perform their jobs efficiently?
To affirm this, here's a diagram which denotes the difference between knowledge in isolation and knowledge in experimental learning.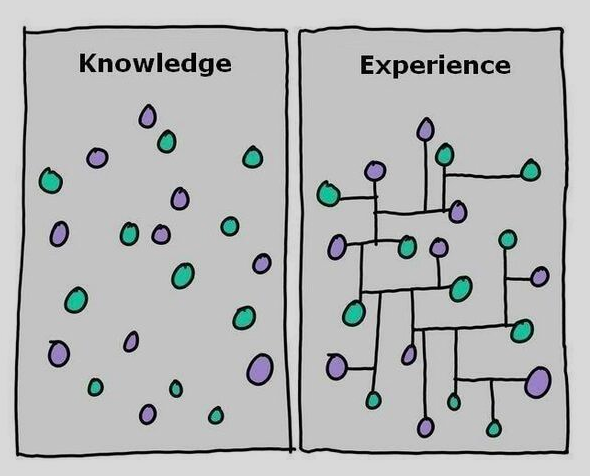 Image Source: Buffer
As evident, knowledge only helps when learners are able to make connection amongst what they know. And true knowledge seldom happens without experience.
4 Ways to Develop Experiential-based eLearning
1. Go Beyond Traditional Training with Online Simulations
Adult learners gather and process information using their senses; however, it is only by "doing" that they actually learn – the crux of experiential learning. Simulations allow exactly that. Simulations in eLearning allow learners to experiment with situations that are close to the real work environments of learners, paving the way to "doing and learning."
Active doing and experimentation in eLearning simulations allow learners to apply their knowledge in different scenarios and situations. For instance, application training, such as software or surgery require "hands-on practice" for learners to get the complete picture. Hence:
Take your online training one notch closer to reality with simulations and move over the chalk-and-talk.
eLearning simulations will enable your learners to be better prepared and master the skill before they apply at work.
This eliminates costly delays and errors at work and ensures learners are more confident and hands-on.
2. Create Opportunities for Reflection with Scenarios in eLearning
So, you have given your learners all the information necessary to broaden their knowledge and move on to unlock professional opportunities. However, do they have the opportunity to encode and experience the eLearning content into their memory or are they merely going through the motions? It is only through reflecting and putting that knowledge into use can learners truly process the information. How do you enable that?
Scenarios immerse your learners in real-life situations so that they can evaluate their responses and experience the consequences.
In case you want to raise the engagement quotient of scenarios one notch higher, you can leverage the power of branching scenarios. Much like scenarios, branching scenarios in eLearning pose challenges and seek decisions from employees. Each decision they take will lead them on to a further path. Thus, learners will immediately experience the consequence of their choices and see how it leads them to the big picture.
3. Leverage the Power of Shared Learning with Social Learning
According to Bersin by Deloitte, organizations with at least 10,000 employees are spending more than three times on social learning tools, than they did in the past two years. Social platforms are one of the easy, accessible ways to foster experiential learning. Why do you think social learning has started to become a favorite among organizations? It's because:
Social learning in online training allows your employees to observe, share and imbibe knowledge from others and with others. Unlike a one-time learning event, social learning enables continuous learning.
In the online learning framework, this can happen through the medium of blogs, discussion forums, user-generated videos, podcast, blogs, and more.
Social learning helps learners get access to tips and help on an on-demand basis and also share their success stories with peers, fostering experiences.
4. Allow Experiential Learning by Exploring with Gamification
Much like the common phrase, "life would be better if it were fun," gamification allows experiential learning, making it engaging and motivating.
Gamification in eLearning minimizes passive learning by challenging learners at exactly the right points. When learners feel challenged, they are motivated to explore and come back for more. They are wired to take pleasure from the whole process of overcoming obstacles and succeeding to move on to the next level.
Designing your eLearning courses around doable challenges makes your course more less like a one-sided lecture session. For instance, you can device the challenge to be in many forms such as unlocking different sections of an eLearning course, or else it could be a puzzle that demands exploration and consequent solving.
Use leaderboards that display points and badges; this will infuse competition and increase the appeal of experiential learning.
Wrapping it Up
Have you factored in experiential learning in your training framework? If not, what would you like to get started with? Whenever you want your learners to master skills, ensure you allow scope for experiential learning, and as discussed, eLearning can help you with this! With a little experience, you'll be developing champions in your organization in no time! Hope you liked reading this blog. Do share what you think in the comments below.