5 Most Popular eLearning Trends for 2023 to Deliver Impactful Corporate Training [Webinar]
Learning and development can effectively transform the forever-dynamic corporate world by incorporating the latest technologies and strategies. Register for the upcoming webinar that will provide a glimpse of all the popular eLearning trends for 2023.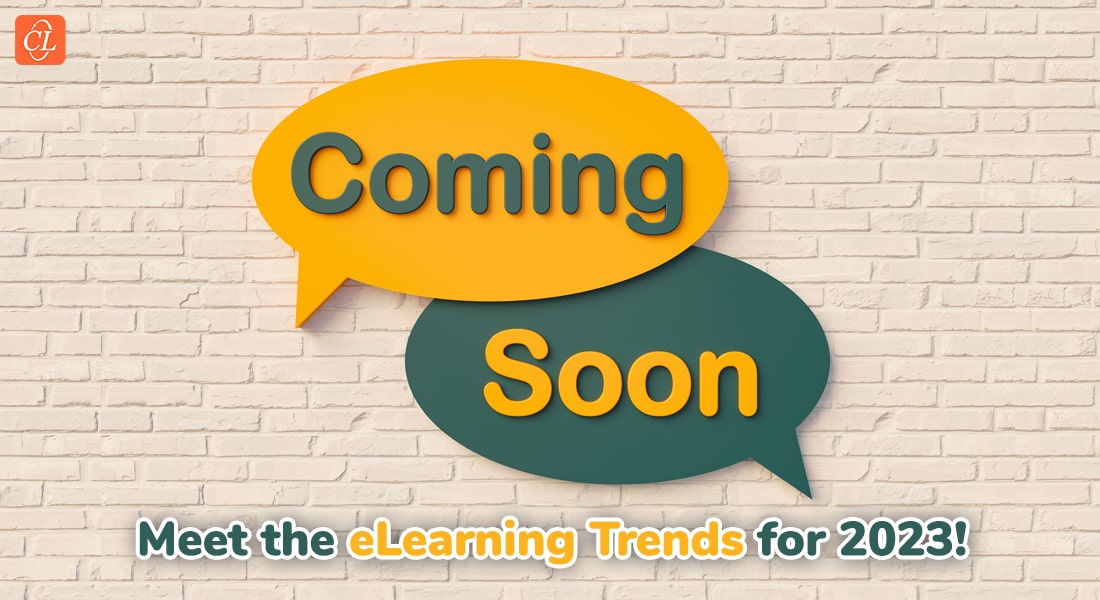 Change is the only constant in today's corporate world, the rest is volatile. Organizations are going global and today's workforce is multigenerational which demands new eLearning trends to get engaged in their training sessions. Millennials and GenZ are dominating the workforce, and thus organizations have started to prefer the usage of modern technologies to provide corporate training. To help you out, we have an upcoming webinar that will make sure you gain insights on the different eLearning trends for the upcoming year 2023 that will make your training sessions much more effective.
The role of the L&D department has upgraded within organizations. It has started to develop multiple layers and aspects because a single approach cannot engage all the employees and allow them to perform at their full potential. This webinar will help you figure out the skill gap between their employees and minimize it to ensure all the employees are equally productive while achieving their business goals. Let's explore some impactful aspects of eLearning that will be covered in the webinar linked above.
The Latest eLearning Trends That Can Level Up Your Corporate Training
1. Align Business Goals with Training Goals
Business goals and training goals are two different but interrelated aspects, and it is important to align them, but it's quite challenging as well. Organizations might also lack financial resources and technology, and above all, they have limited time to make things work. An effective training program helps the organization to make sure the employee performances are top-notch, and the business needs are met seamlessly. The L&D unit works somewhat as a consultant for organizations to promote the learning culture and impact the overall business of the company. Learning affects a lot of critical areas of work such as leadership development, financial growth, and client retention, just to name a few.
2. Revamp Your Training Solutions
Previously, learning was based on the 70:20:10 model, but things are shifting toward a newly revised 55:25:20 model. To ensure training is impactful, L&D has to consider the modern learner's preferences and understand their needs. Learning helps employees stay up to date with the changes happening in the world related to their field of expertise and positively affects their individual growth. If the employees are well motivated to work, it enhances their productivity and embraces the learning culture within the organization.
The 55:25:20 model states that modern learners prefer 55% experimental learning, 25% social learning, and 20% formal learning. Under this new model, a lot of training programs such as onboarding, leadership & management training, and technical training that previously followed classroom learning, now are shifting to online training solutions such as eLearning, scenario-based learning, or VILT. Now that organizations have to deliver online training to the global workforce, this calls for the need to facilitate eLearning translations. Register for the webinar to gain more insights about the various learning solutions and their impact on your corporate training.
3. Incorporate Modern eLearning Formats
Unlike in-person learning formats that ruled corporate training for years, today's workforce prefers mostly experimental and virtual learning formats. Some of the popular online training formats are VILT, eLearning, microlearning, podcasts, and blended learning which is basically a mix of multiple training formats. Immersive eLearning solutions such as AR & VR-based learning, scenario-based learning, and game-based learning are also being preferred by a lot of modern learners for specific types of training such as software training, machinery training, and sales training.
4. Utilize Rapid eLearning Accelerators
Some organizations prefer to build everything in-house while others choose to save time and effort by outsourcing it. Rapid eLearning development can be outsourced if the in-house team isn't capable of handling the entire process under tight deadlines, which helps the organization maintain its workflow while the rest is covered by external vendors. You can either outsource the entire process or selectively outsource various aspects such as translations, course conversions, and LMS support.
5. Introduce Emerging Technologies
As the whole world is on its way to digitalizing almost every major activity that requires considerable human effort, the L&D department wouldn't want to fall behind others. Organizations have started switching from simple manual tools to modern AI tools available online to reduce a lot of human effort by automating multiple processes such as text-to-speech conversions, photo & video editing, and translations. AI technologies use advanced technologies such as machine learning, deep learning, and advanced robotics to achieve human-level accuracy and save a lot of time.
Metaverse is one of the many technologies that are in the spotlight lately; it incorporates mostly the concepts of AR and VR along with advanced AI and ML to create a virtual environment that replicates the real-world environment. If you are interested to know more about the interesting and emerging technologies in the coming future, make sure you sign up for the webinar now.
Wrapping Up!
L&D is extremely crucial for the growth of your organization's business and exploring new and innovative ways to engage the employees is the catch for the upcoming year 2023. This upcoming webinar will cover all these insights for you in detail and will also provide you with a roadmap to make 2023 a bright and productive year for all the L&D leaders. Register for this webinar on 6th December 2022 at 11 AM EDT about the latest eLearning trends for 2023 followed by a Q&A session that will help you roll out immensely impactful training for your employees and maximize your training ROI.