6 Popular eLearning Platforms to Explore in 2022 For Upskilling and Reskilling Your Workforce
eLearning has been on the rise lately and a lot of online platforms deliver personalized eLearning courses. This blog helps you understand the importance of upskilling your employees through eLearning and explore 6 popular eLearning platforms.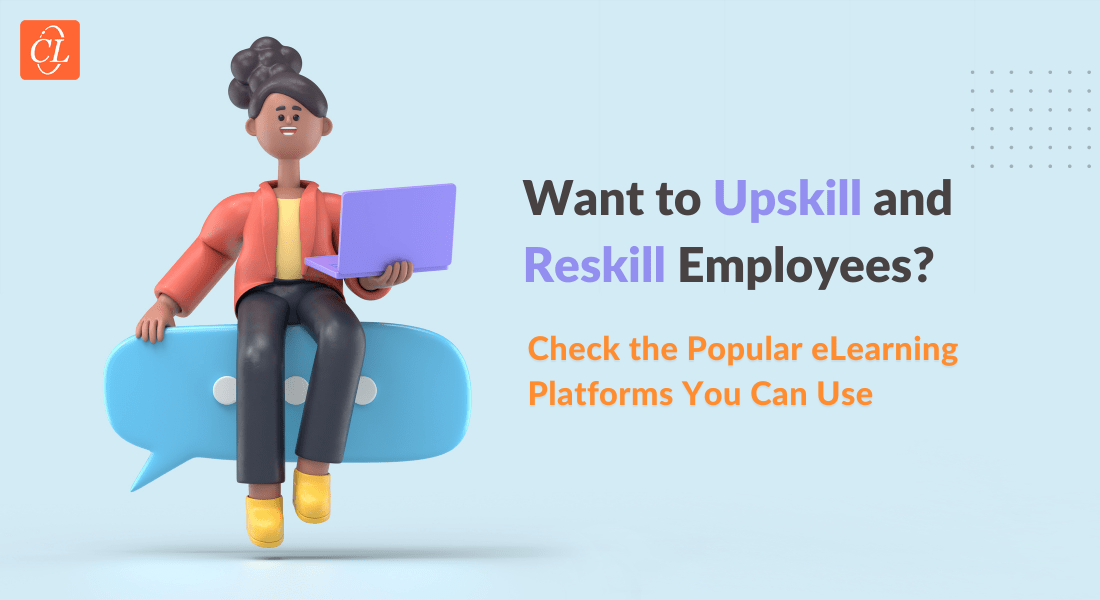 Corporate life as of now isn't just working and coming back home, it's more than that. The environment is so competitive that organizations are always trying to upskill their employees so that they can provide maximum productivity while not getting bored with their job. Thus, training the corporate workforce has to be creative and exciting to retain the employees while they look out to upskill themselves. There are so many online platforms to get upskilled and reskilled in today's world, all because of the extreme success of personalized eLearning for gaining multiple skill sets.
Have You Tried Any of the eLearning Platforms To Get Upskilled?
Here are a few popular platforms to check out:
Coursera
Udemy
Codecademy
Read on to explore more such platforms and understand how they help in corporate training.
Benefits of Upskilling and Reskilling Employees
1. Helps the organization to maximize employee productivity
The productivity of employees is one of the primary reasons why organizations prefer upskilling them. When employees are productive, they also enjoy working and get motivated to perform at their best, while the rewards they receive for their performance can be considered icing on the cake. When the eLearning courses are exciting, and the employees develop their interest in the context, they tend to explore more about it, which helps them to retain what they have learned about the subject.
2. Minimize the skill gap in the organization
When all the employees are advised to take up a certain course, everyone learns something new and their training goals are preset, diminishing the overall skill gap in that particular context. These upskilling courses can be related to multiple subjects and situations. For example, let's say an organization recently started using new software to store product data, so a quick course about the features of that software would make every employee skilled enough to operate the tool.
Let's consider another example- Employees from the marketing department are not aware of the basic details of the company's development tools and procedures. Handing over an upskilling course to help them learn the required information will minimize the overall skill gap that existed between development and marketing teams and help them cooperate properly.
3. Time and Money Efficient
As much as the companies want their employee to stand tall in the competition, they cannot invest a lot to develop the skills of employees. Upskilling and reskilling through eLearning courses help organizations to save a lot of money and time because once they create/choose and deliver the courses, all they have to do is track their performance. A lot of courses on the internet are free of cost while being productive as well, and because of the modern learning preferences, these courses aren't long either, investing an hour in a day will do the needful for the employees.
Organizations also get to save the extra money they would have to invest in hiring a new employee for certain secondary tasks. Hiring is an expensive process on its own and requires a lot of time to be invested in looking for the right choice, so upskilling or reskilling your existing employees if the task isn't hectic can actually save you a lot of time and money. For example, instead of hiring separate individuals for data entry, organizations can make their employees learn the basic concepts of database management along with an introduction to one or two popular tools like MS Excel.
6 Popular eLearning Platforms to Develop Different Types of Skills
1. Coursera – Best Overall Platform
Explore more than 5000 courses in multiple fields, and gain verified certifications from the world's best universities and organizations like Stanford University, Google, and Meta. Apart from the premium paid certifications, Coursera also has a variety of free courses to get upskilled in various departments. It facilitates online as well as offline learning because the videos and other course materials are downloadable.
2. Udacity – Best Platform for Learning About Futuristic Technologies
The innovative courses at Udacity provide a direct job-ready practical approach instead of step guides. Personalized feedback and support help the learners to develop the skills required at their workplace. A lot of global leading organizations are partnered with Udacity to deliver top-quality content for learners preferably in the fields related to AI, ML, DL, and Robotics. The only downsides are that it's not pocket-friendly and doesn't have a mobile app.
3. SkillShare – Best Platform for Creative Fields
For creative career options such as graphic design, photography, and writing, Skillshare is one of the best platforms to gain quality knowledge. SkillShare is very pocket-friendly, and it also provides a free trial so you can browse, try a course or two and see for yourself if it suits your preferences. One major downside is that it doesn't provide certificates, but helps you build your premium portfolio instead to verify your work and skills.
4. EdApp – Popular for Microlearning
You can get accredited, high-quality, and sponsored microlearning courses for different types of training sessions. EdApp has a microlearning content library and provides a feature to edit its courses as per your brand's specifications or your requirements with the help of its authoring tool. Features such as an in-built AI translation tool can help you deliver training for non-English speakers as well.
5. Udemy – Highest Pool of Courses
Udemy is probably the most popular eLearning platform alongside Coursera, one of the main reasons for its popularity is the broad pool of various niches it provides. There are 200k+ courses available on the platform (it's a lot, I know). Udemy is affordable, provides lifetime access to the courses you own, and has a refund policy as well. Whether you want to upskill for a technical and advanced job or you just want to learn more about any of your hobbies, Udemy will probably have multiple courses for all your unique requirements.
6. Codecademy – One of The Best Platforms for Programming/Coding Courses
If you are looking for a platform to gain coding knowledge for your SDE(Software Development Engineer) job or you just wish to get started with programming languages, Codecademy is one of the most popular platforms out there. The courses are interactive, so you just don't gain theoretical knowledge, instead, you get to learn coding by actually doing it. It has a lot of free courses, and the paid courses are affordable as well, but they don't provide accredited certifications, just a certificate of completion is awarded.
Wrapping Up!
eLearning courses are becoming more personalized and multiple platforms have emerged lately that provide different types of courses. Upskilling and reskilling of employees is so important, it can be proven with the success of hundreds of online platforms. There is so much going on the backend when it comes to eLearning development, and I am pretty sure you are curious about them as well. Don't worry, you can access this free webinar recording anytime to gain detailed theoretical and practical insights to become an eLearning champion yourself.