How to Find the Right eLearning Outsourcing Partner? [Infographic]
Picking a good eLearning partner is the key part of outsourcing. An infographic that gives you 5 tips on vendor selection while outsourcing eLearning.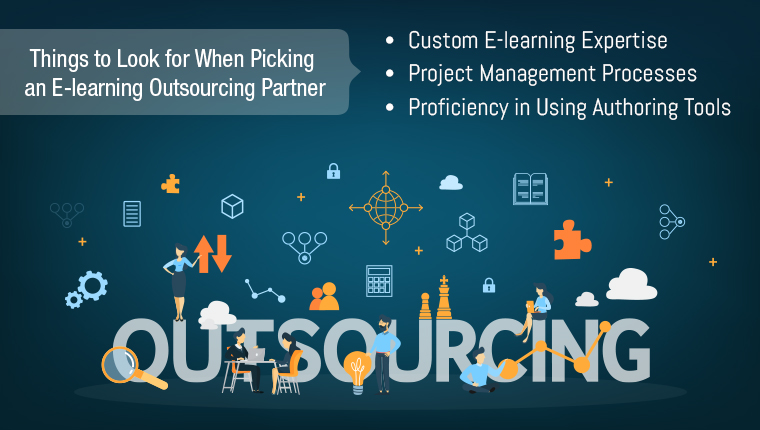 The eLearning market is now more than 21 years old, and yet there are no signs of it losing its popularity in the realm of corporate training. According to a study by Technavio, the size of the global corporate e-learning market is predicted to reach close to USD 31 billion in revenue by the end of 2020. Research such as this makes it clear that more and more companies are adopting online learning solutions to train their modern, millennial workforce; one of the most time-saving and cost-effective ways trainers implement eLearning in their organization is by outsourcing development to eLearning vendors.
The benefits of outsourcing eLearning development are multi-fold: develop and deliver courses much faster than the internal team; cut down development costs, and achieve a higher ROI; get access to specialized experts in learning design, and so on. The key to leveraging these benefits of outsourcing is a good outsourcing partner.
However, what many may not tell you is that choosing a partner can be a tricky proposition, unless you know what exactly to look for. It is not as simple as looking at the vendor's website and shortlisting them for the job. This is especially imperative for companies who are outsourcing their development job for the first time.
As I mentioned earlier, eLearning outsourcing is a great way for companies to cut down costs and make the most of their training budgets; but if companies fail to pick a good, capable partner, a lot of potential hangs in the balance. Therefore, to ensure eLearning outsourcing success, companies must carefully craft their criteria for selecting the outsourcing vendor.
Here's an infographic that lays out all the things you should look for in an eLearning outsourcing partner.