Benefits of Outsourcing E-learning For Corporate Training Needs!
Outsourcing e-learning for corporate training needs will lessen the burden of in-house development, delays, deadlines, is cost-effective, and comes with access to highly skilled professionals. Read more.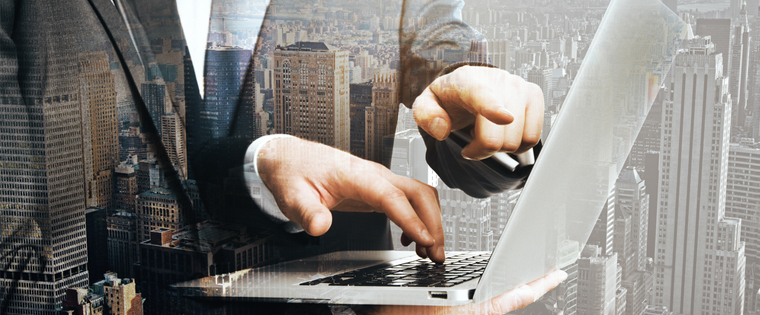 Since the earliest times, training has been classroom-based and taught by an instructor or teacher. However, with the global expansion of organizations and varying job roles, providing frequent classroom training is becoming increasingly challenging. In fact, one-on-one training has proved it can yield higher worker productivity. Why?
Because employees can learn at their pace and retain the information for longer periods of time. But is it possible to provide one-on-one instructor led training weighing in the huge size and multitude of roles and responsibilities of employees? No. This is why most companies, whether big, small, or mid-size, are opting for blended learning. E-learning has always been a partner in training for corporate companies, aiding the training processes, making learning a blend of classroom and online – Blended learning.
According to the European survey report, 51% of companies delivered at least one training session via eLearning to over 50% of their employees. And for 76% of companies, the most popular delivery method of eLearning is blended learning. The 47% already using this approach are planning to intensify usage. E-learning is not only flexible but comes with the merits of multimedia, which helps enhance the learning experience using videos, audios, animations, and the written and spoken word.
Now, with robust and fast networks, employees can access e-learning modules wherever they may be – at home, in Internet cafes, or at work. Besides speed and convenience, e-learning offers other benefits too – it is cheaper than having an instructor in a classroom environment, employees can learn faster and at their pace, and retain more because they are fully immersed in the program. With technology, corporate training is changing from the traditional classroom-based, instructor-led practice to a better and more productive model – one that is self-paced, distributed, and replete with multimedia and simulations.
The main shift is an increase in the number of small and mid-sized businesses that have started to realize the benefits of e-learning technologies. Since e-learning providers are offering affordable prices, these companies also are able to provide first class technology-enabled services to their employees. For companies seeking big time change, outsourcing the learning function is a tried and tested approach. Inarguably, this is the new era organizations have entered. No longer do barriers such as distance, location, and borders exist.
Let us look at some of the benefits of outsourcing e-learning development for corporate training needs.
Quick development time with a quick buck
Today's motto of many organizations is "value for money". It is possible for mid-size companies to utilize the proficiency of world class instructional designers at affordable costs. How? Outsourcing is your answer. For a small company, it might be challenging and expensive to maintain an instructional design team to develop content. Outsourcing offers these companies the benefit of experiencing the work of highly skilled and experienced developers. These developers might have been in the industry for years and produced innumerable hours of content. Even if a mid-size company starts its own instructional design department, it would take quite a long time to reach the level of skilled developers.
Small companies often struggle with technological issues; this is the main reason a service provider who is an expert in training and cutting edge technologies is preferred.
Small to mid-size companies can outsource their online course development to e-learning providers housing highly skilled and experienced instruction design, visual design, and multimedia expert teams. This will help companies make the best use of current technologies and the new e-learning environment. These companies can also benefit from their specific eLearning design and development skills.
Two Ds: Delay and Deadlines
An organization wanting to train its employees with the help of e-learning might not be willing to allocate a majority of its time and resources for developing the training courses. Tracking and managing project deadlines and delays is burden enough, these organizations need not take the headache of delays and deadlines of e-learning development projects too. They can simply outsource the design and development of their e-learning courses to e-learning service providers. It would be the burden of the providers to deliver the project in time while the organization can concentrate on its own industry-specific goals and projects.
Especially small to mid-size companies might not have the time or resources to allocate to developing or designing e-learning course content in-house. Also, e-learning providers have a team of Subject Matter Experts who have studied various domains and have best ideas as to how training can be made more effective, how to help learners' retain knowledge for a longer time. Not only these, but wide expertise in instructional design strategies make outsourcing e-learning course development to providers worthwhile. All this at lesser costs than in-house development would make it the best bet for small to mid-size companies which are foraying into the field of e-learning.
Cost effective and higher ROI
Imagine selecting and hiring an entire team of instructional designers for in-house development. The costs include various factors such as recruitment, hardware, software, induction and training, superannuation, performance bonuses, wages, and more. But is it worth allocating a major part of your budget for a team when you can cost-effectively outsource it to a higher skilled and experienced team? It is clearly not. This is the reason outsourcing has been a boon to small and mid-sized companies which want to use technology-enabled resources to train their employees. In the end, it is all a matter of smart work. Outsourcing your course development to an expert e-learning provider would be smart work because of the low costs and high productivity. These e-learning training courses when outsourced, can also lead to a higher ROI. If companies align their individual learning objectives with their strategy, they can measure their level of success in terms of earnings which become part of the company's bottom line.
Take the risk down by a notch
To make the leap to a faster and more robust level of technological sophistication is easy as the outsourcer is familiar with the eLearning resources and has the expertise. The risk is very low as the e-learning providers house a bunch of Subject Matter Experts and highly skilled instructional designers who have years of experience. This results in very less chances of errors. This is the main reason most organizations are opting to outsource the e-learning development to e-learning providers and lessen the risk of in-house development errors.
Early Delivery
Due to the expertise of e-learning providers, organizations might get their e-learning courses developed in far lesser time compared to in-house production. Less development time, less cost, and less room for error, what more would an organization opting to choose e-learning for its corporate training needs want? This is yet another reason why outsourcing online course development is becoming increasingly popular.
In short, outsourcing e-learning for corporate training needs will lessen the burden of in-house development, delays, deadlines, and is cost-effective, and comes with a platter of highly skilled professionals you can select to develop your training courses.