6 Things to Keep in Mind While Choosing Your Next eLearning Outsourcing Vendor
eLearning is rapidly becoming the preferred format for conducting corporate training all over the world. Outsourcing eLearning course creation can be a great option for most companies. In this blog, we will discuss the things you need to be mindful of when choosing an eLearning vendor.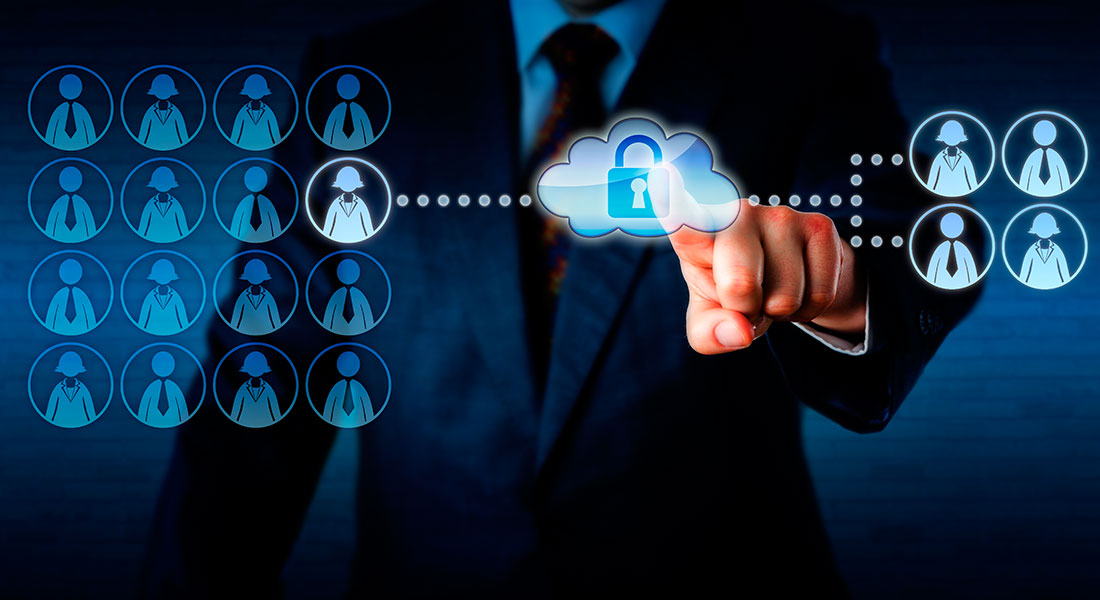 In today's digitalized environment, companies are increasingly opting for eLearning to meet their L&D needs. The growing popularity of online learning methods is creating an increased need for businesses to seek reliable and competent eLearning vendors that can help them develop effective and engaging corporate training content. Choosing the correct eLearning service provider is an essential part of ensuring the success of your corporate training initiatives. In this article, we will explore six crucial factors you need to keep in mind while selecting your next eLearning vendor.
Things to Consider While Choosing Your Next eLearning Vendor
Following Things Should be Considered While Making This Decision
Ensure they have prior experience in your industry
Check their reviews from past clients
Check what technology and tools they use
Ensure they offer multi-device support
Check their costs
Ensure they offer customization support
Is eLearning Outsourcing the Best Option for You?
Before diving into the factors you need to consider while choosing an eLearning outsourcing vendor, it is crucial to determine whether eLearning outsourcing is the right choice for your company. Outsourcing the development of eLearning courses can offer you a host of benefits, such as saving costs, gaining access to specialized online training expertise, and acceleration in training content turnaround time.
However, you must first evaluate your company's needs – which are unique for each organization, consider the budgetary restraints, and assess your organization's internal capabilities before opting for eLearning outsourcing. Furthermore, you must first determine the extent and size of your desired training programs and consider whether developing them in-house makes more sense. Depending on the level of complexity of the content and level of customization required to fit the course materials to your needs, you may opt for eLearning outsourcing.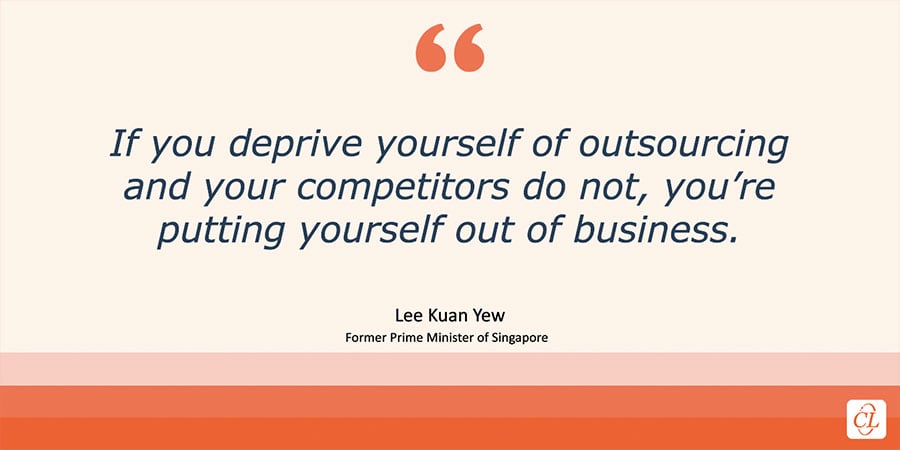 How eLearning Outsourcing Can Help You?
Outsourcing the eLearning requirements can prove to be a great strategic decision for your organization. The expertise of these vendors can definitely be helpful in enhancing the quality of training programs. If you partner up with an eLearning vendor, you can leverage their experience and expertise to create interactive, highly engaging, and high-quality training programs that are hard to build in-house
Outsourcing the development of corporate training courses can grant you access to highly sought-after instructional designers, multimedia developers, and graphic designers that can breathe fresh life in your training content. Furthermore, outsourcing can help you save your company's valuable resources and your time, as it negates the need for you to invest in eLearning authoring tools or dedicate a significant amount of time to master them.
Things to Consider While Choosing an eLearning Outsourcing Vendor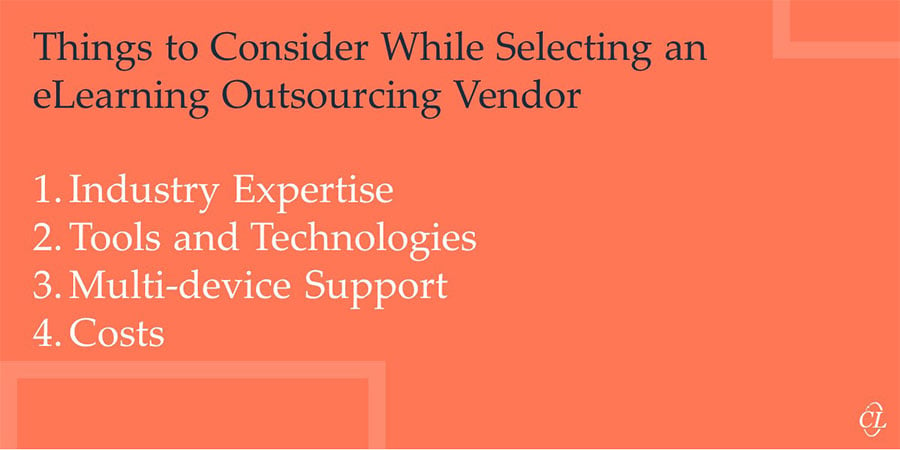 Industry Expertise
When selecting an eLearning vendor, it's important to take their knowledge of your specific industry into account. The training demands, compliance needs, and industry laws of your organization will be better understood by a vendor with experience in your business. They will be able to match the training's content to the best practices in your sector, making it more applicable, precise, and efficient. Look for providers who have successfully provided eLearning solutions to businesses in your field because they will be knowledgeable of the difficulties and demands particular to your industry.
Reviews from Past Clients
It's critical to evaluate an eLearning vendor's track record by reading reviews from previous customers before making a decision. Ask for a list of their prior customers and get in touch with them to get their opinions on the provider. Case studies and client reviews can shed light on a vendor's dependability, professionalism, and capacity to produce high-quality eLearning solutions. Additionally, look for the vendor's web reviews and ratings to learn more about their standing and levels of client satisfaction. This investigation will enable you to evaluate the vendor's reliability and confirm that they have a track record of successfully completing projects.
Tools and Technologies to Utilize
The technology and eLearning authoring tools employed by an eLearning vendor are essential in defining the caliber and efficacy of the training materials. Inquire about the technologies and tools the vendor uses for multimedia integration, learning management system (LMS) compatibility, interactivity, and content development.
Look for providers who have experience using cutting-edge, feature-rich eLearning authoring tools and who deal with them often. To ensure smooth integration with the current infrastructure of your organization, compatibility with a variety of learning management systems is also essential. Also inquire about the vendor's strategy for mobile learning and their capacity to produce responsive material that functions across a range of gadgets and screen sizes.
Multi-device Support
It is crucial for eLearning content to be accessible on a variety of platforms, including desktops, laptops, tablets, and smartphones, in today's mobile-driven world. Make sure the eLearning provider you select has knowledge in creating responsive and mobile-friendly content. A consistent and user-friendly experience across devices is made possible through responsive design, which enables the content to adjust to different screen sizes.
To evaluate the quality of the vendor's multi-device compatibility, try out some of their existing courses on various devices. As some sectors of the economy or outlying areas may have poor internet availability, take into account the offline accessibility of the eLearning content as well. In such cases, a seller of online learning with downloadable content or offline learning choices may be useful.
→ Download eBook: A Practical Guide to Outsourcing E-Learning Design & Development
Costs
Every business decision, including selecting an eLearning vendor, must take the budget into account. Detailed pricing information should be obtained and compared with your authorized budget when considering possible vendors. Remember that choosing the least expensive choice cannot always result in the required quality, and that spending more money with a dependable vendor can pay off in the long run. Think about the vendor's pricing structure, whether it is hourly, set, or a combination of both. Make sure there are no hidden fees and that the pricing structure is clear. It's also crucial to assess the vendor's value for money, considering things like their knowledge, experience, work product quality, and other services offered.
Sample and Customization Support
Before making a decision, ask potential providers for samples of their eLearning courses to evaluate the degree of quality, interaction, and involvement in their work. This will enable you to determine whether their training goals and brand standards are aligned with those of your organization. Ask them if they can alter the content to suit your particular requirements. Each organization is different, thus generic eLearning materials might not always meet your needs.
Make sure the trainer can adjust the course material to match your branding, rules, and desired learning results. One option for customization is to integrate examples, scenarios, or branding components from the organization specifically in the courses. You will be able to provide your employees with a more individualized and effective learning experience if you choose a vendor that provides strong customization support.
Want to know how to tackle some of the key challenges while working with an eLearning vendor? Watch this short video to find the best solutions.
In the End
The effectiveness of your business training programs depends on your choice of eLearning vendor. You may make an informed choice that supports the objectives of your organization by considering aspects like industry knowledge, reviews and feedback from previous customers, tools and technology, support for multiple devices, pricing, and sample and customization support.
To achieve a successful cooperation, keep in mind to review your unique requirements and evaluate each vendor's skills. You can construct interesting and efficient training programs that promote employee development and company expansion with the proper eLearning vendor by your side. Wondering how to start your eLearning outsourcing journey? Download our free eBook now to get started.