Objections to Outsourcing eLearning Decoded [Video]
While choosing an eLearning outsourcing vendor, you may encounter some objections from your stakeholders. This video offer insights on handling the objections – by defining milestones, communication channels, and more.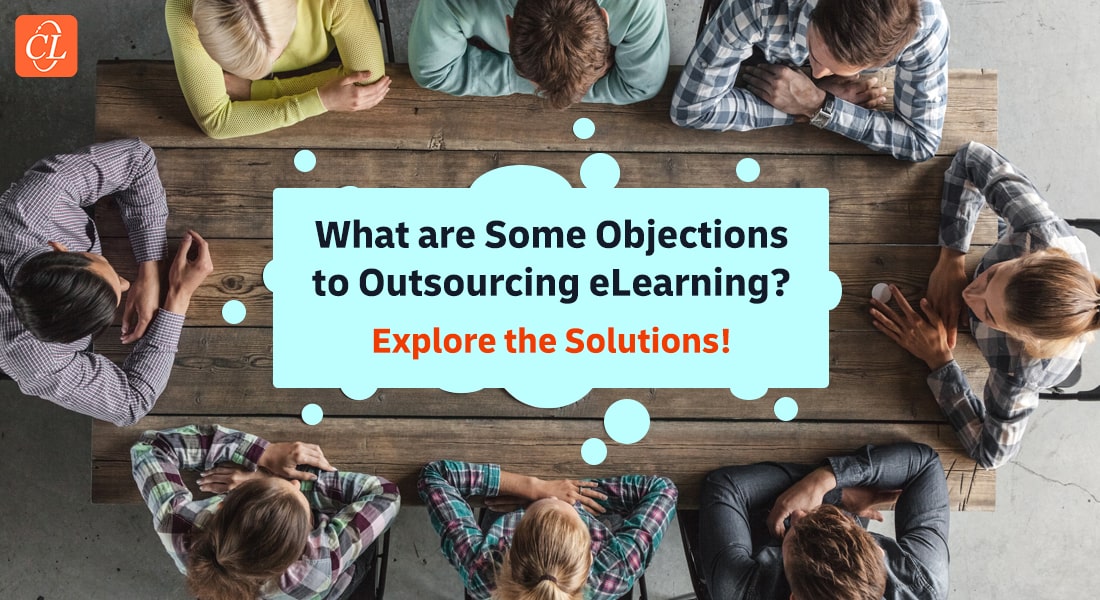 Our primary goal as Learning and Development professionals is to create engaging eLearning courses that provide learners with meaningful learning experiences. To design and develop these courses, we rely on instructional designers to employ effective strategies, and experts to work their magic with authoring tools. We also look to the project managers to ensure that everything works seamlessly. What if you don't have these resources in-house, lack the know-how to develop eLearning courses, or your in-house team is overworked? In such cases, outsourcing eLearning may be a viable option.
Benefits of Outsourcing eLearning Design and Development
When you outsource eLearning design and development, you can avail several benefits such as:
High quality eLearning courses
Scale, with quality
Much needed assistance with translating eLearning courses
Administration assistance for the LMS
What can be Outsourced in eLearning Design and Development?
Here are 4 different eLearning design and development tasks that you can outsource.
1. eLearning Design and Development
In case you have training content in varying formats such as PPTs, Word documents, and training manuals, the eLearning vendor can design and develop online courses using these resources.
2. Rapid Development of eLearning
If you have instructionally-sound storyboards in PPT, eLearning vendors can convert them to eLearning using easy-to-use authoring tools such as Articulate Storyline 360 and iSpring.
3. eLearning Translations
Outsourcing the translation of your eLearning content ensures that the courses are worked on by professional, native translators.
4. Legacy Course Conversion
Convert them to HTML5 to maximize ROI and also update them for content, branding, interactivities, assessments – based on your requirement.
Solutions for eLearning Outsourcing Objections
However, when it comes to outsourcing your eLearning courses, you may encounter several challenges. Here's a video that walks you through solutions to the problems you might face. Have a look!
It's a Wrap!
Now that you've explored the benefits, tips, and solutions for outsourcing eLearning courses, it's time to find the right vendor. Check this eBook for helpful advice on how to ensure your eLearning projects are successfully outsourced. Download now!