Outsourcing eLearning During COVID-19 to Train your Remote Workforce [Infographic]
Organizations across the globe are looking for eLearning solutions to tackle the COVID-19 crisis. And eLearning outsourcing is certainly a savior. Get to know the merits of eLearning outsourcing now!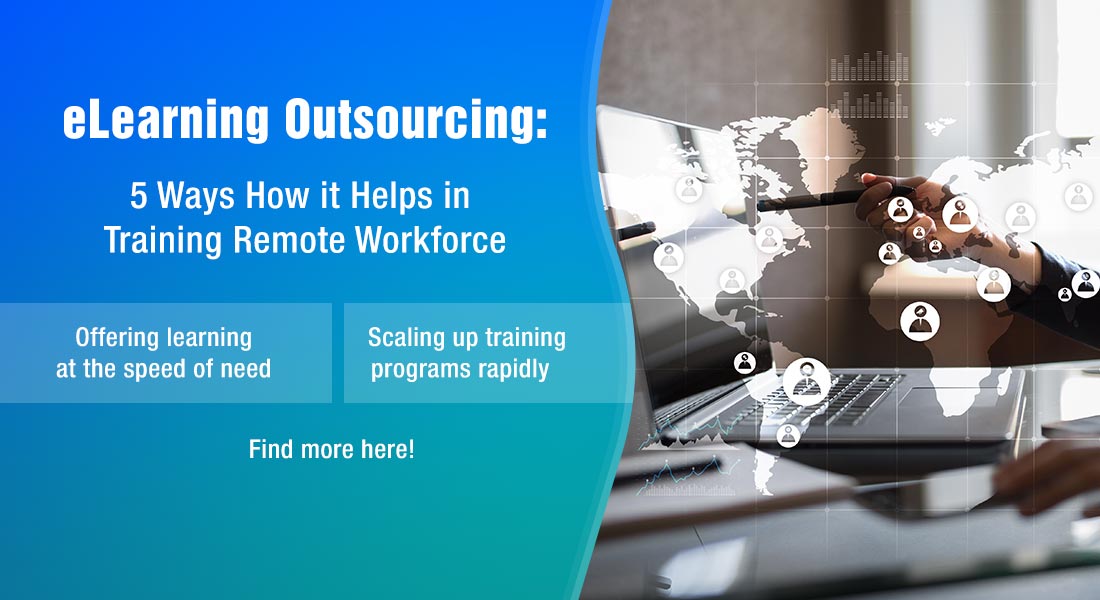 COVID-19 has forced organizations to suddenly venture into the world of online training, leaving no time for preparation. This is one of the most common training challenges that organizations across the globe are facing at the moment. Between working from home, health anxieties, and long work hours, even the most well put together L&D teams are struggling with all the ad hoc work. And organizations that have no internal L&D team are bearing the brunt of this situation. Considering these tumultuous circumstances, outsourcing eLearning design and development is the best option for organizations to get their workplace training programs back on track.
Corporate eLearning design and development is as much an art as it is a science. It takes experienced and expert instructional designers, authoring tool developers, project management, and technological support to build a successful and effective online training program. This is why we offer eLearning outsourcing services to provide design, development, and hosting support for organizations that do not have an internal L&D team, or when the existing team has other core job responsibilities. Access to expert resources is just one of the many perks of eLearning outsourcing, along with the ability to achieve scale with quality. However, the best advantage is the quick turnaround time and low cost development.
In the last few months, we have been experiencing a sudden traffic of customers who want rapid eLearning solutions for ILT to eLearning conversion. If you too are looking for such eLearning solutions, this infographic will help you understand how outsourcing can help you train your accidentally remote workforces during this pandemic.