How eLearning Outsourcing Can Benefit Your Corporate Training [Infographic]
When it comes to corporate training, an organization needs to make many critical decisions, one of which is whether to go with in-house or eLearning outsourcing. Let us help you to understand why you should consider eLearning outsourcing.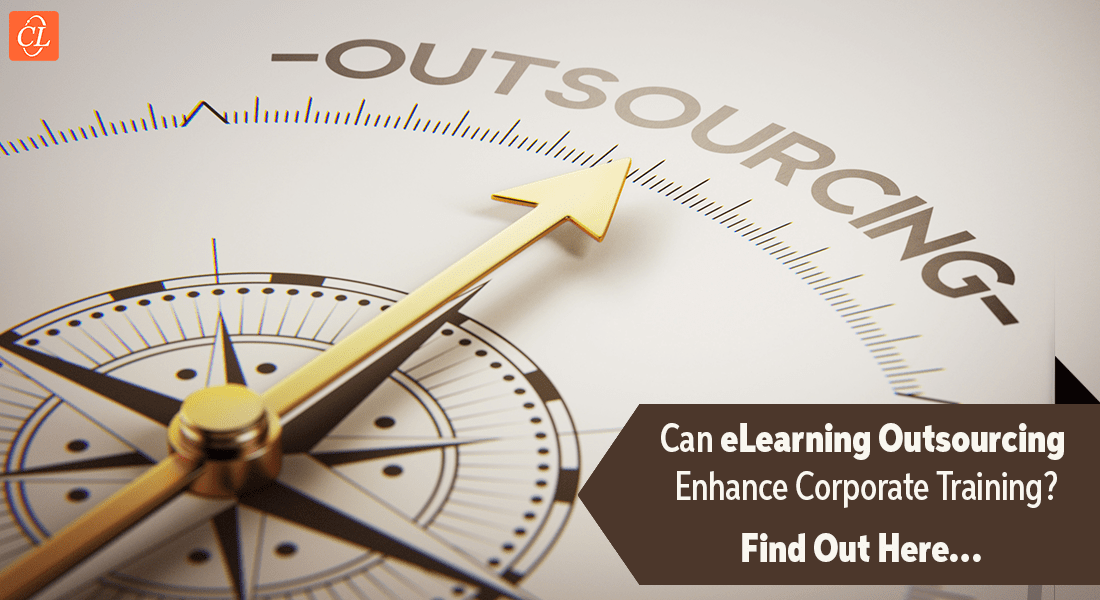 When it comes to corporate training, eLearning is the buzzword. Organizations are gearing up to reap the benefits of eLearning in order to enhance employee productivity and revenues. However, the move of developing eLearning courses with in-house team is not easy since it takes knowledge, experience, expertise, and resources to create learner-centric eLearning courses. Outsourcing eLearning course development is typically a smart idea because all of your training needs will be handled by the eLearning vendor.
Do you want to know how outsourcing will help you in developing impactful eLearning courses? Here are the top 3 advantages of outsourcing eLearning that will help you to boost your corporate training.
Top 3 Benefits of Outsourcing eLearning
1. Minimize Risks
There is a risk associated in developing courses in-house. There is a chance that the alpha version may not always be great, and you will have to redo the entire thing, which will add effort, expense, and time. However, by entrusting the development process to highly skilled professionals, such risks are considerably decreased, as they will work on the final project until you approve it. Professionals will collaborate closely with you until the project is completed to your satisfaction. It is also simple for an organization to prioritize essential obligations over the additional responsibility of eLearning development.
2. Reduces Costs
One of the biggest advantages of outsourcing your eLearning program is the substantial cost savings. It contributes to increasing turnover and decreasing costs. Outsourcing eLearning is preferable than hiring a costly in-house development team. It is expensive to hire a team to develop eLearning courses, manage other required resources, and maintain and update existing courses. Because eLearning providers already have all the tools required to develop an eLearning course since it is their primary business, outsourcing makes it simple to lower those costs as well.
3. More Focus on Primary Business
The main focus of an organization is what generates revenue. A wise choice is to devote the majority of your time, energy, and resources to your main line of business. Your team may find it easier to prioritize tasks that contribute to the larger goal by using eLearning outsourcing. The ability to grow performance and earnings will allow your employees to concentrate on innovation and customer-centricity.
Your organization may have branches all over the world, and for training to be effective, it must be conducted in the employees' native tongue. This promotes an all-encompassing learning environment. But eLearning Translations encompasses much more than the simple literal conversion of text from one language to another.
When translating an eLearning course into several languages, appropriate consideration is made for the local community's culture and traditions. Specific strategic measures are made to meet the demands of course internationalization in order to guarantee that the translation process yields the best results feasible. Since the internal team cannot keep up with this demand, outsourcing eLearning translations can be more beneficial.
Want to know more about outsourcing eLearning translations? Here's an infographic with a checklist to help you with gaining more insights on outsourcing eLearning translations.



Wrapping Up!
It is not strange to hear that outsourcing of eLearning is here to stay given the advantages it provides for corporate training. One method to think creatively and come up with novel training solutions is to outsource eLearning. The only thing that organizations need to do is choose the best eLearning outsourcing vendor. Are you considering for outsourcing but confused of where to begin with that? Don't worry! Here is a practical guide that will walk you through the entire process of hiring an eLearning vendor that just suits your business.