3 Common Challenges Faced In eLearning Translations and Their Solutions
Translation of an eLearning course is a lot more than just changing the course from one language to another. A lot of challenges are faced while translating an effective eLearning course. Find out what are these challenges along with their solutions.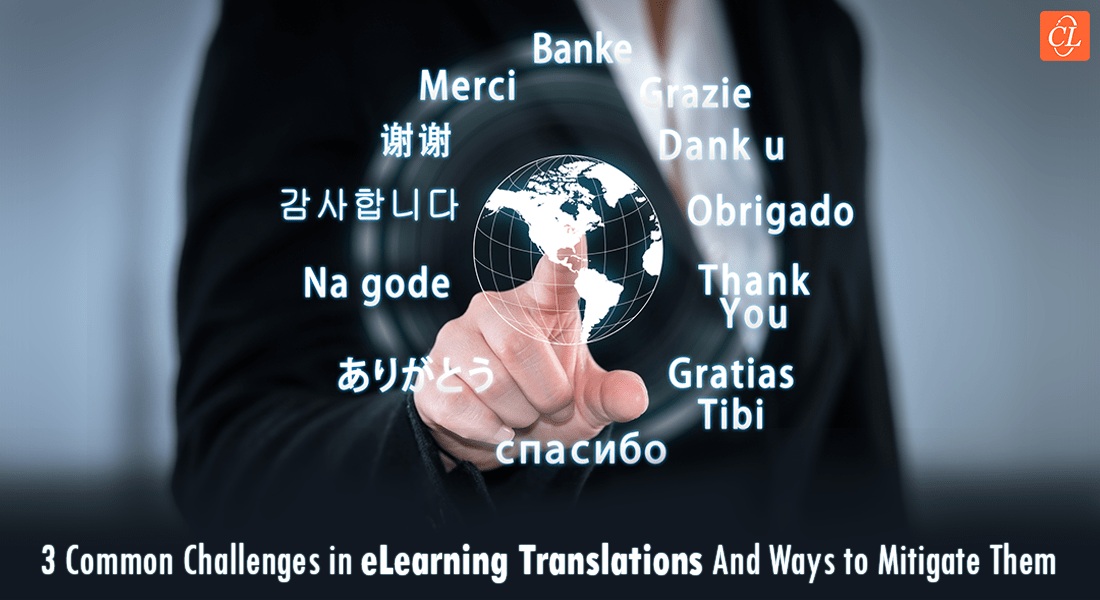 Global workforce is often divided by the different languages they speak, even though most of the workforce is comfortable with English, everyone isn't. When a globally spread company wants to train its employees, delivering any eLearning course in one specific language is not effective. Learners prefer training in their native language to understand the topics better. Organizations cannot ignore their comfort because effective training boosts employee productivity which would eventually increase the overall ROI. Hence, companies prioritize eLearning translation to deliver training courses across the globe.
Are You Looking to Translate Your eLearning Courses for Your Global Workforce?
You might come across these challenges while translating your courses.
Maintaining Cultural Authenticity
Working With Voiceover Scripts
Managing Design and Multimedia
Read on to know the solutions for these challenges.
Translation might sound easy due to the availability of online AI tools that can translate one language into another right away within seconds, but that's not all. eLearning translation consists of several processes and those processes include their own specific complications. Three basic challenges that companies might face while translating their eLearning course are listed below along with the ways you overcome those challenges.
3 Common Challenges Faced In eLearning Translations and Their Solutions
1. Maintaining Cultural Authenticity
Translating eLearning courses can often cause the original content to lose its core essence. This might happen due to the variation in cultural values of different regions. A word or a sentence can sound different in every language and when these texts are translated, they might lose their impact. When different figures of speech such as idioms, metaphors, and regional references are considered while translating, they shape the text differently in every language. Thus, it's necessary to maintain the originality of the parent content while it is translated into multiple languages.
Solutions:
Let the translators grab the details of the course in such a way that they get the context of culturally specific phrases. The translator needs to hold expertise in both, the parent language and the target language so that the final product doesn't lose its essence.
Usage of neutral texts in parent courses should be prioritized to ensure a hassle-free translation without focusing so much on phrases and idioms that are region specific. Aspects such as media, icons, and accent should be kept in mind as well to make learners comfortable with their courses.
2. Working With Voiceover Scripts
To improve comprehension, courses are embedded with voiceovers, but there are several drawbacks while adding specific voiceovers when courses are up for translation. There can be a bunch of information within a course that is way too technical to be translated right away, so it would call for the need for an expert. Apart from technicalities, voiceovers are required to be synchronized with the video as well, synchronization issues exist because a word that is easy to spell in one language can be troublesome to spell in another language. For example, "Thank you" in Japanese is " Arigatou gosaimasu".
Solutions:
Hire an eLearning partner who has enough clarity of the target language and the relevant tone. Meanwhile, you can translate content that is neutral and save time for yourself and your subject matter experts(SMEs).
Ensure the video has the required breathing space to incorporate the translated audio without a desync in audio and video.
3. Managing Design and Multimedia
Sometimes, a course's design is the core of that course's engagement and when you are changing the language, the designs sometimes don't stand the same appeal. The course can lose its creative appeal when the texts are changed because it directly impacts the aesthetics of that design. For example, an English course had a specific space allotted for the course's head titles but when the language is changed, it can increase or decrease the text intensity. Due to these unwanted distortions, the course loses its design aesthetics because of the misalignment of the translated text.
Now, it's just text, but high-quality eLearning courses are more than just texts, it consists of a lot of different multimedia formats such as videos, images, and animations along with other interactive elements. Translating the course with respect to all these elements can be an overall troublesome task.
Solutions:
To ensure the design is aesthetically pleasing even after the translated text is incorporated within the course, design the parent course considering enough white spaces that might get filled up in some languages while getting shortened in other languages. In a design where white spaces can't be altered, like the pre-built courses, play around with the typography to fit the translated text in their respective design spaces.
Try not to add embedded texts in your multimedia elements or it creates more issues and complications because they might require separate time and effort for their translation.
To Wrap It All!
When you are translating an eLearning course, a lot of specifications are meant to be taken into consideration or else it might result in loosely translated courses. An effective training course can boost employee performance and enhance goodwill. When employees perform better and feel positive about each other, it helps the company serve the best possible service to its customers. If the customers are satisfied, it helps the company to scale its business and its brand value globally. In case you have any other confusion regarding eLearning translations, feel free to check out this free eBook to answer most of your questions.