Top 5 eLearning Interactivities to Boost Learner Engagement
Say goodbye to lengthy, boring eLearning courses with effective eLearning interactivities. They help you boost learner engagement and facilitate desired training outcomes. But when you expect the best, you need to offer the best! So check out this blog to know the top 5 eLearning interactivities.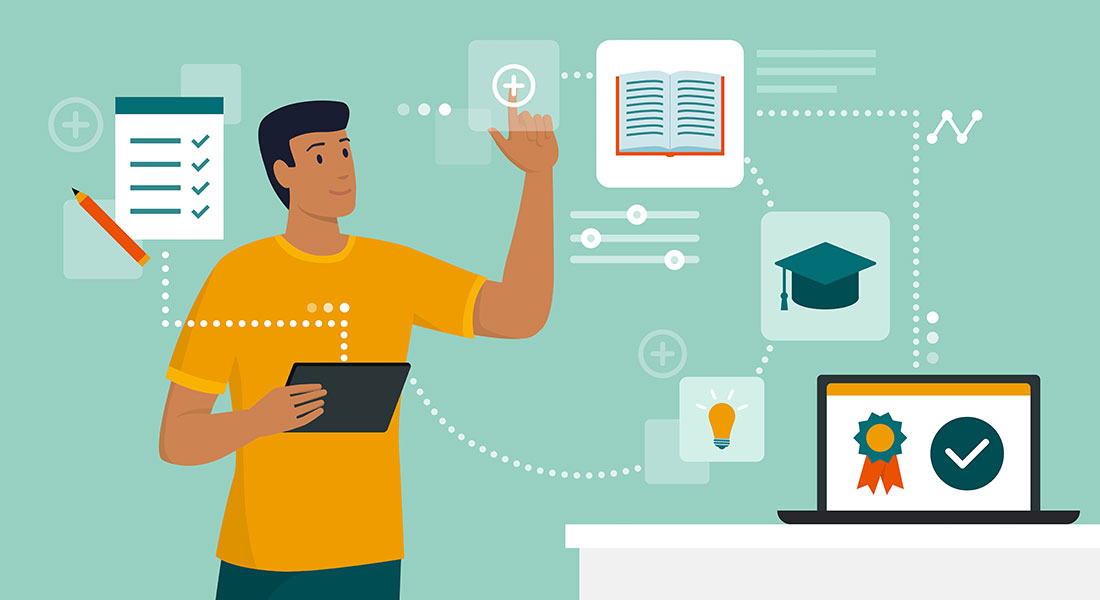 Training course without eLearning interactivities is like a body without a soul, fries without ketchup, and a story without twists and surprises. Basically, it's boring and bland! Let's face it, attending training sessions is not everybody's favorite part of the day. And on top of that, if the eLearning courses are boring, your learners might cry their eyes out. And to top that with boring eLearning courses, is a big "No, Thank you!"
But things don't have to be this grave. Because eLearning interactivities in training courses are one amazing way to get the learner engagement levels up and overflowing!
And when I say eLearning interactivities, I am not simply talking about an image, video, or even a comparison chart or a table. There's more to what eLearning interactivities bring to the table. Curious to know more? I'm excited to share!
eLearning Interactivities Are the Gateway to Learner Engagement!
Here's the list of the top 5 interactivities to consider:
Click-throughs
Drag-and-drop
Simulations
Quizzes
Storytelling
We'll first begin with the basics, i.e., what eLearning interactivities are and then understand why you should consider incorporating them into your eLearning courses, and how to select the right eLearning interactivities for your training course.
So without further ado, let's jump right into the concept.
What are eLearning Interactivities?
eLearning interactivities, in a simple sense, are elements in the eLearning course that provide opportunities for the learners to participate and interact with the learning material. These eLearning interactivities expect a certain degree of response from the learner in order to proceed to the next step. This way, learners' attention is brought back to the training course and even helps them build a connection with the concept. eLearning interactivities can vary significantly, based on the type of response they seek from the learner. Here's an infographic to help you understand the type of eLearning interactivities.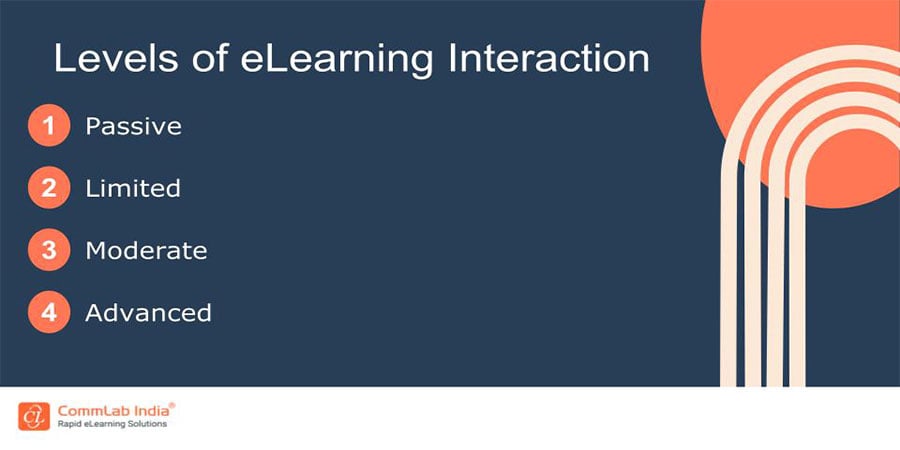 In case you're wondering why you should even bother about eLearning interactivities in your eLearning course. Next section is your answer. Let's find out!
Why Should You Incorporate eLearning Interactivities in Your eLearning Course?
Has it ever happened that you had to call out the learners' names during the training session because you realized they were distracted? Well, this scenario isn't uncommon. And dear instructor, you aren't alone! Now just imagine the learners taking up the long, unidirectional training courses on their own without anyone/anything calling out for their attention. That's one recipe for an ineffective training outcome!
To avoid such situations, eLearning interactivities are a godsend. They ensure your learners are attentive and engaged as they facilitate opportunities for them to respond and take part in the learning process making them feel more involved and interested. Here are the 4 reasons why you should incorporate eLearning interactivities in your eLearning course:
Helps capture attention
Engages learners
Facilitates immersive learning experience
Promotes active participation and learning
Evidently, eLearning interactivities are a great addition to your eLearning course that help boost learner engagement and interest. These two aspects are crucial for effective corporate training and positive training ROI. Check out the video to know effective strategies to enhance learner engagement.
So let's see the top 5 eLearning interactivities that are sure to augment the learner engagement and help you deliver the expected training results.
Top 5 eLearning Interactivities to Boost Learner Engagement
Deliver nothing but the best! And here are the top 5 eLearning interactivities that are sure to help.
Click-through
For starters, incorporating click-throughs in your eLearning courses is a great way to augment interactivity. This eLearning interactivity is simple, easy to implement, and effective. Click-throughs provide you with an amazing opportunity to capture learners attention, initiate a response, and offer them meaningful information. It breaks the monotony in the eLearning course and enables you to facilitate an interactive, immersive learning experience. In fact, you can also leverage click-throughs to move ahead in the course where the learner must click on the button to move to the next slide.
Drag-and-Drop
Next eLearning interactivity is drag-and-drop. Seemingly simple but highly effective. In this interactivity, the drill is to engage learners by directing them to pick and drop the desired elements as per the requirement. You can use this type of interactivity to gain an idea about learners' understanding of the concepts and how well are they able to apply them. Based on your topics, you can design this interactivity and ensure effective, learner-centric eLearning courses.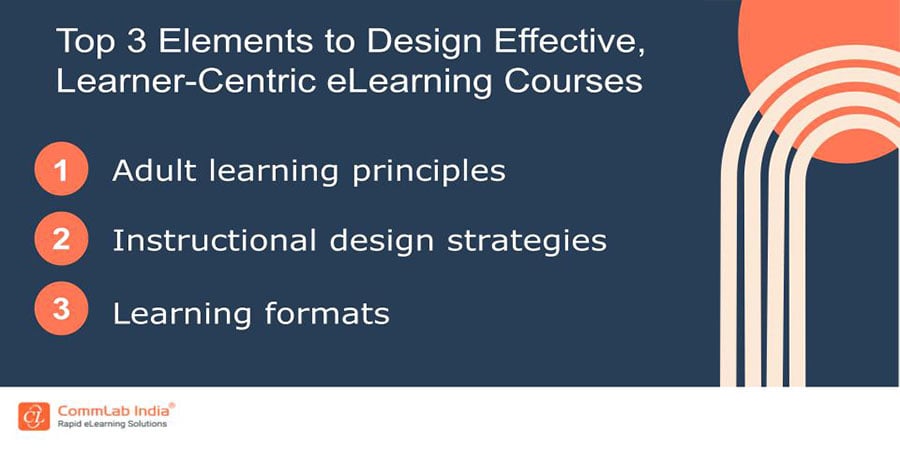 Simulations
If you've experienced something, you're most likely to remember it. Well, that's what simulations offer. They enable you to provide your learners with information that actually translates into an experience. It involves all the senses in learning, thereby providing a holistic learning experience. Simulations facilitate learning by putting learners' in real-world scenarios and allowing them to gain first-hand experience without any negative consequences or repercussions.
This experiential learning is a great way to engage kinesthetic learners and augment an immersive learning experience. Moreover, simulations help in building learner confidence. Simulation is a great way to engage and train your learners to develop decision-making skills, problem-solving skills, and even when you want them to reflect upon their actions and consequences. You can leverage it for safety training, leadership training, training on using medical equipment, etc.
Quizzes
Often a popular assessment tool, quizzes are an amazing eLearning interactivity too. They seek a response from the learner and help them progress in the training course. They very well reflect the learners' knowledge and comprehension of the concept and at the same time engage them by allowing them to participate in the learning process. Quizzes offer learners a chance to test their understanding which can be a great way to motivate them to learn better and if they are already doing so, then it motivates them to continue doing so.
Storytelling
Yes, I did save the best for the last. Because this eLearning interactivity is an absolute gamechanger for learner engagement. Whether your workforce comprises millennials, Gen Z, or Gen X, this interactivity is the solution to beat boredom and distraction. Get your learners thinking instead of simply reading or listening by incorporating storytelling in your eLearning courses. Keeping the characters relatable and relevant to the topic is important to capture the attention and interest of your learners along with driving them toward the desired learning objectives. Check out the video below to know 5 storytelling tips for effective corporate training.
Parting Thoughts!
So creating an engaging eLearning course can be head-scratching, eyes-bulging tough!! But these eLearning interactivities can make this learner engagement journey as easy as a walk in a park (not the Jurassic park). All you need to do is incorporate them and witness the magic of these amazing eLearning interactivities. With right eLearning interactivities, instructional design also plays an integral role in ensuring the effectiveness of your corporate training. So check out this well-written, handy guide on instructional design now!