Top 3 Challenges to eLearning Implementation and How to Overcome Them
Transitioning from Classroom Training to eLearning may leave you with a slew of questions. Learn about the numerous obstacles and how to overcome them.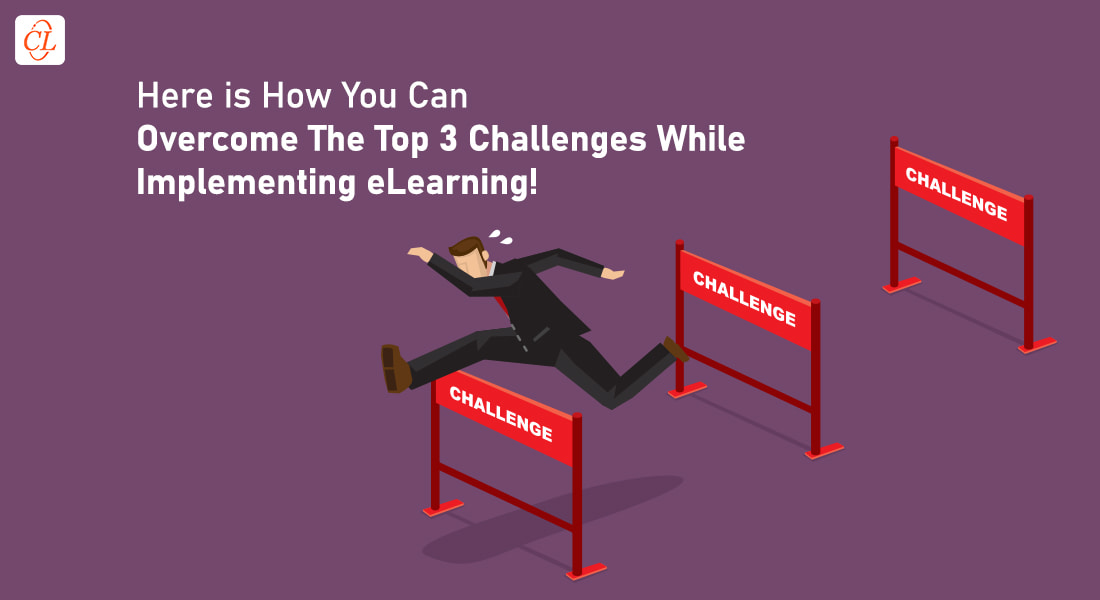 Large firms use eLearning to teach their personnel because of the benefits it provides over traditional training techniques. Implementing eLearning may be challenging, especially if conventional classroom training has been your primary training technique for years. However, training managers are aware that deploying eLearning has its own set of obstacles.
This blog discusses some of the common implementation issues faced by big businesses and how to solve them.
Are You Planning to go Ahead with eLearning Implementation in Your Organization?
Here are the Top 3 eLearning Implementation Challenges to Avoid:
Choosing the Correct Topic to Get Started
Picking the Appropriate Instructional Design Strategy
Choosing Between Outsourcing and In-house Development
For solutions to the issues described above, keep reading
Top 3 eLearning Implementation Challenges and How to Overcome Them
Challenge 1: Choosing the Correct Topic to Get Started
Organizations often make the error of transforming the whole of their training content into eLearning without first determining if it will work. Whenever the training fails to accomplish its objectives, they go back to square one again.
The first thing to keep in mind is that eLearning courses must be carefully integrated with company goals such as lowering barriers related to diversity, boosting productivity and quality of work, and so on. The following topics are best suited to eLearning delivery:
Software Training
Safety Training
Compliance Training
Diversity Training
One fail-safe method of assuring effective eLearning adoption is to be unambiguous about a topic that employees must be trained on and why the training is necessary.
Challenge 2: Picking the Appropriate Instructional Design Strategy
An instructional design strategy outlines the visual, audio, multimedia, and evaluation techniques that will be used to present a subject to a specific audience. The primary factors influencing the strategy selection are the learning objectives, the learning process, the material, and the learners.
Since they improve both instruction and learning, instructional approaches are implemented in the design of eLearning. The strategies are modified for the new context, even though they are not fundamentally different from the instructional strategies used in traditional classroom training. eLearning programs and courses are deemed ineffective if they are NOT built using effective instructional design principles.
Here are four innovative instructional design strategies which you might apply in your eLearning courses out of the many options available:
Storytelling
Emotional connections with learners via compelling narratives
Incorporate stories, examples, case studies, and first-hand experiences
Simulations
Learning without risk in circumstances that reflect real-world occurrences
Provides chances to make errors and improve from them
Learning Through Exploration and Discovery (LEAD)
Acquiring information via engaging with the environment of learning
Employed to introduce learners to a certain location or product
Scenarios
Circumstances that reflect genuine workplace issues
Making decisions in risk-free settings promotes learning
Challenge 3: Choosing Between Outsourcing and In-house Development
Going ahead with in-house development is an excellent idea only if you have a team with eLearning development experience and knowledge. If not, you can attempt outsourcing eLearning as it is preferable to work with reputable external suppliers when an expert in-house team is not available. Opting for an external eLearning vendor has the following benefits:
Outsourcing eLearning development relieves your in-house staff of additional responsibility. Your SME can continue to collaborate with the vendor's team to aid in the development phase.
Because developing corporate training is the vendor's primary business, they are all in a better position to provide much more cost-effective solutions to any needs you may have.
Outsourcing your eLearning development process to specialists guarantees that courses are completed promptly and with the best possible outcomes, including quality
Before you select an eLearning vendor, make sure to bear the following in mind:
How experienced is the vendor's team?
Their level of ability to handle large-scale initiatives for multinational organizations.
Past work demos and numbers, as well as pertinent testimonials
Documentation of completion of the project on time
The overall project cost
Parting Thoughts
The epidemic has flipped everything upside down, and much of the corporate staff is being compelled to work remotely. Many firms are attempting to shift to rapid eLearning to sail with the flow and assure uninterrupted training. If you wish to handle the modern world training with ease, try rapid eLearning!
Are you looking for concrete ideas on how to quickly deploy your eLearning courses? To get started with rapid eLearning, get this free eBook.