eLearning for Corporate Training: Story Of How We Helped This Global Agricultural Company [Case Study]
Our client, a leading science-driven agricultural company, aims at helping farmers across the world produce healthy, nutritious crops. And, we helped them excel their eLearning initiatives. Read on to know more about it…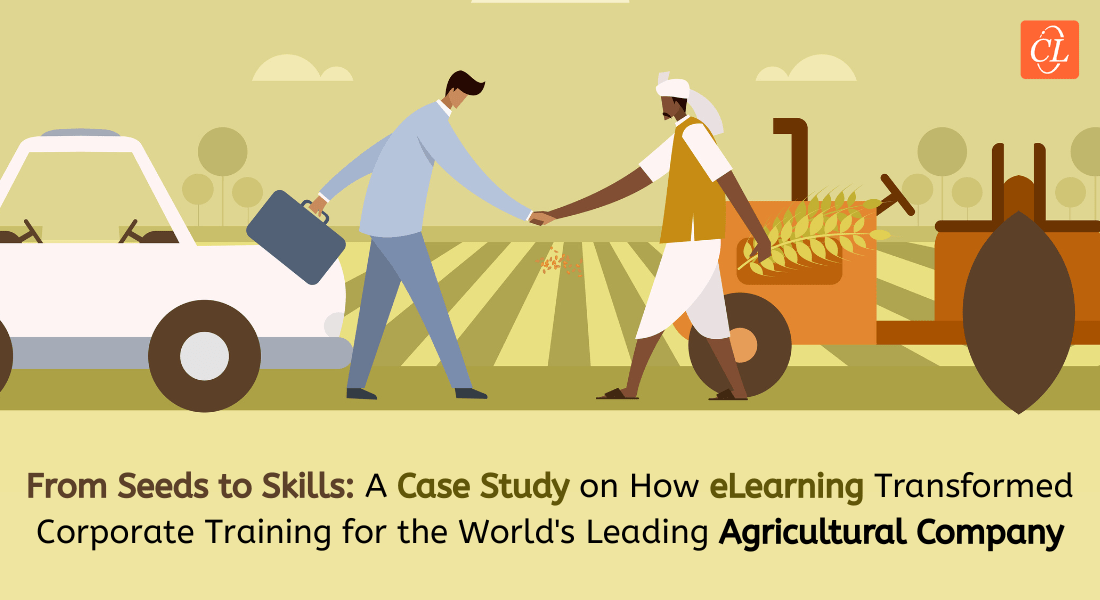 Small actions make a huge difference! This is very true when it comes to environmental sustainability. This is the reason why organizations across the world are emphasizing on sustainability training, with most of them showing a special inclination to eLearning to deliver their training.
And our client was one such an organization. being one of the world's leading agricultural companies, our client had always emphasized on delivering highest quality of sustainability training to its employees. The client had approached us, CommLab India in 2017. The company was looking for eLearning solutions to increase the effectiveness of its corporate training and we helped them with our rapid eLearning services.
Let's get into the details of how we helped them but before that, let us understand their requirement better –
Our Client – The Story
As a leading agriculture company operating across the globe, the client helps farmers around the world grow healthy, nutritious food. At the same time, the company also gives equal importance to sustainability and ensures that it takes the right steps to fight climate change.
The company has around 30,000 employees spread in over 90 countries. With an aim of having a positive on people's lives and the planet, the company makes significant contributions to sustainable agriculture.
Client's Requirement – Sustainability Training
At the management level, sustainability training equips professionals to manage the competing needs of shareholders, the environment, and society at large while conducting business. Additionally, this corporate training equips employees with the skills necessary to integrate sustainability into their daily tasks.
Sustainability training, which carries so much importance, needs to be made more efficient, engaging and easily accessible. Online training for corporate training covers all these requirements.
With this very idea to make its sustainability training more impactful, the client approached CommLab India seeking our eLearning solutions.
Our Solution – Rapid eLearning Development
We started off with rapid eLearning development. To fulfill the requirement, we had to develop an eLearning course and a video based on the storyboard and Storyline template of their choosing.
After the timely delivery and the high-quality rapid eLearning solution provided, the client came back to us for other eLearning solutions including eLearning translations, classroom training to eLearning conversions, PPT visualization and enhancements, rapid eLearning development, software simulations, custom video creation, and micromodules.
We used a high-energy splash entry to keep the employees engaged and provided a "journey map" that allowed the learners to explore different topics covered in the module. We used visual indicators – text and/or icons – to help them track their progress.
Applying our eLearning authoring tool expertise and used rapid authoring tools such as Lectora, Articulate, Captivate, domainKnow, and iSpring, we implemented 75 rapid, responsive and flexible projects for the client.
It's a Wrap!
Our client's vision of a world with healthier, more nutritious crops is one that we are glad to be part of. By collaborating with the organization, we provided them with high-impact eLearning solutions and were thus able to have a significant impact on the organization's learning culture. We have helped them make their employee development programs more efficient and impactful.
We are quite happy that our work in this project has contributed to something huge and we look forward to continue supporting our client in their mission for sustainable agriculture.
Interested to read more about the client and the solution we provided? click on the image bellow –