Explore the Positive Impact of E-learning on Your Business
Check this blog to know the positive impact e-learning can have on your business and how it will help you achieve your business goals.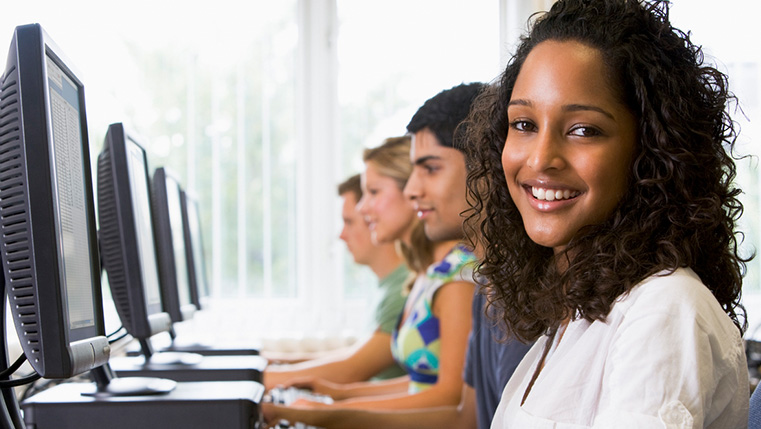 What is the value proposition offered by e-learning that is encouraging businesses to adopt it as their preferred mode of training? To find out, let's explore the positive impact e-learning can bring to the business. Though no two businesses are alike, they share certain common business goals that are significant for success. These are:
How Can E-learning Impact Your Business?
Businesses prefer to adopt eLearning because of the value proposition that it offers. Every organization has certain common business goals and eLearning can help businesses achieve these goals. Here's how eLearning can have a positive impact on your business.
Increases sales
Improves efficiency
Ensures compliance
1. Sell more: Every business aims to sell more, looks for the faster launch of products and services, improved customer service, and retention of customers.
2. Be efficient: Organizations are constantly looking for ways to improve efficiencies to stay on top of their game. They look for ways to enhance employee productivity, train employees for new roles, and speedily deploy new systems and processes.
3. Stay compliant: Businesses realize how important it is to stay compliant and are keen to comply with industry-specific legal and regulatory mandates and develop a strong organizational work culture where compliance is inherent.
To achieve and sustain these business goals, organizations need to train their employees so that everyone works toward these goals and contributes to the success of the organization. E-learning can play a crucial role in this training.
1. E-learning to Help Sell More
Selling basically means training employees in sales techniques and knowledge of products and services so that they can make better sales and improve profits. For sales training effectiveness, organizations should ensure sales teams understand products thoroughly and have the information and skills to close deals with customers.
E-learning can help with this because it:
Provides rapid product training. It is possible to create courses and provide training as soon as a product is launched or even before
Delivers courses with all the relevant product knowledge that will bring salespeople up to speed on important knowledge and help them score over competitors
Facilitates greater reach because it helps train globally dispersed employees at the same time
Offers reinforcement support since employees can retrieve and review content whenever they want
Provides opportunities for sales personnel to meet training goals during leaner periods
Sales Training through Dialogue-based E-learning
At Commlab, we very well understand the significance of a well-crafted online sales training course in meeting the business goal of selling more.
One of our clients, a global leader involved in manufacturing and marketing precision instruments wanted to train its huge sales force on sales techniques. The training was aimed at helping sales reps ask the right questions to gather information from customers, which would help them provide the right solutions.
The client did not want a typical course with text and images, so we designed a course that resembled a typical classroom training, in a digital environment. The user interface was made to resemble the familiar environment and the course had the characters of a trainer and a couple of trainees. Content was presented in the form of conversations between the trainer and trainees where the trainer explains the various questions sales reps have to ask customers.
The course helped salespersons develop the right skills to interact with customers and ultimately increase the sales volumes. Read the case study here.
2. E-learning to Help Be Efficient
Organizations strive to become more efficient in their operations so that they reduce costs. This means revamping their processes, procedures, and systems. Such changes call for training employees to get the maximum benefit. E-learning can play a key role because it:
Provides relevant training to help employees adapt and respond to changes
Facilitates self-paced learning that reduces costs
Software Training for Dispersed Learners
One of our clients in the FMCG sector with more than 2 million retail outlets in India was heavily dependent on suppliers and vendors to procure raw materials for their products. As it was rolling out new brands and products, employees in the procurement department were finding it difficult to ensure their suppliers were paid on time with the current procurement process. To solve this, the company installed Ariba© – a SAP-like software for their 'Procure to Pay' process.
They approached us to develop a software simulation course as part of their software training to train their employees on the software. We created an e-learning course using a scenario and guided learning approach, which explained how the software should be used and included a 'Do' section where learners could try out the software in a safe and secure environment. The course was effective in improving the internal procurement process.
3. E-learning to Help Stay Compliant
With the focus on ethical business practices and maintaining workplace norms, organizations today have to comply with laws and regulations to stay on the right side of the law. Failure to do so may lead to legal issues that can impact its reputation. Mandatory compliance training for employees is important and e-learning solutions for compliance training are the right answer:
Large number of employees can be trained effectively
Training can be provided in multiple languages
Instructional strategies can take this mandatory training to the next level
Upgrading an Information Security Course
A Canadian food retailer wanted to close the gaps in its training on information security for employees and revamp the existing training because employees were not retaining the information. They wanted better application and retention rates. We developed a course with an interactive strategy to improve learners' retention and application. The course was based on a scenario that was relatable and relevant, which helped learners identify the significance of information security and how it applied to their work. This resulted in better retention and application of the guidelines.
There is no doubt that e-learning can make a positive impact on the achievement of business goals. It provides an effective training experience of better quality and at an affordable cost. Organizations using e-learning are already reaping these benefits. What do you think? Share your views with us.