3 Tips to Obtain Stakeholder Buy-in for Corporate eLearning
A lot of organizations are planning to shift to eLearning this year. But gaining buy-in from all stakeholders is easier said than done. So here is a blog to help convince your stakeholders about eLearning.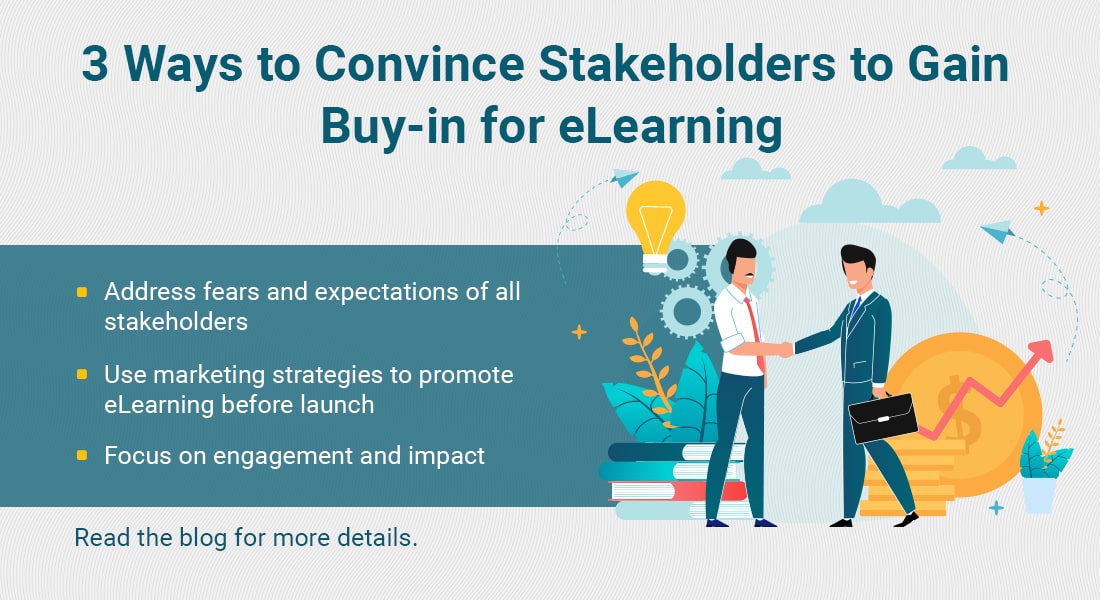 Whoever came up with "Change is the only constant in life", surely never worked in a corporate set up where life, more or less, remains pretty much the same. Unless there is a drastic change or paradigm shift, corporate workplaces enjoy their status quo far more than what is good for them. Especially when it comes to corporate L&D. Even though online training has been seeing a steady growth among corporates in the past years, many organizations have resisted this shift from classroom training to eLearning.
As hard as it is to imagine, there are organizations with next to no digital training in place, even in 2021. And the COVID-19 pandemic was a long due wakeup call for them. Now, all these organizations are eager to embrace eLearning and launch a digital strategy for their corporate L&D. What this means is that training managers will finally be able to go for something they've long been trying for. But even with all that, getting a buy-in from all stakeholders about online training is easier said than done.
Before we get into the discussion on how to successfully convince your stakeholders for eLearning, let's first clarify who these stakeholders are. By definition, a stakeholder is anyone who affects or is affected by a particular project. For a successful corporate eLearning project, the stakeholders would be:
Senior management
Middle management/project financers
Line managers
Subject matter experts
Learners
IT staff and LMS administrator
L&D team (instructional designers & developers)
3 Tips to Gain Stakeholders' Buy-in for eLearning
Educate all stakeholders
Market your training
Think success beyond ROI
And to have a successful project, you'll need all these stakeholders on the same page. Sounds tough?
Don't worry! We have a few tricks up our sleeves too.
3 Tips to Win Stakeholder Buy-in for Corporate eLearning
1. Educate Stakeholders: Address their Fears & Expectations
As training managers, you must be quite familiar with the challenges of getting all stakeholders on board while implementing any new training program. And when the change comes in the form of eLearning and digitalization in an organization only used to instructor-led classroom training, one can only imagine the kind of resistance you'll face.
The best option would be to understand their fears and only then begin to address them by educating them (on why eLearning is the best way of moving forward and how it will benefit them in the long run) and setting realistic expectations about it.
Another important thing to keep in mind is that different stakeholders will have different fears and expectations.
Stakeholders from senior management will usually be concerned about the high-level impact of the change from the classroom to eLearning. The best way to educate senior management is through examples of external case studies. As there is no dearth of eLearning success stories in corporate organizations, proper research and compelling storytelling can be your way forward.
Middle management will be concerned about the budget because they take care of the whole financial aspect of the project. You can't possibly convince them with a compelling story; they only understand the language of numbers. So, the best way to get their buy-in is to build a business case with numbers reflecting the improvement in training ROI.
Line managers may be concerned about working staff going for training during work hours. You can alleviate their fears by scheduling employee training in different slots and giving learners the flexibility to take training offsite through mobile learning.
Learners are usually concerned about the usefulness and application of the training to their job tasks. But now, they will also be concerned about all the new technology that will come along with eLearning. You can easily put their fears to rest before the course is deployed through videos, infographics, etc., on what the training is all about. You can also offer short tutorials on how to access courses from the LMS.
2. Market Your Training: Think Like a Marketer
One of the major reasons for the failure of any new eLearning strategy is its lack of popularity among the audiences. It doesn't matter how engaging eLearning courses are if learners are not aware of them. So if you are venturing into eLearning for the first time, you need to approach the project like a marketer.
Release teaser videos and infographics; share GIFs to make learners aware of the upcoming training.
Use social media to create event pages, send invites, and conduct polls to garner learners' interest.
You can also invite SMEs to spark a discussion on the training topics and encourage learners to participate.
Send emails and notifications to employees to remind them about upcoming courses or registration deadlines they are about to miss.
3. Think Beyond ROI: Think Also Engagement & Impact
It's a commonly held belief that the only thing that can convince stakeholders and get their buy-in for eLearning is ROI. While ROI is important, it is not the only factor. Also, not every stakeholder is concerned with finances. So instead of speaking the language of numbers, speak the language of learner engagement, improvement in skills, increase in productivity, employee satisfaction, and business impact.
Align KPIs (key performance indicators) such as course completion rates, learner satisfaction, competency, and job impact with your company's goals and think of possible long-term benefits. In addition to talking to your executives about ROI, start emphasizing the benefits to your employees. You'll be surprised at the show of support and advocacy for your proposed training program.
End Note
I hope these tips will be of some help to convince your stakeholders about implementing eLearning in your organization. One important step to gain buy-in from C-suite stakeholders is to build a business case. And if you need any help in that department, we have a free eBook for your reference.