How to Become an eLearning Champion: A Free Webinar on Online Training
Are you new to the world of eLearning? Are you an online training novice dreaming to become a guru? We can help you achieve your dream. Tune in to our free webinar: 'Become an eLearning Champion'.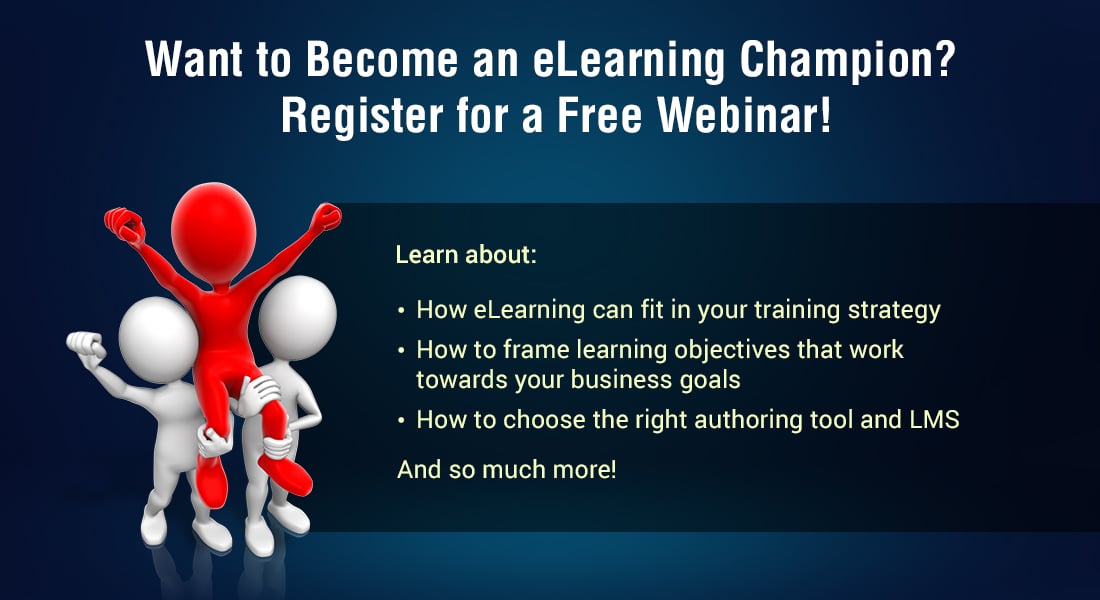 Do you have what it takes to be an eLearning champion? And do you know what the job entails?
The importance of online training in today's corporate L&D cannot be stressed enough. It is an efficient and cost-effective way to train a global workforce, it appeals to the new-age learners, and most importantly, it keeps up with the constantly changing training requirements. Especially now, in a world with COVID-19, online training has become less of a luxury and more of a survival tactic for workplace training.
What to Expect in the 'Become an eLearning Champion' Webinar
The Right eLearning Fit in Your Training Strategy
Learning Objectives and Training Effectiveness?
Best Authoring Tools for Rapid eLearning Development?
eLearning Translation: Importance and Prerequisites?
Choosing the Right LMS?
And yet, while you, training managers, understand and support the move from "Classroom to eLearning Conversion", there are quite some roadblocks in your path, aren't they?
If you are constantly trying to find answers to these questions, this webinar is for you.
When should I start and where will eLearning fit best?
Should I go with an eLearning-only plan or balance it with classroom training?
How do I ensure the online training achieves all business goals?
Which authoring tool is best for eLearning course design and development?
How do I choose the right LMS?
How do I convince my stakeholders about the benefits of eLearning and get them to agree on the budget?
We in CommLab India appreciate how you feel. We understand all your training-related apprehensions. That's why we are bringing you a free webinar 'Become an eLearning Champion' to help you understand the A to Z of online training and how to go about the planning, design, development, and implementation of eLearning in your organization.
Dr. R K Prasad, the CEO and co-founder of CommLab India, and I, Payal, will be your presenters for this webinar, ready with some practical insights on eLearning.

What You Should Expect from this Webinar
1. Where does eLearning Fit in Your Training Strategy?
Contrary to popular belief, there is no one way of using eLearning for organizational training. If you are venturing into online training for the first time, you need not go for an eLearning-only approach. You can opt for a blended learning approach using both classroom and online training modes. Or you can use standalone eLearning courses to supplement classroom training. Or you can use eLearning to provide performance support.
There are so many ways in which eLearning can fit into your training strategy. Want to know how to come up with the best training approach? Well… that's exactly what we are going to discuss in our webinar. So, register and stay tuned!
2. How do Learning Objectives Determine Training Effectiveness?
Do you have misgivings about online training? That it may not meet training expectations? That all this planning will come to naught and you won't be able to prove the ROI? If you have, don't worry… you are not alone. And, more importantly, there is an easy way to ensure training effectiveness with eLearning – by aligning your learning objectives with business goals!
Learning Objectives form the foundation for your entire eLearning approach. They determine the scope of eLearning content, the Instructional Design, assessments, duration of training, and the training budget. Once you align the learning objectives with your business goals, every aspect of your online training will be focused on them too.
Want to know how you can align your learning objectives with your business goals? Join us for this webinar.
3. Which is the Best Authoring Tool for Rapid eLearning Development?
After 20 years in the eLearning industry, this is the question most frequently asked by our clients. Suffice it to say, everyone wants to know the secret of selecting an authoring tool that is feature-rich, easy to use, and also within their budget. But is that even possible?
Selecting an authoring tool is not as complicated as most make it sound. What you need to do is to determine your training requirements first. Once that is done, and you have decided how your eLearning course should look and feel like, you can start your search for the authoring tool that can make all that happen.
I know what you're thinking. "It's so confusing to read the features and specifications of different authoring tools. It seems like every tool can do everything!"
At first glance, it does seem that way. So, to clear this confusion, we have dedicated a part of our webinar to talk about the strengths and limitations of a few popular authoring tools.
Don't miss out on these insider's insights. Register for our webinar today!
4. Why is eLearning Translation Important and What are its Prerequisites?
If you are part of an organization with global outreach, having a diverse workforce speaking different languages, then you understand the importance of eLearning translation. It is the only way you can ensure all your employees across the globe, across different languages and cultures, access exactly the same standard training as your on-site English speaking workforce.
While eLearning translation is very important, the translation development process can be quite tedious. If you're interested in scripting a successful eLearning translation story, stay tuned to our upcoming webinar.
5. How do I Choose the Right LMS?
The Learning Management System (LMS) is a platform that hosts eLearning courses for your learners to access. That is the most basic function of LMSs and why they were designed in the first place. However, the modern LMS is capable of doing so much more than just hosting eLearning courses. They can track, analyze, and report learning activities. They are intuitive, easy to navigate, and can integrate with external software. The new-age LMS supports blended and offline learning and can be customized according to your learning requirements.
There is no shortage of LMSs in the market, each offering a variety of benefits. But the problem is, LMSs are expensive and are meant for the long-term. You can't change an LMS after a year saying you don't like it. That makes choosing the right LMS an extremely crucial step.
Want our help in making the right LMS choice? Keep a weather eye on our upcoming webinar!
Concluding Remarks
I hope by now you're thoroughly keyed to join us for this webinar session. If it's your first time with implementing online training, the webinar will give you quite a lot of food for thought. But even if you have had experience with using eLearning in your training strategy, we still have a lot of seemingly basic but extremely important information that can transform you from a mere eLearning user to an eLearning GURU.
And if you have any other questions, you can post them in the comment section below and we'll clarify them during the open house that will follow the webinar presentation.
Even if you don't attend the actual session, we'll make the recording available for you. So register now! And I hope to see you on the 15th of Oct.