5 Must-Try eLearning Assessments Formats [SlideShare]
eLearning assessments – What are they? What are the different types and what are the benefits associated with eLearning assessments? Do you have similar questions? Read on the get them answered …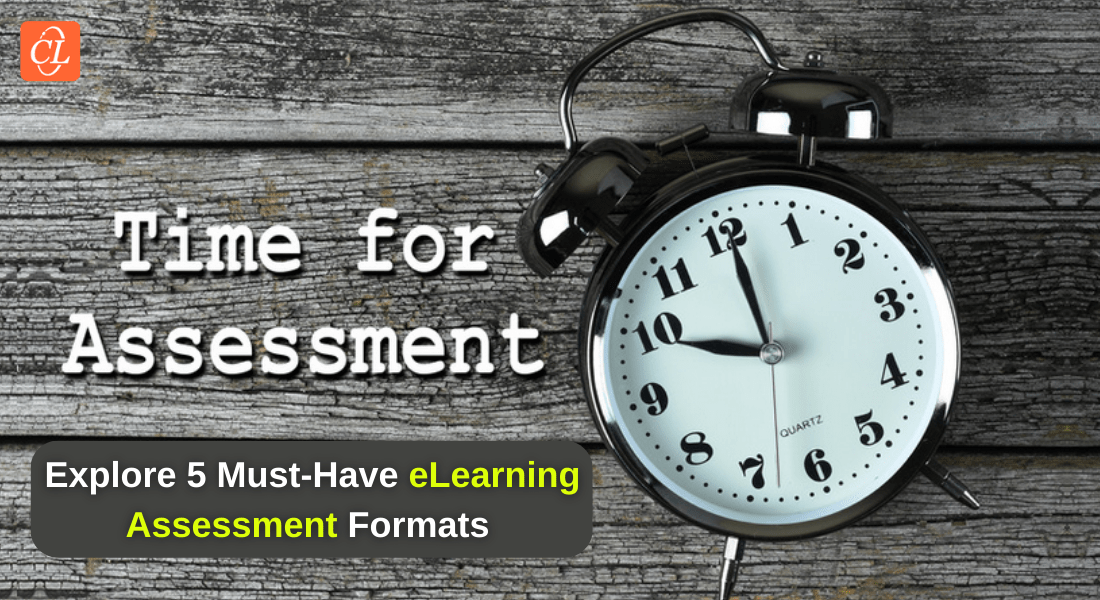 As organizations spend a lot of time and effort on developing and delivering high-performance employee training modules, they also expect the employees to understand them and apply the learning to perform better at their job. And, they do not want to wait till the end of the course for the evaluation! Rather, they prefer to understand the employee's progress from time to time in the course, and that is where formative assessments come to play. But before getting into the details, let us discuss what eLearning assessments are and what are the different types –
What is an eLearning Assessment?
An eLearning assessment can be defined as a tool that is used to measure a learner's understanding of the topic being discussed and the learning that is delivered to them. Assessments are closely associated with learning objectives, or what you expect participants to accomplish after taking the course.
Broadly speaking, there are two different types of eLearning assessments – summative assessments and formative assessments.
Summative assessments are the type of assessments that are used towards the end of a course to evaluate a learner's understanding and grade them or give them a certificate according to their performance. While this type of assessment has always been an effective evaluation tool, the changing learning environments have put forward the need for continuous evaluation and feedback. Formative assessments address this concern.
Formative assessments are a type of eLearning assessment that is used to evaluate a learner's progress from time to time during the course. The key aim of formative assessment is to assess the learner's understanding and provide ongoing feedback. For this, you may use different eLearning interactivities such as quizzes, polls, etc. These can help you engage the learners while also evaluating their performance.
Both types of eLearning assessments help provide feedback to the learners. Whatever may be the type of eLearning assessment, your Learning and Development (L&D) team should be aware of the best ID strategies and engaging ways to design the best assessments. Along with this, your eLearning teams should also keep in mind that the assessments are not only to measure the employees' learning but also to help understand the effectiveness of the learning module. This understanding will help them stay focused.
Now that you have a basic idea of what the type types of assessments are, here is a SlideShare to help you understand how to get started with formative assessments and the formats you could be using to make your eLearning assessments interactive:
Parting Thoughts
Remember that your eLearning assessments are as important as the course module itself. And hence, it is important that you need to have a strong assessment strategy that includes different types of assessments. When drafting the assessments, you need to have the learning objectives as the focal point, and try to make the learning more measurable. At the same time, it is also important to make the assessments more engaging and instill a sense of achievement so that the learners stay motivated to take them.
Are you eager to make the eLearning assessments more engaging! Here is a webinar recording that will help you create well-aligned and engaging eLearning assessments. Get actionable insights and pave your way to designing interactive eLearning assessments.