Why is an eLearning Course Much More than a PowerPoint Presentation?
An e-learning course is not about adding audio to a PowerPoint presentation and publishing it online using an authoring tool. Find out what makes e-learning much more powerful than a PowerPoint presentation.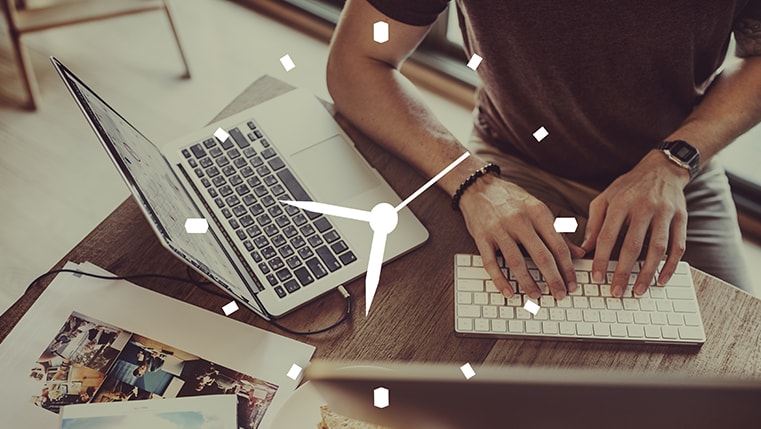 PowerPoint is an excellent tool for presentations. This is a tool that's easy to use, allows the integration of text, graphics & media elements, and is a hot favorite of subject matter experts (SMEs) and training personnel, for use in classroom training programs. With the rising popularity of online training programs, many organizations are looking at making use of PowerPoint presentations (PPTs) in e-learning.
However, does merely publishing PPTs to an online format using an authoring tool result in effective learning, as in an eLearning course? No! Why not? What does eLearning offer that PowerPoint doesn't? Here are certain fundamental differences between an eLearning course and a PowerPoint presentation.
1. Follows Sound Instructional Design Principles
E-learning courses are designed based on sound instructional design principles. The principles of adult learning are kept in mind while designing an online training program. Acquisition of knowledge and skills is more efficient when learners are able to connect the current learning to what they already know.
For example, beginning an eLearning course with a few questions can get learners to think as they try to recollect what they already know. If they do not know the right answer, they would obviously want to know. That's a sure shot way to build interest in the online training program. And if they do know the answers, then they would be able to build on their existing knowledge.
In a PowerPoint presentation, an outline of the topics to be covered in the presentation is prepared. Then the content is presented based on the outline. Remember, that PPTs used in classroom training had an instructor who ensured that the course was delivered keeping in mind adult learning principles. When you simply publish a PPT to an online format, the major component i.e., the instructor is missing, and the PowerPoint presentation fails at training your workforce effectively.
2. Offers Non-linear Navigation
E-learning courses offer the flexibility of non-linear navigation. Of course, the degree of non-linearity would depend on the content of the training program and the learners' prior knowledge on the subject. Locking the navigation so that learners are forced to read the entire content displayed on screen does not constitute for effective learning.
For instance, if learners are going through the eLearning course as a refresher training, they would love the option of free navigation, instead of being forced to click 'Next' through the entire course. eLearning also offers menu options to navigate to a particular topic easily.
In PowerPoint, slides are by default presented in a linear fashion where the learner moves from one slide to the next. Of course, there is an option to include hyperlinks that let the learners switch to a different topic from a main menu, but it still is a clumsy option, especially when learners have to switch back and forth between the main menu and specific slides they wish to view.
3. Enhances Learner Engagement
An eLearning course takes care of engaging learners by making the training an interactive process. There are two ways through which this can be done:
The learner interacts with the onscreen elements – click, hover, drag and drop are a few examples.
The learner interacts with the content – gamified elements, branching scenarios, storytelling, simulations are a few examples.
On the other hand, a PPT that is accessed online is a one-way communication, in the absence of an instructor. That's because the very purpose of a PPT is to support the trainer and it is not the right medium to provide standalone training. Even if the PPT presents interesting content, learners are not actively engaged in the learning process.
4. Improves Learning Retention
Getting learners to retain the knowledge they gain through training programs is one among the biggest challenges faced by learning and development professionals. By chunking content appropriately, providing opportunities to recall or apply knowledge (formative assessments), and by summarizing the learning, an eLearning course takes care of learning retention.
Each screen in an eLearning course takes care of displaying content in the right format. For example, what can be conveyed through a block of text can be effectively conveyed through an animation or a video in the eLearning course.
PowerPoint presentations can display bulleted text and images, and there is a higher chance of some slides being more text-heavy than others, as it is not a very good idea to break up a single concept or a process into multiple slides.
Moreover, most effective presentations follow the "Rule of Three". What this means is:
Learners will remember only 3 messages or takeaways from your presentation.
There are 3 parts to the presentation – beginning, middle, and end.
Using lists of 3 in your slides is more effective.
But when you impart training that is going to cover a lot of content/topics, it may not be possible to follow this rule, which obviously makes learning retention difficult.
5. Makes it Possible to Assess Learners
An eLearning course includes an assessment that is linked to the performance-based learning objectives that are set at the beginning of the eLearning course. It can include both formative (during the course) and summative (after the course) assessments. Formative assessment is used to:
Measure whether learning has taken place as planned
Provide opportunities for reinforcement of learning
Deliver instant feedback
A summative assessment is used to evaluate the learners' level of understanding of the course after course completion.
PowerPoint presentations can include questions but there is no way to evaluate how much the learners have actually understood. There is no way to check if learners have been able to apply the knowledge gained through training.
Having understood the differences in training online through PowerPoint and through e-learning, perhaps the next step that you might want to consider is to convert PPTs to eLearning courses. Authoring tools such as iSpring and Articulate Storyline are very efficient when it comes to effective conversions of PPTs to online training programs. These tools can also be used easily by your SMEs and in-house L&D team (if available) as they have an easy learning curve.
However, if you do not have an in-house team that can add instructional design value to the training, it is better to rely on an eLearning vendor who can provide the required services. The next time you hear someone saying eLearning is similar to a PowerPoint presentation, you know how much more powerful and effective an eLearning course can be!