Contemplating Whether or Not to Adopt Digital Learning? These 5 Benefits Will Convince You!
Along with the role of L&D, the way corporate training is delivered has also changed in recent times. And digital learning has stepped up as a must-adopt way to deliver training. But why did it receive so much attention? Let us discover.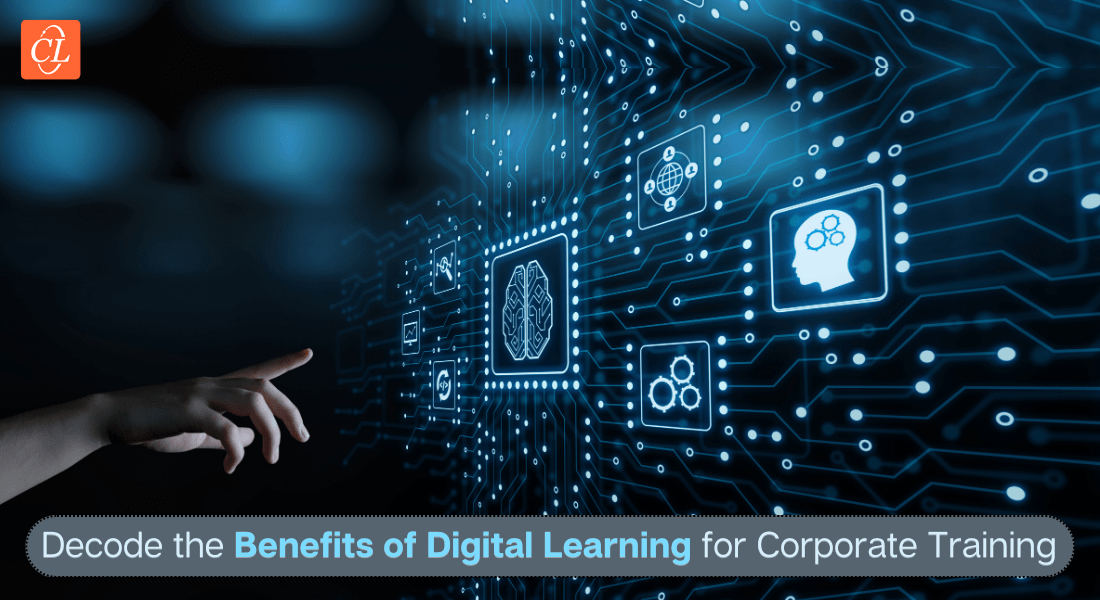 The world is going digital and the Learning and Development (L&D) industry is no exception. With convenience, scale, and flexibility, both organizations and employees across the world are showing an inclination toward digital learning for corporate training.
So, what exactly is digital learning?
Well, digital learning or online learning is a format of delivering learning through the use of digital platforms. It is a type of learning that involves the use of technology to impart learning and provides the learners with an opportunity to have better control over the learning environment. With remote and hybrid work culture taking the forefront, digital learning is the new cool in the corporate L&D space. Virtual instructor-led training, mobile learning, microlearning, and eLearning are various digital learning formats that can enhance your corporate training initiatives.
Let us discuss them in detail –
Digital Learning is the Way of the Future!
Here are the reasons why –
Provides Easy Access to the Training Material
Facilitates Better Collaboration
Enhances Learner Engagement
Read on to find more…
Top 5 Benefits of Digital Learning
1. Provides Easy Access to the Training Material
This is one of the most significant benefits of digital learning. Traditional classroom training means that the training is available to the employees only during the scheduled time. However, modern employees stay busy and making time for classroom training is difficult for them. Digital learning solves this problem. For instance, eLearning or microlearning courses can be hosted, on a learning management system (LMS). This ensures accessibility of these courses as per learners' convenience. The recordings of the VILT sessions can also be made available to the learners and they can refer to it multiple times as needed. This also compensates in case the learners have missed the sessions due to other work priorities. Digital learning formats provide learners with greater control over their learning journey.
2. Facilitates Better Collaboration
Collaboration is one of the most important ways to motivate employees to focus on the training delivered. For instance, by encouraging employees to share their ideas and opinions or by letting them work together on a training-related task, it is possible to create a learning culture. In a traditional setting, collaboration inside the classroom is mostly dependent on the instructor – some instructors may use collaborative strategies such as storytelling, while some may prefer plain instruction styles. Thus, it may lack uniformity with respect to uniformity. However, modern learners, who tend to get distracted easily, can do better when there is collaboration.
And, digital learning offers a lot of scope for fun and engaging collaboration activities. For instance, VILT sessions have breakout rooms to get the employees collaborate with each other. Similarly, social learning and mobile learning formats enable the employees to share their progress and communicate via chatrooms and discussion boards. These collaboration tools are fun and bring the employees together, promote peer-to-peer learning, and also help create healthy competition among them.
3. Enhances Learner Engagement
Learner engagement is an extremely important factor contributing to course completion and knowledge retention. The logic is quite simple, when the learner is engaged with the learning imparted, then there is less chance for abandonment and greater scope for them to focus on delivering the learning imparted. And when they focus more, they learn better and retain better.
Digital learning is an umbrella term that involves a number of new-age learning strategies that appeal to modern learners who prefer to learn in a flexible and engaging environment. Digital learning makes room for modern learning strategies such as gamification, scenarios, simulation-based learning, etc. These new-age learning strategies make learning fun and engaging, and they encourage the learners to progress better.
4. Makes Way for Personalized Learning
Personalized learning is one of the best ways to keep learners engaged and motivated throughout the learning journey. Unlike traditional classroom training where all the learners have to participate at the same time and don't have much choice with the mode of content delivery, learners can choose the best time to take up training. At the same time, digital learning also provides greater scope for accommodating different learning preferences. For instance, the training can be imparted via short videos, or animations for learners who prefer visual learning. Similarly, microlearning modules can be offered to learners who may need to access the burst of learning on a need basis, for instance on-field sales reps.
5. Greater Motivation to Maximize Learning
Digital learning which includes resources such as recorded training sessions, discussion forums, interesting assessment formats, etc. allows learners the opportunity to maximize learning. Employees can access these resources at their convenience, and even go over the training modules or skip what they have already covered. This way, they are in control of their learning experience and this maximizes their learning. Also, digital training formats are responsive thereby promoting self-paced learning. This motivates learners to take up the courses as per their convenience and maximizes learning.
Summing Up
Digital learning has broadened the horizons of corporate training and brings with it a bounty of benefits! By making training more accessible and impactful, digital learning does serve as an excellent way to deliver corporate training, especially to train modern workforce.
I am sure the benefits discussed above have let you contemplate digital learning implementation at your firm. Great decision but before you go further, you might want to know more about digital learning and eLearning, and the best way to implement it. Here's an eBook can help you with just that. Grab your copy now!
Editor's note: This post was originally published in January 2023 and has been updated for comprehensiveness.