4 Considerations for Choosing an eLearning Outsourcing Vendor in 2024
Wondering how to look for in a partner for outsourcing your eLearning initiatives? Here's an article to help...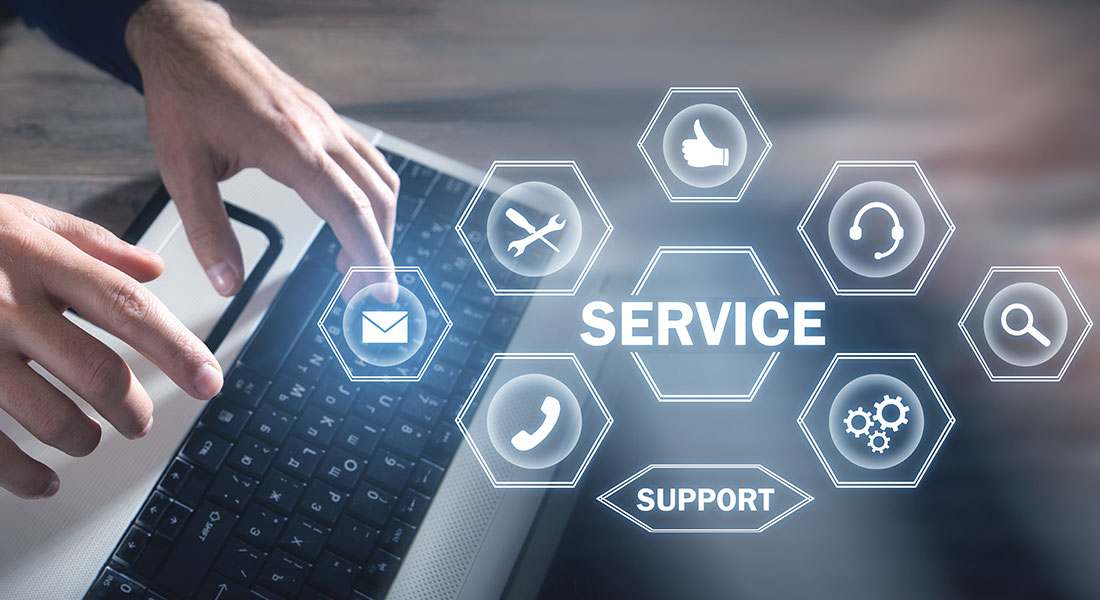 As we approach the year 2024, the corporate learning landscape is undergoing a rapid transformation, driven by technological advancements and the increasing adoption of remote training solutions. Choosing the right eLearning outsourcing partner for your corporate training needs has never been more critical. In this blog post, we will delve into key factors that will empower you to select a forward-thinking eLearning outsourcing provider capable of navigating your organization through this swiftly evolving environment.
Let's dive in!
There's a Significant Increase in Number Organizations Turning to eLearning Outsourcing Vendors.
This growth can be attributed to its benefits including:
Cost reduction
Access to specialized expertise and technology
Scalability
Expedited time-to-launch for training initiatives
The Growing Trend of eLearning Outsourcing
"In this ever-evolving landscape of digital corporate learning, selecting the right eLearning outsourcing partner for corporate training is paramount for organizations aiming to maintain a competitive edge."
Corporate eLearning outsourcing has become a prevalent practice, offering a plethora of benefits, including cost reduction, access to specialized expertise and technology, scalability, and expedited time-to-launch for training initiatives.
Apart from these benefits, there are a plethora of reasons why to choose new-age corporate eLearning outsourcing...
Why Choose a New-Age eLearning Outsourcing Vendor?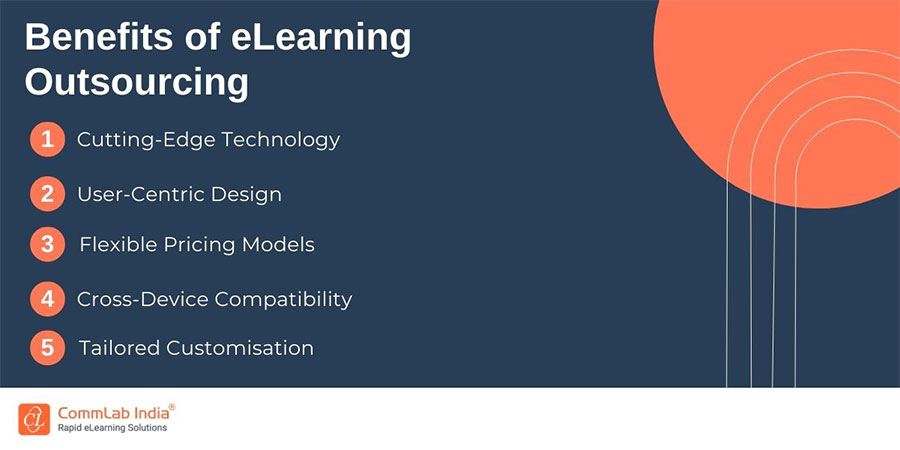 1. Cutting-Edge Technology
Selecting a new-age eLearning outsourcing vendor offers access to cutting-edge technology. Unlike traditional vendors, who may rely on outdated tools, these vendors stay updated with the latest advancements and incorporate them into their services.
With state-of-the-art software and tools, they create engaging, interactive learning experiences. Their expertise extends to emerging technologies like AR/VR, gamification, and microlearning, enhancing the learning experience.
2. User-Centric Design
Partnering with a new-age eLearning outsourcing vendor means a focus on user experience (UX). These vendors understand that modern learners expect intuitive, user-friendly interfaces.
They design visually appealing courses, ensuring a seamless learning journey. Courses are easy to navigate, maximizing engagement and knowledge retention.
3. Flexible Pricing Models
Most new-age eLearning outsourcing vendors offer flexible pricing, making it cost-effective. Pricing models can range from project-based to per-hour or per-learner.
This flexibility suits different budgets and eliminates the need for long-term contracts, ideal for short-term or one-time training solutions.
4. Cross-Device Compatibility
Learners access content on various devices. New-age eLearning outsourcing vendors create mobile learning courses compatible with different devices and screen sizes. This enables anytime, anywhere access, enhancing the learning experience.
5. Tailored Customization
New-age eLearning outsourcing vendors offer extensive customization options. They adapt services to an organization's unique training needs, aligning with goals and objectives for a more impactful training experience.
Key Considerations for Choosing a New-Age eLearning Outsourcing Vendor
1. Technology Capabilities
Ensure that the eLearning outsourcing partner you choose is proficient and up to date with technology and trends going on in the corporate eLearning industry. The eLearning vendor proficient in developing interactive and engaging courses using the latest authoring tools such as Articulate Storyline, Adobe Captivate, or Lectora Inspire. Additionally, they should have expertise in implementing emerging technologies like Virtual Reality (VR), Augmented Reality (AR), or Gamification to enhance the learning experience.
2. Customization Options
Every organization has unique training requirements, and it is crucial to select an eLearning outsourcing vendor that can offer customized solutions tailored to your specific needs. This could include creating courses that align with your brand guidelines or integrating your company's existing Learning Management System (LMS) into the course design. Choose the eLearning outsourcing vendor based on your needs and customization.
3. Flexibility in Learning Delivery Methods
Flexibility in learning delivery methods is a critical consideration when selecting an eLearning outsourcing vendor. A good vendor addresses learners' diverse preferences and needs, and offers adaptable learning delivery methods to align with the organization's unique requirements.
One of eLearning's key advantages lies in its capacity to deliver training content in multiple formats. An effective outsourcing partner should offer a range of choices, including: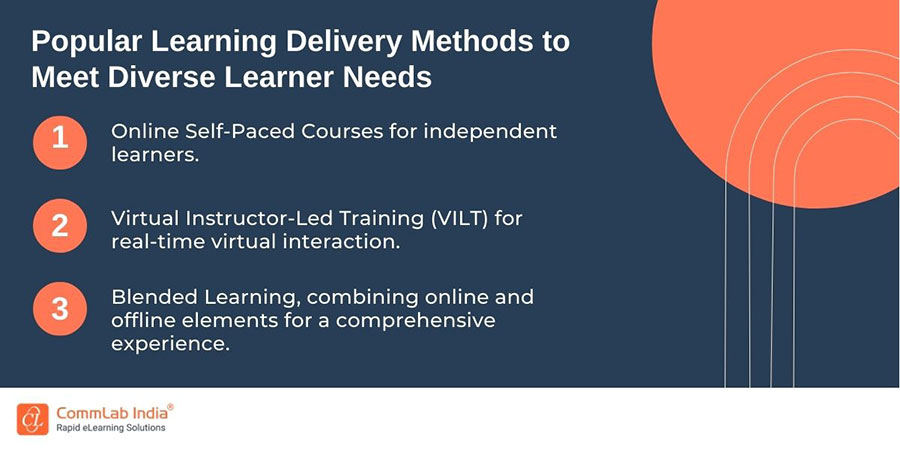 a. Online Self-Paced Courses
Ideal for individuals who prefer learning at their own tempo, this approach allows learners to access course materials on demand and progress at their convenience. It also enables easy module review or revisit, ensuring high flexibility in the learning process.
b. Virtual Instructor-Led Training (VILT)
Replicating the benefits of traditional classroom training in a virtual setting, VILT facilitates real-time interaction with instructors and fellow learners, regardless of their geographical location. It accommodates those with time constraints or location limitations.
c. Blended Learning
By merging online and offline training methods, blended learning offers a comprehensive learning experience. Incorporating diverse modalities such as videos, interactive activities, quizzes, and hands-on practice, it enables learners to engage with the material in various ways.
4. Strong Project Management and Communication Skills
Strong project management and communication skills are vital for successful eLearning outsourcing partnerships. In the context of eLearning outsourcing, project management encompasses planning, executing, monitoring, and controlling all aspects, including resource coordination, timelines, risk assessment, and stakeholder communication. Look for a vendor who employs efficient project management with defined processes, manageable tasks, and progress tracking.
Wrapping Up
Choosing the right eLearning outsourcing vendor is crucial for the success of any training program. By partnering with a new-age vendor, organizations can ensure that they receive modern and innovative solutions that cater to the needs of today's learners. With their focus on cutting-edge technology, user experience, flexible pricing models, multi-device compatibility, and customization options, new-age eLearning outsourcing vendors offer a lot of benefits to businesses looking to enhance their training programs.
Download our eBook to know more about eLearning outsourcing and selecting the right vendor.